In the last game of the 2014 season Derek Jeter played shortstop for the New York Yankees for the final time. In the third inning he faced off against Clay Buchholz with one out and Ichiro Suzuki at third base. He watched two fastballs over the plate, a strike and a ball respectively. Jeter fouled off a cutter but then tapped the ball towards third base for an infield single.
And mercifully that was the last cheap hit and run batted in we will ever see off Jeter's bat. Jeter, not Joe Girardi, decided when he would leave the field. Jeter's retirement was just the start of the changes to these lineups.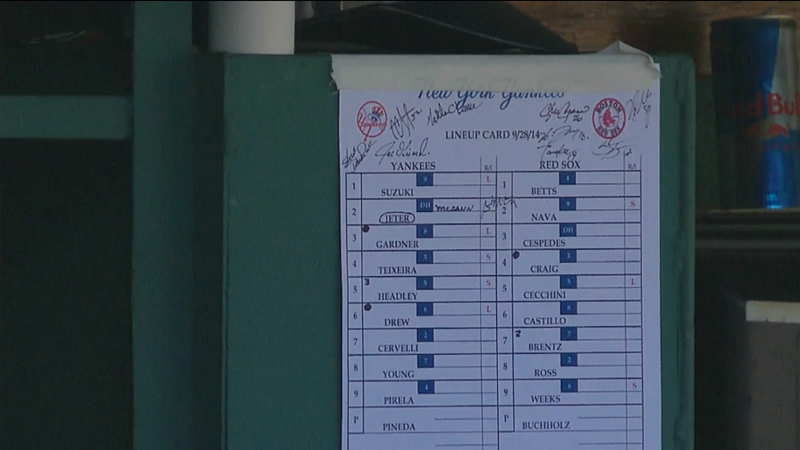 Ben Cherington had Red Sox fans celebrating Thanksgiving early when he announced that he had signed Pablo Sandoval and Hanley Ramirez on November 25, 2014. With the addition of a pair of powerful bats Yoenis Cespedes became a fungible asset.
The signings didn't impress Jon Lester enough to lure him back to the Red Sox. On December 10 Lester announced he signed with the Chicago Cubs. The Red Sox began cobbling back together a starting rotation the next day by signing back Justin Masterson and trading Cespedes, Alex Wilson, and Gabe Speier to the Tigers for Rick Porcello. The day after that Cherington came to terms with the Diamondbacks for Wade Miley, sending Rubby De La Rosa, Allen Webster, and Raymel Flores to Arizona.
Don Orsillo will be happy with Masterson's return, not just because of his pitching ability but also for Masterson's wife Meryl's exceptional cookies. Perhaps Masterson will flourish again under John Farrell and get new insights from Juan Nieves. Porcello and Miley may benefit from the change in scenery, but both are moving into tougher pitching situations.
There is also rebuilding to be done in the bullpen. With Koji Uehara starting 2015 on the disabled list, picking up Alexi Ogando for a year looks like a good insurance plan.
It will be hard to follow up the Patriots' dramatic 2014-2015 championship season. But seeing Hanley Ramirez in home team whites at Fenway Park will be nothing short of spectacular. And if we can see such a sight come October, all the better.
Game 162: September 28, 2014

New York Yankees
84-78
9
W: Michael Pineda (5-5)
2B: Brett Gardner (25), Jose Pirela (1), Austin Romine (1)
3B: Ichiro Suzuki (2)

Boston Red Sox
71-91
5
L: Clay Buchholz (8-11)
2B: Dan Butler (3), Mookie Betts (12)