The title is a variation of the Hawai'i Creole English (HCE) phrase "garan ball-barans." It combines a shortened version of the word "guaranteed" followed by an HCE pronunciation of the term "ball bearings." Kirby Yates, who came to the Tampa Bay Rays by way of Kauai, would understand.
Garin Cecchini had a spectacular night. He clouted his first major league home run in the second inning. The leadoff home run landed in the visitors' bullpen. The third baseman got the time-honored silent treatment when he returned to the dugout.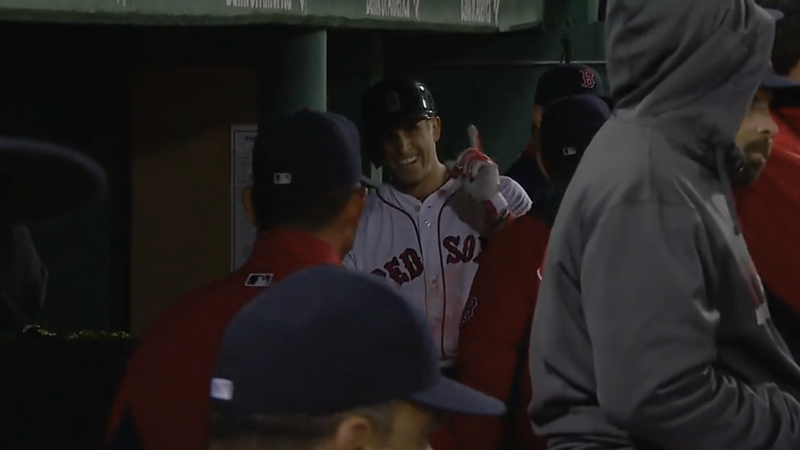 On the defensive side Cecchini needs some polish, but he turned in a trio of gems last night. He ended the first inning with a diving stop of Logan Forsythe's grounder. His throw to Allen Craig was high but the first baseman managed to come down with it.
Cecchini was key to stopping a potential rally in the eighth inning with a pair of fine plays. He snared Wil Myers's liner with Evan Longoria at second base, a catch that probably saved a run. Later in the eighth he captured another of Forsythe's sharply rapped grounders. This time his throw to first, manned by Ryan Lavarnway, was perfect.
Another Red Sox player with Italian ancestry, Mike Napoli, caused a stir off the field by being completely clean-shaven. With his beard shorn he resembled Steven Wright.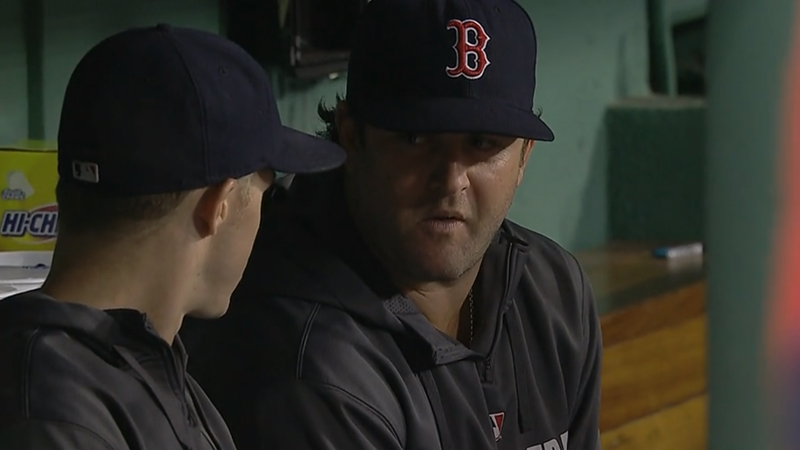 Rusney Castillo tried to better acquaint himself with Fenway's odd dimensions. He doggedly chased down Sean Rodriguez's deep fly ball to the wall in the seventh. Castillo made an impressive leap when attempting to corral the ricochet but it still got over his head. Once he hones his routes and learns his home field's peculiarities he may eventually rival Jackie Bradley, Jr.'s defensive prowess. Hopefully that will be the only part of Bradley's game he mirrors.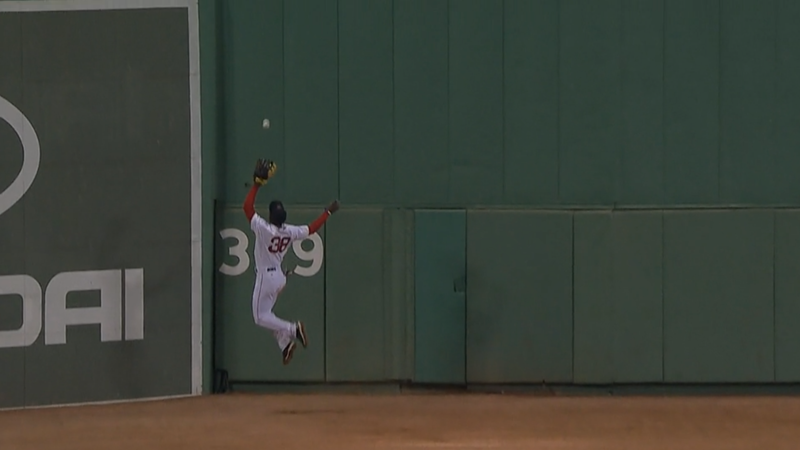 Game 158: September 24, 2014

Tampa Bay Rays
76-82
3
L: Jake Odorizzi (11-13)
2B: Wil Myers (14), Sean Rodriguez (13), Evan Longoria (26), Ben Zobrist (34)
3B: Kevin Kiermaier (7)
Boston Red Sox
69-89
11
W: Anthony Ranaudo (4-3)
2B: Bryce Brentz (2), Daniel Nava (21), Yoenis Cespedes (36)
HR: Garin Cecchini (1)