While this edition of the Red Sox has been disappointing, at least they don't play as if there is no hope. In the fourth inning Mike Napoli and Blake Swihart were sent on a double steal. Napoli was safe at home plate but Swihart was out at second. Napoli's run made the score a tight 3-1 in the visitors' favor.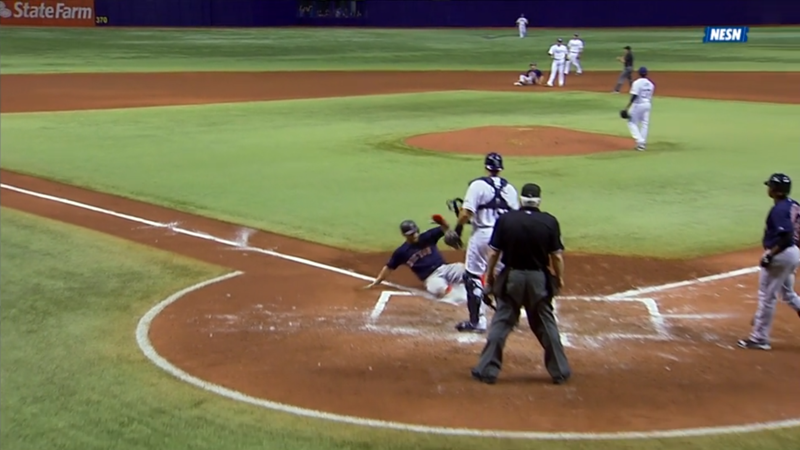 That slim margin was shaved to zero in the sixth frame. David DeJesus tied the game with a sacrifice fly to right that plated Joey Butler. On the same play Evan Longoria tagged up to reach third base. Rick Porcello uncorked a wild pitch, allowing Longoria to tie the game.
The Red Sox had a chance to take the lead in the seventh stanza. Jackie Bradley, Jr. led off with a single laced to center field. Mookie Betts reached on a fielder's choice but then was caught stealing due to indecisiveness.
In the ninth Napoli muscled a ground ball single up the middle but Brad Boxberger got the next three outs without incident.
Betts atoned for his seventh-inning flub in the 10th. He lofted a double to DeJesus. Brock Holt got a hold of Steve Geltz's fastball and sent it into left. Betts, whom Ben Cherington should definitely not trade, scored what would be the winning run.
Game 75: June 26, 2015

∙ 10 innings
Red Sox
33-42
4
W: Alexi Ogando (2-0)
S: Koji Uehara (15)
2B: Alejandro De Aza (8), Mookie Betts (17)
Tampa Bay Rays
41-34
3
L: Steve Geltz (1-3)
2B: Marc Krauss (3), Evan Longoria (14), Asdrubal Cabrera (10)