Just when you thought the Red Sox were spiraling into a tailspin they pulled off a series win against the division-leading Tampa Bay Rays. Boston is eight games back as we near the midpoint of the season. I would settle for a less lofty goal than the postseason, like an above .500 winning percentage or not finishing in last place.
Justin Masterson returned to the team and while his pitching wasn't impressive he turned in a yeoman-like five innings to prevail over Cy Young candidate Chris Archer. Don Orsillo and Jerry Remy are certainly happy with Masterson's return; with him comes his wife Meryl and with Meryl comes cookies.
Masterson allowed five hits and gave up an unearned run while striking out six with no walks. Masterson's line looks better on paper than his actual stuff, but then again Joe Kelly's arsenal was spectacular with poor results.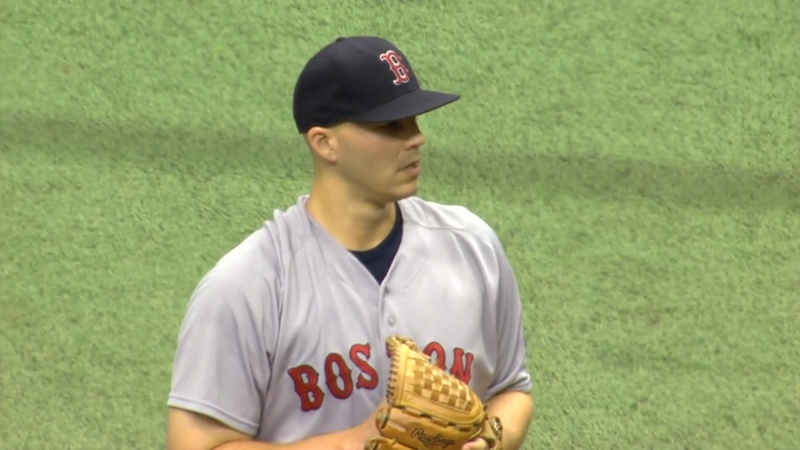 How much did David Ortiz enjoy smashing a home run off Archer in the fourth inning? This much.
While Ortiz, Pablo Sandoval, and Alejandro De Aza clouted four-baggers one slugger made an early exit. Mike Napoli's second-inning at bat ended when home plate umpire Tripp Gibson's called strike against him. The Amica, or as Remy calls it, Ameeker strike zone showed that the pitch grazed the zone's boundary.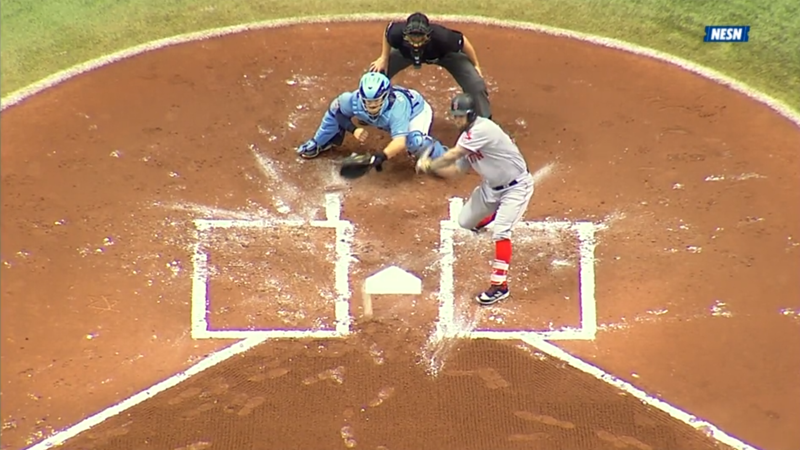 Napoli has been massively frustrated with his hitting this year and this confrontation with Gibson shows the first baseman's vexation boiling over.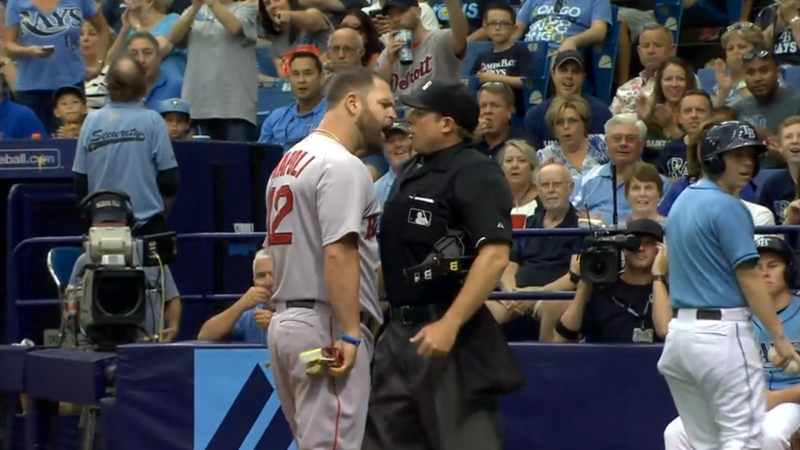 And who wouldn't be as Napoli was tossed not for arguing the call but for not picking up his bat. "I thought I walked. That's why I dropped my bat. And I had a conversation with him, told him I thought it was a ball. He said it was a good pitch, so I started taking off my batting gloves and started walking back toward the dugout,'" stated Napoli to Gordon Edes.
"He told me I forgot my bat," Napoli continued. "I stopped a little bit, and [then] he told me to come back and pick up the bat. I pointed at the bat boy, who picks up our bats, and he tossed me. So then, when he tossed me, I told him how I felt."
Scuzza me, but you see, back in old Napoli, that's a rather silly reason to eject someone.
Game 77: June 28, 2015

Red Sox
35-42
5
W: Justin Masterson (3-2)
H: Junichi Tazawa (12)
S: Koji Uehara (16)
2B: Xander Bogaerts (15), Blake Swihart (8)
HR: Pablo Sandoval (7), Alejandro De Aza (6), David Ortiz (12)
Tampa Bay Rays
42-35
3
L: Chris Archer (9-5)
2B: Brad Guyer (9), Asdrubal Cabrera (11), Grady Sizemore (6)