John Farrell and Carl Willis weren't yelling at Pablo Sandoval to get off his smartphone here but rather at Larry Vanover. The first base umpire ruled that Pedro Ciriaco didn't go around but checked his swing and Farrell strongly expressed his disagreement.
What is more disappointing, hopping onto a social media site during the game or calling a sacrifice bunt with two on, none out, with the eight-hole batter and pitcher coming up in the second inning?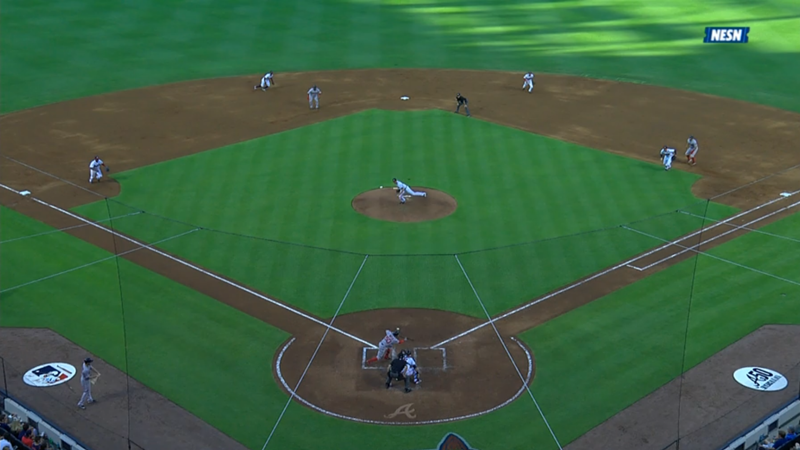 Not to cast a shadow on Joe Kelly's efforts at the plate, or as the kids say today, "throw shade." Kelly drove in a run in the fourth inning on an infield single. Jace Peterson didn't think Kelly was fleet of foot enough to beat out his throw.
The only other run the Red Sox scored came on Mike Napoli's sixth-inning homer. At one point Napoli got red hot at the plate; perhaps this will light that spark again.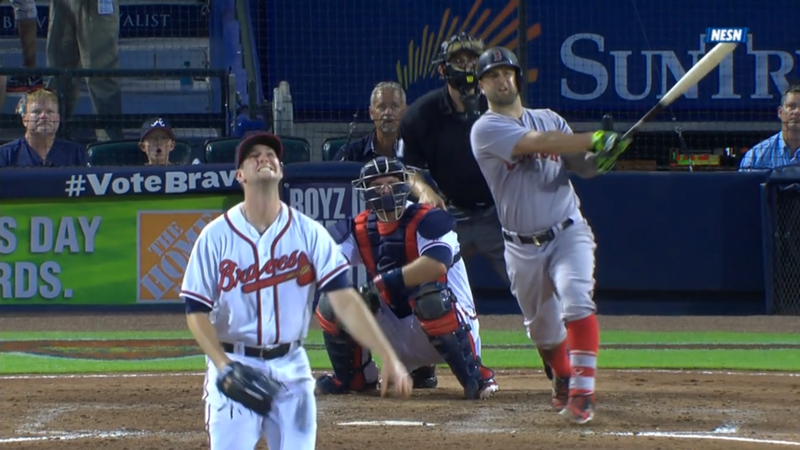 In a Padres uniform Will Middlebrooks's slash statistics are .233/.264/.403. Sandoval is doing better at .270/.323/.409, but the power numbers are comparable. And Middlebrooks doesn't tweet at his fiancée Jenny Dell during games. They learned their lesson after tweeting a picture of themselves together on New Year's Eve.
Game 67: June 17, 2015

Boston Red Sox
28-39
2
H: Robbie Ross Jr. (3)
BS: Alexi Ogando (1)
L: Junichi Tazawa (0-3)
HR: Mike Napoli (10)
Atlanta Braves
32-34
5
W: Nick Masset (2-1)
H: Jim Johnson (16)
S: Jason Grilli (18)
2B: Jace Peterson (9), Pedro Ciriaco (4)