Ozzie Guillen's tweets are hilarious. A sampling, with the most recent at the top:
Terry Francona should join Guillen on Twitter and get into tweet wars with Don Orsillo rather than torment him with texts. It's a pity we only hear about Francona's gibes second-hand. Dustin Pedroia could join in and engage in cribbage smack talk with his manager.
It would be a nice distraction from the four-game losing streak that unfortunately coincided with four straight victories by the Yankees. Hopefully another Hub club doesn't follow suit. The Bruins recommence their Stanley Cup campaign tonight in Vancouver. Jason Varitek, Kevin Youkilis, David Ortiz, and Jonathan Papelbon recorded a few words of encouragement, and Youkilis even attempted his in a Boston dialect. "Go Bruins! Shahpen yore-ah skates!" (It was better than Curt Schilling's feeble attempts captured in that Dunkin' Donuts commercial.)
Just when Daniel Bard and Rich Hill got the bullpen band back together again it might break up. Not because of egos or girlfriends but because of Hill's injury in the seventh inning that had him clutching his left elbow as he left the mound. The White Sox literally (said like Chris Traeger from "Parks and Recreation") added injury to insult: Hill had replaced Matt Albers because Albers surrendered three consecutive singles, the last of which was scorched off Paul Konerko's bat and plated the go-ahead run.
Orsillo's tie resembled grooved brain coral (Diploria labyrinthiformis), a nice departure from the geometric blue designs that dominate his wardrobe.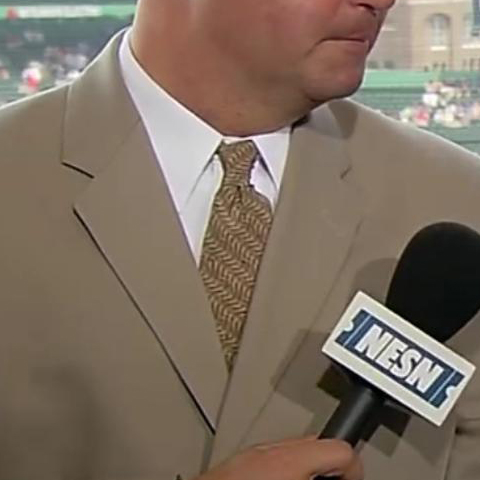 Game 56: June 1, 2011

Chicago White Sox
27-31

7

W: Gavin Floyd (6-5)
H: Chris Sale (3)
S: Sergio Santos (9)

2B: Brent Lillibridge (3), Carlos Quentin (18), Omar Vizquel (5)
HR: Lillibridge (6), Paul Konerko (12)

Boston Red Sox
30-26
4

L: Matt Albers (1-3)

2B: David Ortiz (13), Jed Lowrie (11)
HR: Ortiz (13)