David Ortiz pulled an "…And Justice for All" in the seventh inning. He fell behind 1-2 with two out but got a single up the middle. Despite the hit Ortiz protested against home plate umpire Bruce Dreckman's two called strikes by flipping his bat in front of home plate and making a dismissive gesture towards Dreckman from first base.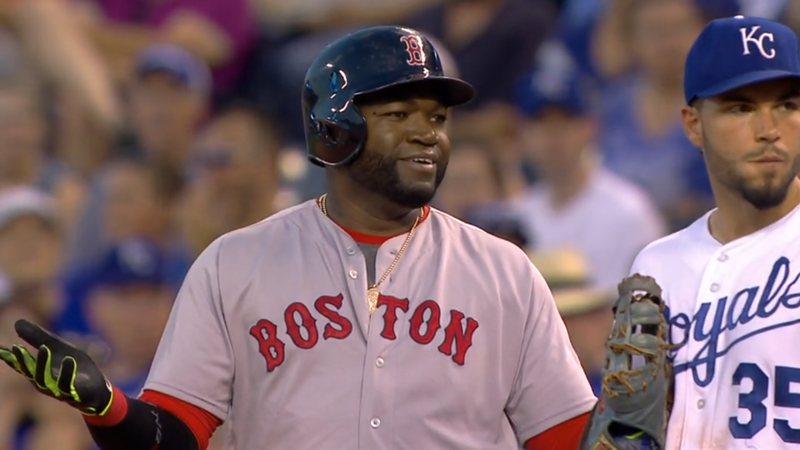 After Dreckman ejected Ortiz the designated hitter mimed throwing the official out of the game. And the Academy Award goes to… David Ortiz for best show of righteous indignation.
"You call two bad pitches on a guy that throws 100, what do you want me to do?" asked Ortiz. "It was pretty obvious that those two pitches were pretty bad. Not only that, I look at you, you look at me, and I tell you the guy doesn't need help and you keep giving me signals. I finally give up on you and you throw me out of the game for that? I don't know."
What I don't know is why Rick Porcello $82.5 million dollar man turned into a pumpkin. The starter imploded in the fifth inning after his team had scored two runs to cushion its lead. The Royals scored one more run in the fifth than the Red Sox did in the entire game.
Game 70: June 20, 2015

Boston Red Sox
30-40
4
L: Rick Porcello (4-8)
2B: Blake Swihart (7), Brock Holt (13)
3B: Alejandro De Aza (3)
HR: Mookie Betts (7)
Kansas City Royals
39-26
7
W: Edinson Volquez (7-4)
H: Franklin Morales (3), Ryan Madson (8), Kelvin Herrera (10), Wade Davis (8)
S: Greg Holland (13)
2B: Mike Moustakas (14)
HR: Salvador Perez (11), Kendry Morales (8)