Balloons and buffoonery are readily available at Fenway Park these days.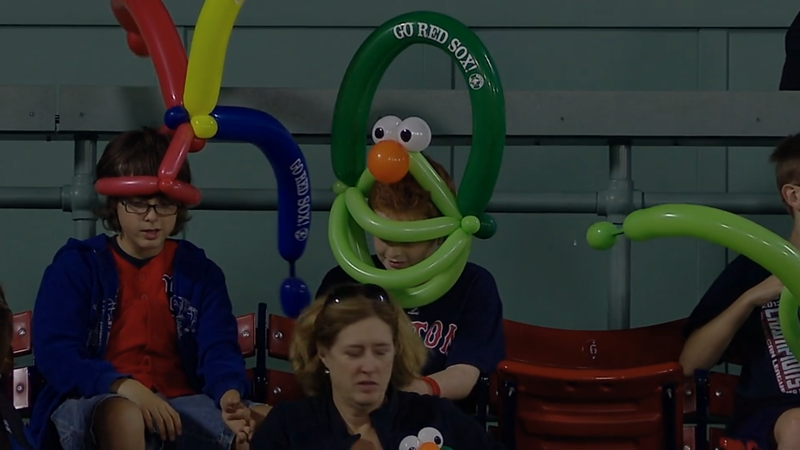 With two down and the bases loaded Ryan Flaherty tapped the ball to Mike Napoli. Napoli relayed to Xander Bogaerts, who got Steve Pearce out but was taken out by the slide. Bogaerts's throw was off-target and Joe Kelly couldn't get a glove on the ball. Nelson Cruz and Chris Davis scored on the muddled play.
Yoenis Cespedes can be electrifying on the field but sometimes when he is fielding his brain goes into cruise control. The left fielder has tremendous physical gifts but needs to hone his focus on defensive plays. He flubbed a can of corn off Adam Jones's bat in the seventh inning that led to Alejandro De Aza scoring from third. This came on the heels of David Ross's throw to second to try to catch De Aza stealing that ended up in the outfield.
It's bad enough when the players err but then fans try to make themselves part of the game. Christian Vazquez made the catch of Jonathan Schoop's pop-up in foul territory in the eighth inning despite this fan trying to take the ball away from him.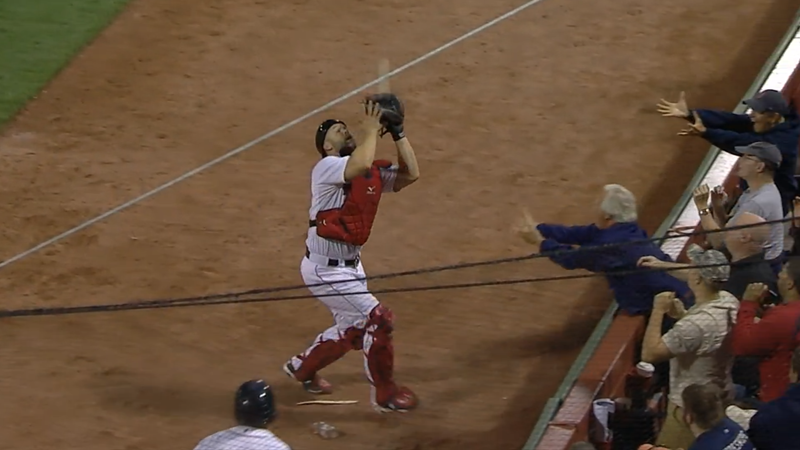 Game 144: September 8, 2014

Baltimore Orioles
84-59
4
W: Miguel Gonzalez (9-7)
H: Tommy Hunter (8)
2B: Ryan Flaherty (10)
Boston Red Sox
63-81
0
L: Joe Kelly (3-4)
2B: David Ortiz (26)