What I'll remember most about this game is the interminably long review that ended with the incorrect outcome. The umpires at the MLB headquarters took so long Duran Duran's "Is There Something I Should Know?" played twice while they reviewed whether or not Mookie Betts's throw to Daniel Nava pulled the first baseman off the bag in the seventh inning.
I know you're watching me every minute of the day, yeah
I've seen the signs and the looks and the pictures that give your game away, yeah
NESN showed the play from multiple angles and it seemed clear that Caleb Joseph was out to complete the 5-4-3 double play. Don Orsillo and Jerry Remy were shocked when crew chief Dana DeMuth removed his headphones and signaled that Joseph was safe. Jonathan Schoop followed by grounding into a force play at second so the missed call didn't impact the game.
The Red Sox beat the Orioles in this meaningless series. If only there were more of such wins earlier this season, then Boston fans could be celebrating like these Baltimore devotees.
This fan went so far as to make a mascot costume and wear it to Camden Yards. Keep in mind this is in a town where the average relative humidity in the summer hovers above 80%.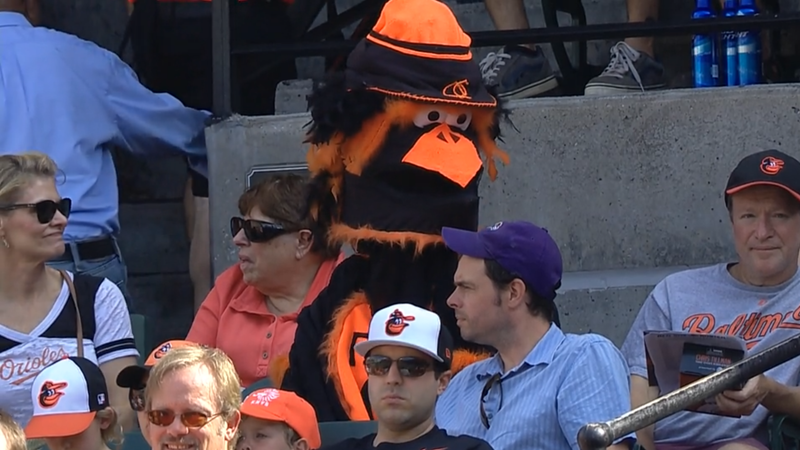 Orange really pops when used in a wig. Add football pads, Hulk hands, and a sequined top and you have a vibrant duo ready to cheer on their pennant-winning squad.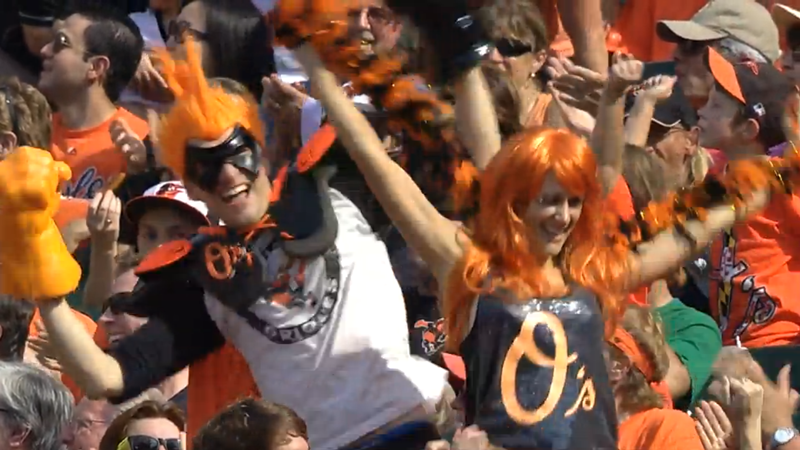 This Orioles Batman joined forces with makeshift mascot man late in the game. They even saw each other unmasked, which reminded me of the Looney Toons episode where Ralph E. Wolf and Sam Sheepdog removed successive layers of costumes.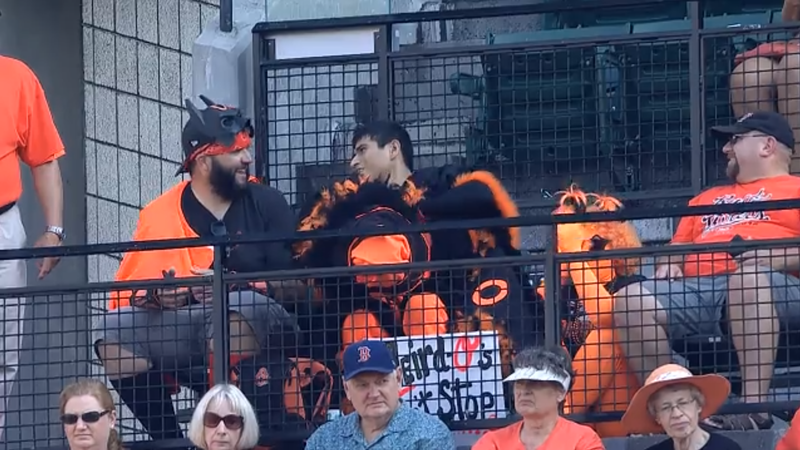 Mookie Betts led off the game with a home run into the seats surrounding left field. He became the youngest player to clout a home run to start the game since fellow second baseman Bobby Doerr. Doerr did the same 75 years ago on August 1, 1939 in a game against Cleveland. The Hall of Famer hit two homers off Bob Feller that day.
Miguel Gonzalez is no Bob Feller and Betts isn't Doerr. But amongst the Red Sox rookies Betts has been most consistent. But that didn't spare him from having to don a ridiculous outfit.
Game 156: September 21, 2014

Boston Red Sox
68-88
3
W: Joe Kelly (5-4)
H: Tommy Layne (9), Burke Badenhop (13)
S: Edward Mujica (8)
HR: Mookie Betts (5), David Ross (7)
Baltimore Orioles
93-62
2
L: Miguel Gonzalez (9-9)
2B: David Lough (6)