Who were the bigger stars, Ryan and Reese or Yoenis Cespedes?
Ryan was the boy who gave a little girl named Reese a foul ball off Christian Vazquez's bat in the fourth inning.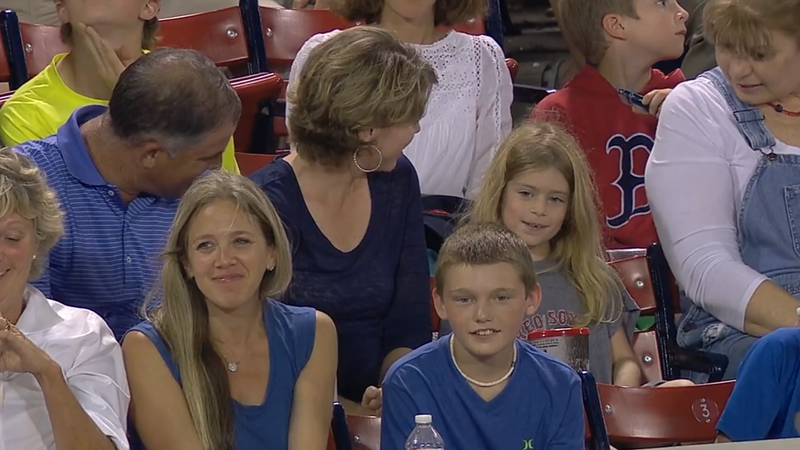 It was truly heartwarming. When the ball attendant recovered the ball Reese looked at her hopefully but Ryan was closer. Ryan seemed to sense Reese had wanted the ball and immediately gave it to her.
Ryan and Reese's was not the only storybook ending.
In the top half of the tenth inning the Blue Jays broke the 6-6 tie. Red Sox killer Edwin Encarnacion singled to left and John Gibbons had pitcher Marcus Stroman pinch run for him. That switch worked better than when Terry Francona used Clay Buchholz as a baserunner on August 14, 2009 and Buchholz was thrown out at home. Stroman scored on Dioner Navarro's infield single that had Dustin Pedroia acting the contortionist as he tried to throw towards home.
John Mayberry tagged up on Danny Valencia's fly ball to right. Allen Craig didn't seem to realize there were only two outs with his catch. He didn't get the ball back to the infield in time to stop the insurance run from scoring.
Three Red Sox rookies, Mookie Betts, Xander Bogaerts, and Vazquez, singled in succession in the bottom of the 10th. Vazquez's single was supposed to have been a sacrifice bunt but he cunningly popped the ball over first baseman Juan Francisco's head to exploit Steve Tolleson's positioning. A player seeking to salvage his career, Will Middlebrooks, singled to left to plate Betts and pull Boston within a run.
Pedroia has been on fire since his return; he went 2-for-5 in this game. In his last at bat he lifted a fly ball into left field and Bogaerts crossed the plate to tie the game. David Ortiz reached on an error by Tolleson at second base, which loaded the bases for Cespedes.
Cespedes crushed the ball to center field. It bounced on the warning track and into the center field stands to push in pinch runner Jemile Weeks for the victory.
Storybook endings, indeed.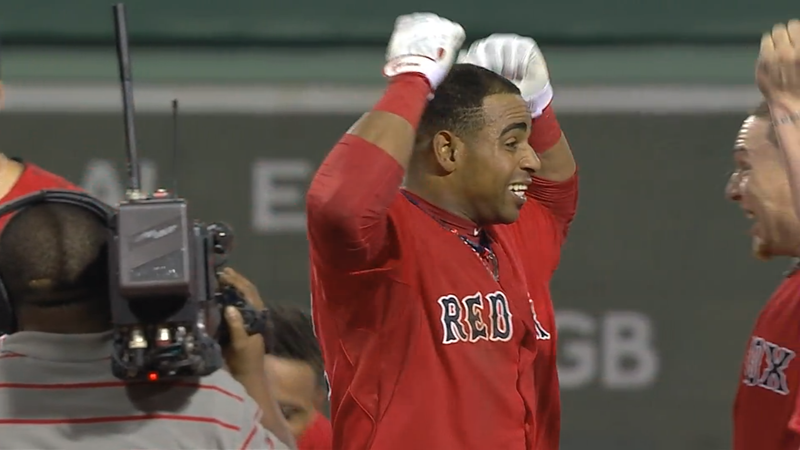 Game 141: September 5, 2014

∙ 10 innings
Toronto Blue Jays
72-68
8
H: Brandon Morrow (1), Daniel Norris (1)
BS: Aaron Loup (5)
BS, L: Casey Janssen (5, 3-3)
2B: Ryan Goins (4), John Mayberry (8)
HR: Jose Bautista (30), Edwin Encarnacion (30)
Boston Red Sox
62-79
9
W: Tommy Layne (2-1)

2B: Yoenis Cespedes (33), Mike Napoli (20), Xander Bogaerts (26), Dustin Pedroia (33)