Xander Bogaerts had a brilliant showing: 4-for-5 with a home run, double, and an RBI single. He outplayed his counterpart at shortstop but for one play.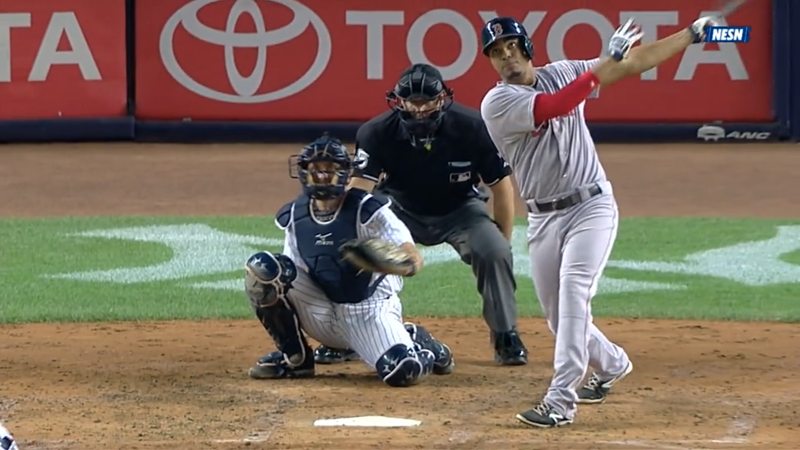 In the fifth inning Joe Kelly suddenly lost command of the strike zone, perhaps because he had to pitch from the stretch. Carlos Beltran led off with a single and Brian McCann took advantage of the shift and bunted his way on.
Martin Prado blasted the ball over Yoenis Cespedes's glove but neither Beltran or McCann scored and Prado ran into the first out. Cespedes unintentionally deked the runners into an improbable tag play.
Kelly walked eight- and nine-hole hitters, the first bases on balls of the entire evening for the Red Sox hurler. After a visit from Juan Nieves Kelly settled down to induce a line out off Jacoby Ellsbury's bat to Bogaerts. But then Derek Jeter entered the batter's box with the bases loaded and knocked one of his patented infield singles to Bogaerts. Jeter was called out by Tim Welke but the replay showed he indeed beat Bogaerts's throw to first.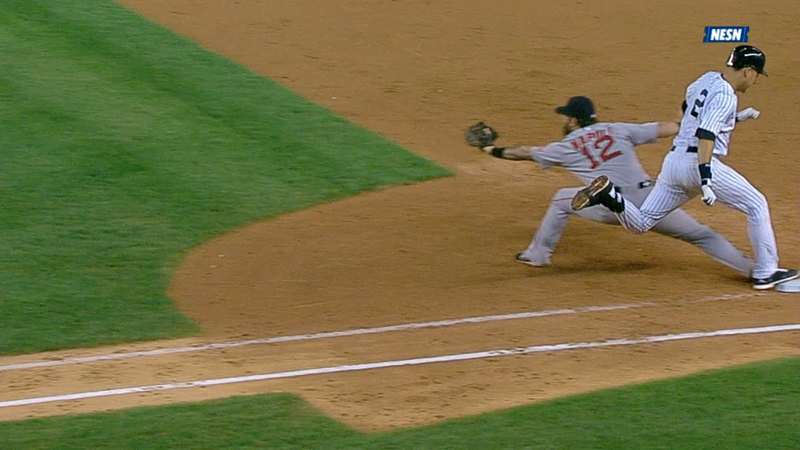 But it was not an evening where mystique and aura revisited the Bronx. Instead we saw a freak out and horror. Brett Gardner was tossed after Jeter's RBI single for hurling his helmet in response to Tim Timmons's called third strike.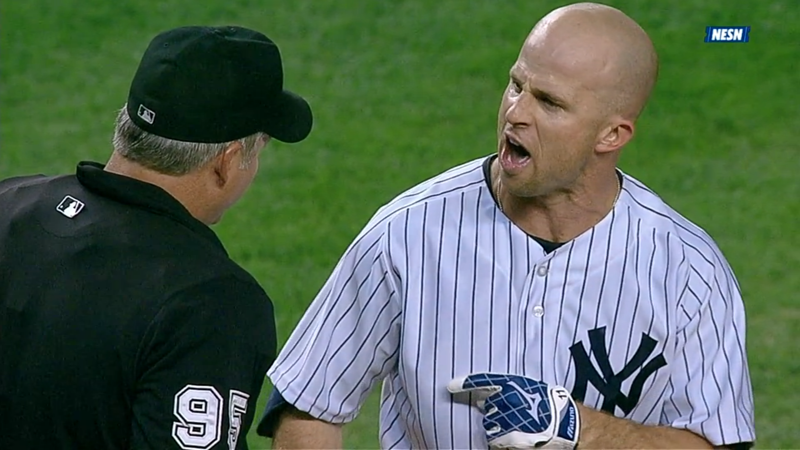 Another rookie, Mookie Betts, had an impressive showing. Batting in the two-hole in place of Dustin Pedroia has not daunted Betts. He went 3-for-5 with a homer. On the defensive side he made an excellent snare of Mark Teixeira's fly ball to the warning track in the fourth inning.
Thanks to the rookies as well as Daniel Nava's three-run blast in the third inning the Red Sox trounced the Yankees. New York is trying to keep pace in the wild card race and one of the few things left for Boston fans to cheer for is keeping the Yankees out of the playoffs.
Game 138: September 2, 2014

Boston Red Sox
61-77
9
W: Joe Kelly (3-3)

2B: Yoenis Cespedes (32), Xander Bogaerts (25)
3B: Cespedes (5)
HR: Daniel Nava (5), Bogaerts (9), Mookie Betts (4)
New York Yankees
70-66
4
L: Shane Greene (4-2)
HR: Martin Prado (10), Brian McCann (16)