Mookie Betts made his much-anticipated major league debut Sunday night. Like this team's performance Betts's first game was a mixed bag. He grounded into a double play in his first at bat. The second-inning twin killing ended a scoring opportunity.
In the fourth inning Betts singled up the middle with two out. But again he ended the inning. This time he was caught stealing by Brian McCann and Derek Jeter. The team made sure to retrieve the ball he sent to Jacoby Ellsbury as a souvenir.
Betts led the sixth off with a base on balls. He made reliever David Huff throw nine pitches in the effort. Huff ended up loading the bases, which prompted Joe Girardi to call Dellin Betances to the mound. Dustin Pedroia's sacrifice fly to center field plated Betts, giving the rookie his first major league run.
Betts isn't quite yet accustomed to the outfield. He sold out on Ichiro Suzuki's line drive to right field in the fifth, resulting in a triple.
Jackie Bradley, Jr. showed Betts how it was done in the bottom of the sixth. Carlos Beltran, who looks like he is getting dieting tips from Bartolo Colon, tried to score on Kelly Johnson's gutshot single. Perhaps he thinks Ellsbury's arm is representative of most center fielders' strength. Bradley showed Beltran he is not most center fielders.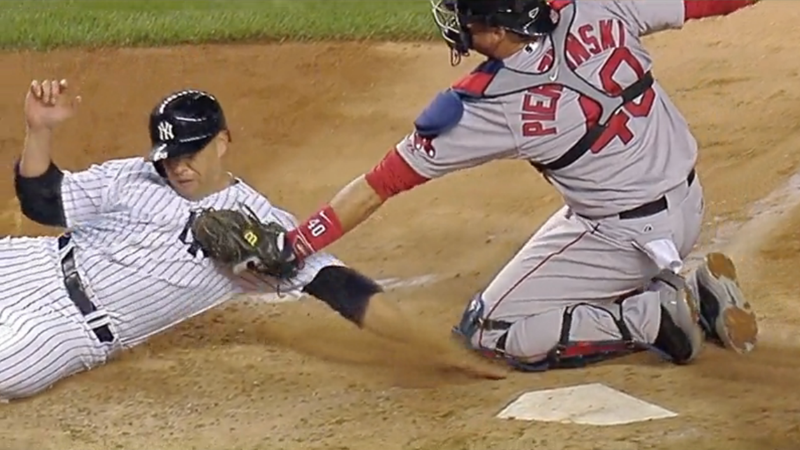 The Red Sox scored a seemingly comfortable number of runs, many of them coming from David Ortiz's third inning three-run moonshot. But in Nouveau Stade Fascite no lead is safe. The Boston squad escaped the Bronx with a series win and a slight hope that they can compete in the AL East.
Game 82: June 29, 2014

Boston Red Sox
38-44
8
W: John Lackey (9-5)
H: Burke Badenhop (5), Andrew Miller (9), Junichi Tazawa (8)
S: Koji Uehara (18)
2B: Mike Napoli (12)
HR: David Ortiz (19)
New York Yankees
41-39
5
L: Chase Whitley (3-2)
2B: Brett Gardner (11)
3B: Ichiro Suzuki (1)
HR: Mark Teixeira (15), Carlos Beltran (8)