Josh Tomlin looked like a young, right-handed Randy Johnson. He didn't pitch like one: 5⅔ innings pitched, 9 hits, 3 earned runs, 2 walks, and 3 strikeouts.
David Ortiz clouted a two-run homer to dead center in the fifth inning. He drove in Jackie Bradley, Jr., who had led off the stanza with a single lined to right field. These signs are dog-eared because of how often they are raised to celebrate the designated hitter's clutch hits.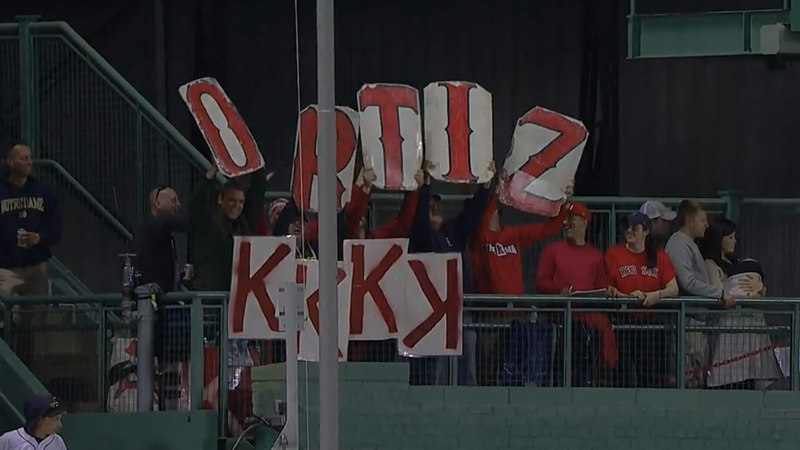 Bradley made a stunning play in the seventh inning. His counterpart Michael Bourn lofted the ball to the warning track in deep left-center. Bradley made the grab on the run and used the wall to stop his momentum. Just steps from the wall Bradley fired to Mike Napoli; the throw made it to Napoli's glove in one bounce. Napoli did have to step a few steps away from the sack to make the catch but he was back in time to double off Mike Aviles.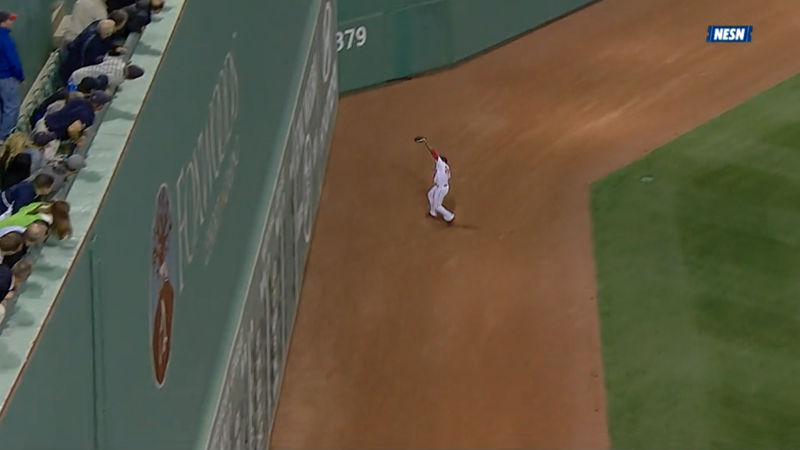 Bradley wasn't alone with outstanding defensive gems. The ball girl on the first base side snared Brantley's foul ball with aplomb. Grady Sizemore similarly used the right field wall on his grab of Aviles's foul ball to end the fifth inning. Sizemore smashed a kid's hand when he sat on the wall for a split-second. I've seen more subtle displays of pain from soccer players in the World Cup.
Koji Uehara expended fourteen pitches in his perfect save opportunity. The only reason we don't see this sign too often is because the offense hasn't been keeping the team in the game. With so much talent on the roster we have seen flashes of a playoff contender, but if Boston can't right its course Uehara may be an asset that the Red Sox deal.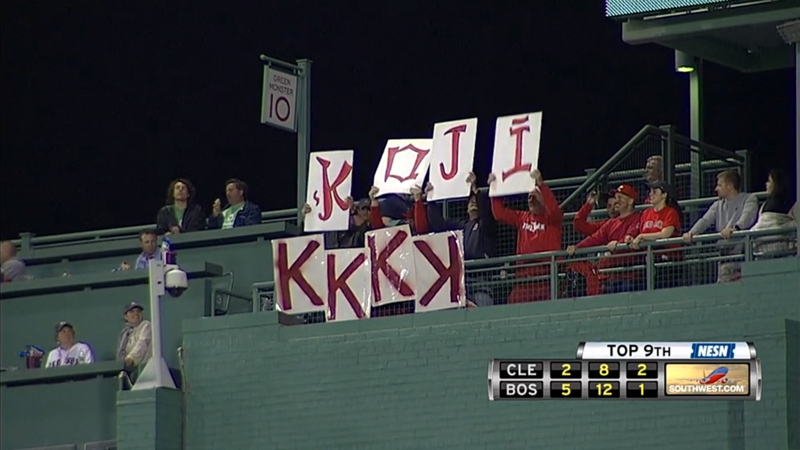 Game 66: June 12, 2014

Cleveland Indians
33-33
2
L: Ross Tomlin (4-3)
2B: Michael Brantley (16)
Boston Red Sox
30-36
5
W: Jon Lester (7-7)
H: Junichi Tazawa (6)
S: Koji Uehara (14)
2B: Grady Sizemore (10), Brock Holt (10)
3B: Jonathan Herrera (1)
HR: David Ortiz (15)