Jon Lester had a no-hitter going into the sixth inning. Brett Gardner broke it up with a single up the middle. David Ross eliminated Gardner from the basepaths with a perfect throw to Stephen Drew.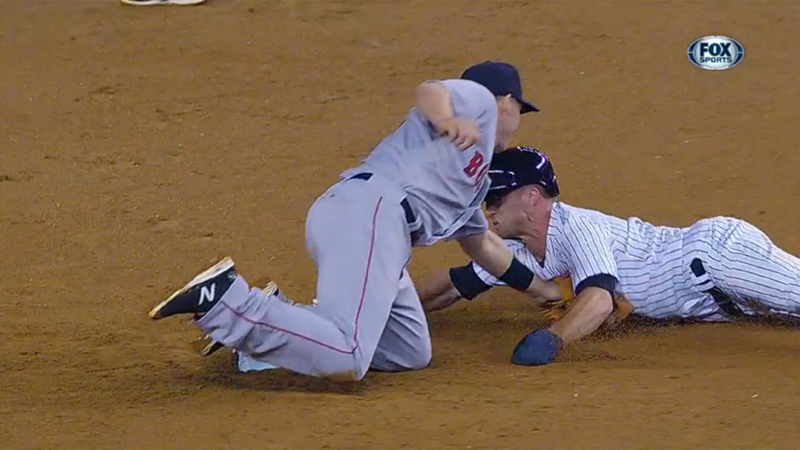 It was the least the Red Sox defense could do for Lester. In the third inning Stephen Drew allowed Brian Roberts to reach on a failed fielding attempt. Roberts advanced to second base when Lester hit Yangervis Solarte with a pitch and then to third on Gardner's sacrifice bunt. Derek Jeter somehow didn't get one of his trademark cheap hits but still grounded out to plate Roberts to tie the game 1-1.
While we are all thankful that Tim McCarver no longer does games on Fox, in his stead we have Harold Reynolds suggesting that reaching on errors should contribute to on-base percentage. He made the argument that Ted Williams would have tried harder if this were the case.
Williams is the career leader in on-base percentage.
Ross and Mike Napoli, a catcher and a former catcher, both homered to give the visitors the one-run victory. The battery mates didn't want to see Lester's masterful outing go to waste.
Napoli's sympathy for the pitcher didn't extend to the Yankees' starter, however. "What an idiot!" he exclaimed as he returned to the dugout. Masahiro Tanaka shook off Brian McCann twice before sending a fastball over the plate.
What's the Japanese equivalent of meatball? Tsukune, a Japanese chicken meatball, seems like it would do the trick.
Game 81: June 28, 2014

Boston Red Sox
37-44
2
W: Jon Lester (9-7)
S: Koji Uehara (17)
2B: David Ortiz (11), Brock Holt (15)
HR: David Ross (4), Mike Napoli (10)
New York Yankees
41-38
1
L: Masahiro Tanaka (11-3)
No extra base hits