Last night Brock Holt checked off center field off his list of positions to play. He got a feel for the territory when he fielded Danny Santana's line drive single to start the game. That play seem to calibrate Holt to his new position's parameters as he played the spot fluidly.
Holt demonstrated his prowess in the third inning. Jonny Gomes in left field lost Brian Dozier's fly ball in the twilight, as did the crew operating the camera. The lens was fixed on Gomes, who gamely put up his glove in an attempt to deke Dozier. Stephen Drew appeared in frame pointing up frantically. Holt dashed into the picture with a dramatic dive and catch. Dozier could only shake his head in amazement.
This was Holt's first put out in center.
David Ross joked with Holt, saying, "I hope you can't catch." After seeing Ross get hit in the throat by a pitch that bounced in the dirt I don't think Holt will be actively campaigning to be backstop.
That white spot under Ross's chin? The ball finding a tender, unprotected spot of his body.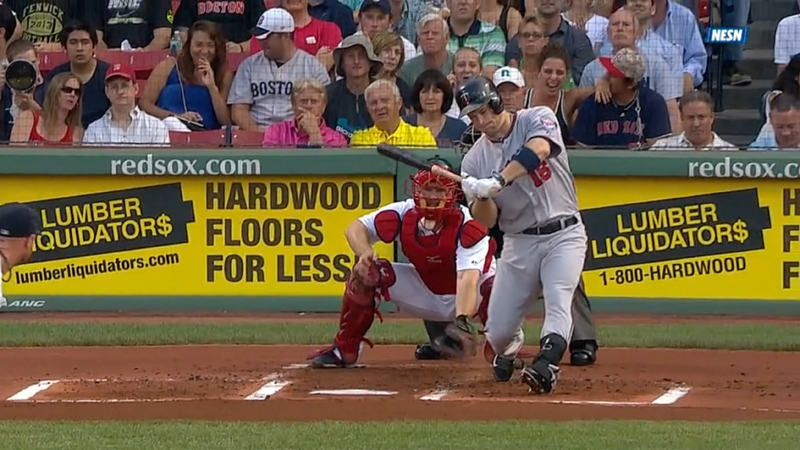 Koji Uehara wasn't available but Edward Mujica pitched a perfect ninth inning to secure the win for Jon Lester. Granted it was against the Twins, one of the few offenses that proved less competent than the Red Sox's lineup.
Boston's flagging offense left no margin for error for the pitchers. Lester allowed the opponents to score only once. In the sixth inning Ron Gardenhire played small ball after Santana led off the frame with a double down the left field line. Dozier sac bunted Santana over with Joe Mauer on deck. Mauer knocked the ball at Gomes, who trapped it but then lost it in the shuffle. Mauer's double plated Santana, rendering the sacrifice bunt moot.
May this current malaise not lead John Farrell to the path of small ball, for down that path lays bunting and boredom.
Game 71: June 17, 2014

Minnesota Twins
32-37
1
L: Phil Hughes (7-3)
2B: Danny Santana (6), Joe Mauer (11)
Boston Red Sox
33-38
2
W: Jon Lester (8-7)
H: Burke Badenhop (4), Craig Breslow (2), Junichi Tazawa (7)
S: Edward Mujica (2)
2B: Dustin Pedroia (22), Stephen Drew (2), Brock Holt (12)