Brock Holt played hit first game as an outfielder but wasn't fazed by the vast outfield of Comerica Park. He made a Gold Glove-caliber play in the third inning on Ian Kinsler's swiftly falling fly ball to left.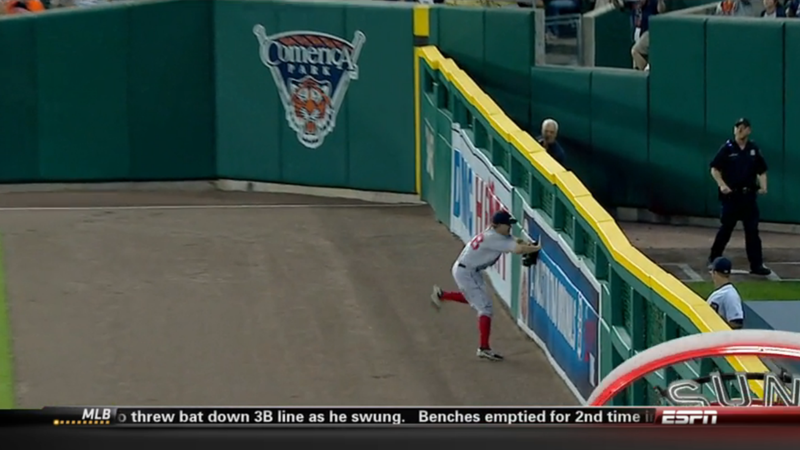 Brad Ausmus decided to use Joba Chamberlain in the ninth. Joe Nathan was in the dugout, not the bullpen, so the former Yankee's test run as closer could be explained away due to Nathan's unavailability. Chamberlain gave up a single to Holt but then struck out Xander Bogaerts in four pitches. Dustin Pedroia proved more patient and worked a walk.
Mike Napoli had already proved that his stint on the disabled list didn't diminish his skills with his game-tying homer in the sixth inning. Ausmus had no choice but to allow Chamberlain to pitch to David Ortiz. The only thing missing from this picture is a swarm of midges.
Ortiz helpfully showed everyone where Chamberlain's pitch ended up. Time to revive the debates about the skill of clutch again thanks to Ortiz's three-run game-winning circuit clout.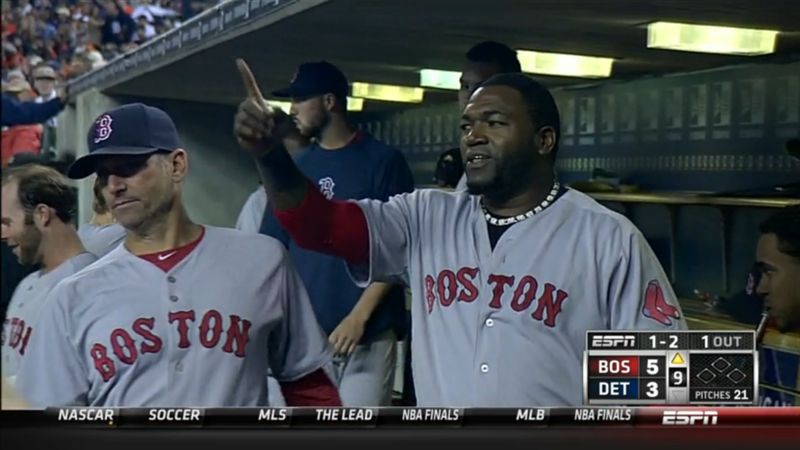 Game 62: June 8, 2014

Boston Red Sox
28-34
5
W: Jonn Lackey (7-4)
S: Koji Uehara (12)
2B: A.J. Pierzynski (9)
3B: Brock Holt (2)
HR: Mike Napoli (6), David Ortiz (14)
Detroit Tigers
33-26
3
BS, L: Joba Chamberlain (2, 1-3)
2B: Miguel Cabrera (21)