Forget being enshrined in the National Baseball Hall of Fame. Dennis Eckersley is represented in a mascot race. That is baseball immortality. Not only is Eckersley's inspiring come-from-behind win chronicled in the video below but also Don Orsillo and Eckersley's awkward white man high five is captured for posterity.
And unlike the Red Sox, Eck won!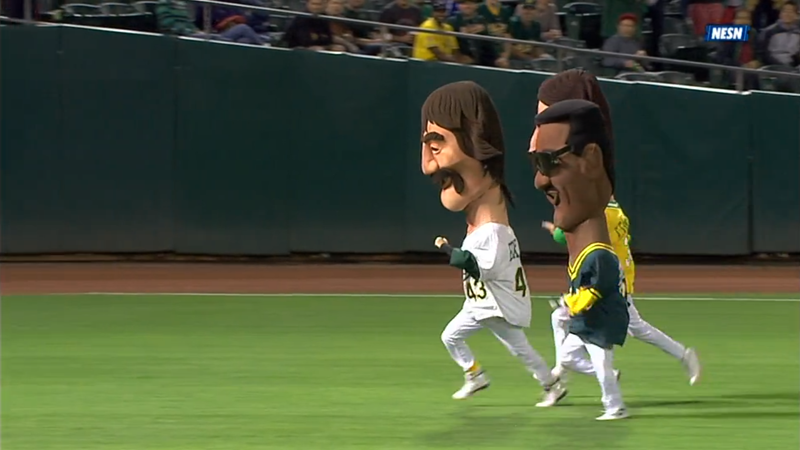 In real life Rickey Henderson would win that race with one leg. Next season they should add Charlie O. Finley chasing after Rollie Fingers with a price gun.
The Hall of Fame mascots watched on as Dustin Pedroia homered in the sixth inning. He drove in Brock Holt, who singled with one out in the inning. The Red Sox scored only two runs off the formidable Oakland pitching staff.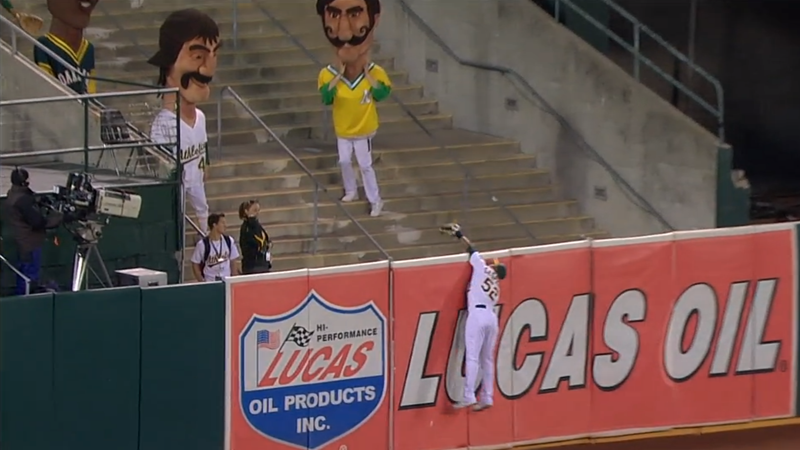 The Oakland Athletics have scored 377 runs and allowed 243 runs. Their Pythagorean W-L record of 50-23 is ahead of their actual record of 45-28, but even with the shortfall they lead the American League. The Los Angeles Angels have rebounded from their slow start to keep pace in the Wild Card race with Detroit and New York. Across San Francisco Bay the Giants lead their division with the Dodgers close behind. We might be looking at an all-Golden State World Series in October.
Game 73: June 19, 2014

Boston Red Sox
34-39
2
L: Jake Peavy (1-5)

2B: Jackie Bradley Jr. (13), Dustin Pedroia (23)
HR: Pedroia (4)
Oakland Athletics
45-28
4
W: Scott Kazmir (9-2)
H: Luke Gregerson (11)
S: Dan Otero (1)
2B: Jed Lowrie (18)
HR: Yoenis Cespedes (14)