I think the Twins and Red Sox batters are solar-powered with a 10-inning charging cycle. They may be able to spray a few doubles here and there before being fully energized as displayed by Daniel Nava's ground-rule double in the fifth, but it wasn't until extra innings that any runs scored.
The Red Sox pitching and defense kept their team in the game. John Lackey pitched nine innings with a sparkling line: 3 hits, 1 walk, and 9 strikeouts. For just the second time this season Koji Uehara surrendered a home run.
Danny Santana's bunt attempt was foiled by Dustin Pedroia's quick glove and flip in the sixth inning.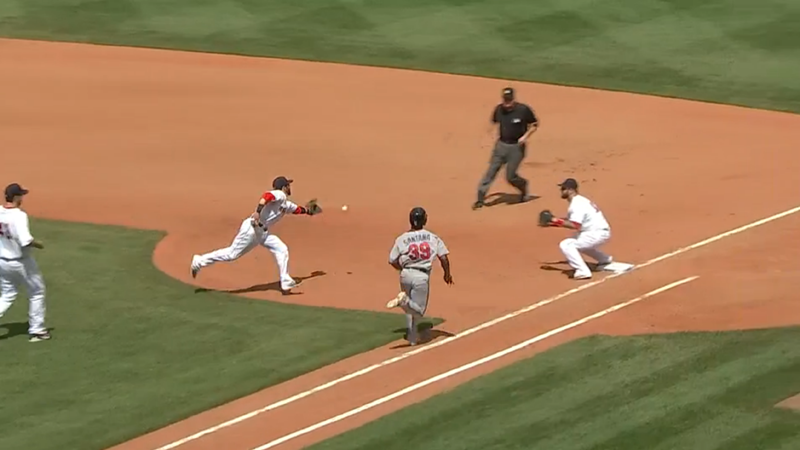 Pedroia was on the receiving end of Nava's eighth inning assist that erased Eduardo Escobar from the basepaths.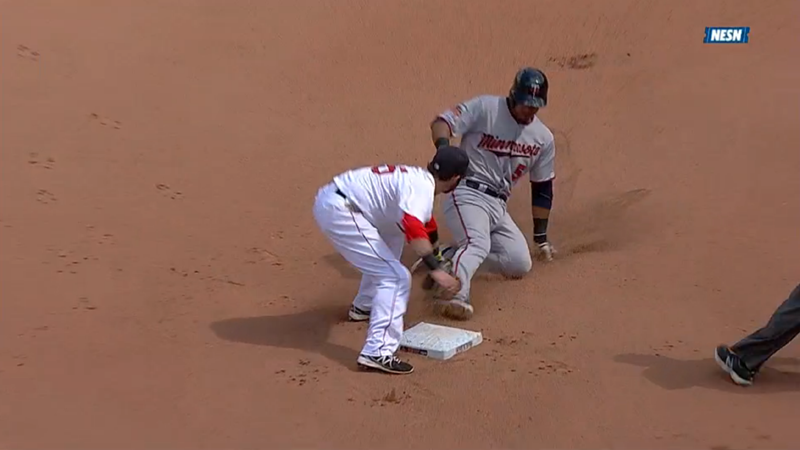 Chris Parmelee's go-ahead home run barely cleared the bullpen wall. Even Brock Holt couldn't catch it before it landed in the Red Sox bullpen.
I wonder if Shane Victorino or Grady Sizemore could have gloved it? Victorino's return may be the offensive shot in the arm Boston needs. Sizemore proved he wasn't the cure and was designated for assignment on Tuesday and officially released today. Ben Cherington made the move sooner rather than later in case there was another club that wanted to take a chance on Sizemore. If baseball production manifested in proportion to a player's class Sizemore would be a resurgent All-Star.
Completely fueled by the summer sun David Ortiz stepped into the box in the tenth with one out. Casey Fien hung in against the designated hitter until the seventh pitch. Ortiz sent the ball around Pesky's Pole to tie the game 1-1. Mike Napoli fell behind 0-2 but hammered Fien's fastball into dead center.
Game 72: June 18, 2014

∙ 10 innings
Minnesota Twins
32-37
1
BS, L: Casey Fien (1, 3-4)
HR: Chris Parmelee (4)
Boston Red Sox
34-38
2
W: Koji Uehara (2-1)

2B: Daniel Nava (5)
HR: David Ortiz (16), Mike Napoli (7)