Coco Crisp was immortalized as a garden gnome.
Mike Napoli entered the history books as the first Red Sox player since 1967 to steal home and homer in a game. Rico Petrocelli did the same on September 9 against the Yankees.
Koji Uehara showed that he was a mere mortal by blowing a save. The ninth frame started off uneventfully with Alberto Callaspo's ground out to first. Stephen Vogt somehow deciphered Uehara's splitter and clouted his second home of the season to bring his team within a run. Uehara handled Nick Punto in two pitches; the infielder popped out to Jonathan Herrera.
Bob Melvin sent in John Jaso to hit for Craig Gentry. Jason evened the score 6-6 with a blast into the stairs in right field. Prior to this game Uehara had surrendered three home runs in 33 games.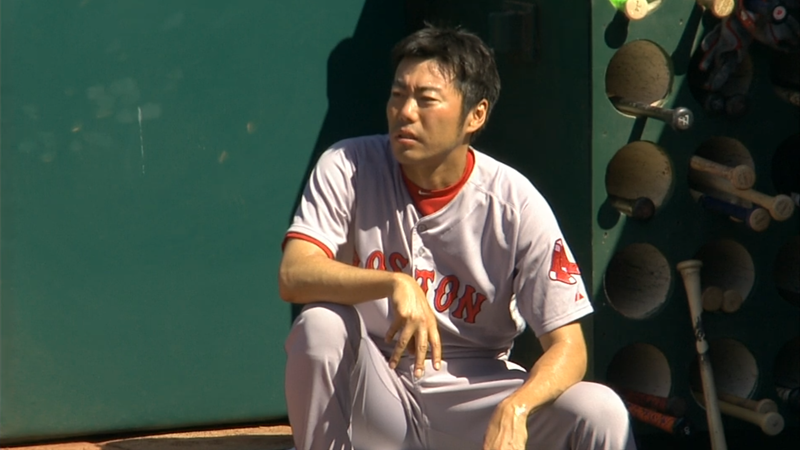 David Ortiz is used to saving closers. He used to do that for Jonathan Papelbon all the time. The Red Sox designated hitter lined a homer over the center field fences. Fernando Abad must have been wondering why Melvin had him pitch to a slugger known for clutch hits.
The Athletics lost their designated hitter when Herrera's backswing knocked Derek Norris out of the game in the tenth. It was good to see Herrera's bat put to some use.
John Farrell brought Uehara back out for the tenth even though he had to oppose the teeth of the Athletics' lineup. The closer recovered from his blown save to induce a pop out off Yoenis Cespedes's bat and strike out Josh Donaldson. Sean Doolittle made his major league hitting debut and was able to make contact. Fortunately for Uehara and the Red Sox that contact was a light tapper to Dustin Pedroia.
Game 76: June 22, 2014

∙ 10 innings
Boston Red Sox
35-41
7
H: Andrew Miller (7)
BS, W: Koji Uehara (1, 3-1)

HR: David Ross (3), Mike Napoli (8), David Ortiz (17)
Oakland Athletics
47-29
6
L: Fernando Abad (2-3)
2B: Alberto Callaspo (9)
HR: Stephen Vogt (2), John Jaso (7)