Rick Porcello pitched his best game in a Red Sox uniform so far: 7 innings, 2 hits, 1 earned run, 2 walks, and 6 strikeouts. The only extra base hit he gave up, a double off Kevin Pillar's bat in the second inning, was converted into a the only run the Blue Jays scored.
Porcello wasn't on the 2006 Tigers team whose pitchers failed to field on the grandest of stages, the World Series. But perhaps he is somewhat touched by the legacy of Detroit pitchers' poor fielding. Porcello failed to touch the bag to complete Mike Napoli's assist in the second. This allowed Pillar to reach third base.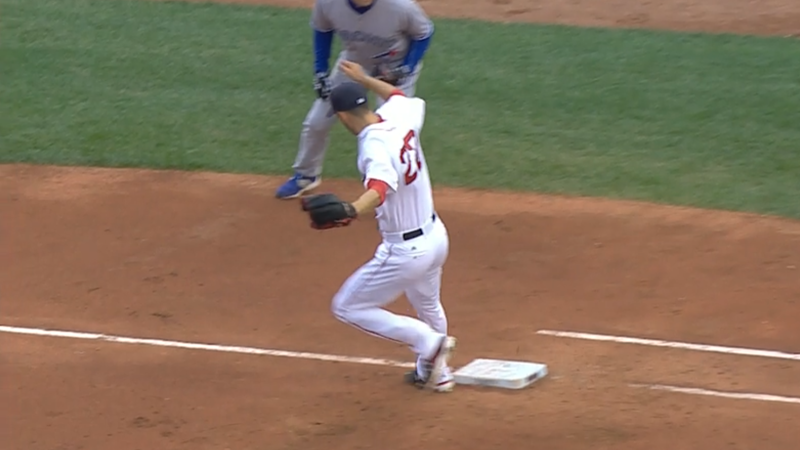 It seemed that Porcello was on his way to another poor outing. He hit Dalton Pompey with a pitch to load the bases. Then Josh Thole laced the ball to center, which plate Pillar.
Thole swiped third base with Ryan Goins at the plate, but even then Porcello did not lose focus. Goins sent the ball up the middle for Dustin Pedroia to gobble up. Pedroia dashed to second to start the double play and fired to Napoli to end the inning.
Koji Uehara returned to 2013 form last night. He earned his fourth save by striking out the side.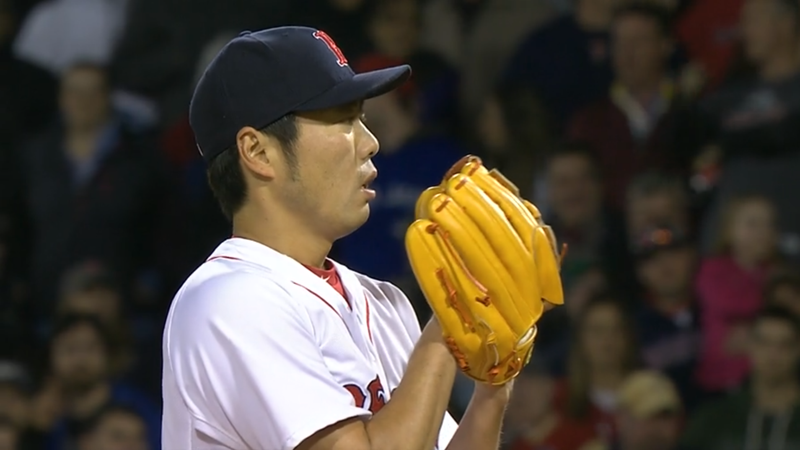 But the play that will be best remembered happened in the third inning. Devon Travis must have thought he had at least a double when he sent the ball to center field. Mookie Betts ran at full sprint towards the center field wall to intercept the ball. When he got to his last step before the warning track he leaped to snare the ball. He turned his body in time to lay supine at the base of the wall. He nonchalantly lifted his glove to show the umpires he made the catch.
Whenever there is an outstanding catch in center people always evoke Willie Mays's name. And in this situation it is warranted.
Game 22: April 29, 2015

Toronto Blue Jays
10-12
1
L: R.A. Dickey (0-3)
2B: Kevin Pillar (7)
Boston Red Sox
12-10
4
W: Rick Porcello (2-2)
H: Junichi Tazawa (5)
S: Koji Uehara (4)
HR: Hanley Ramirez (10)