Freddy Galvis was well-disguised but couldn't steal a hit off the Red Sox pitching staff. Indeed his Boston counterpart Xander Bogaerts made a diving grab of his swiftly dropping batted ball for the fifth inning's first out.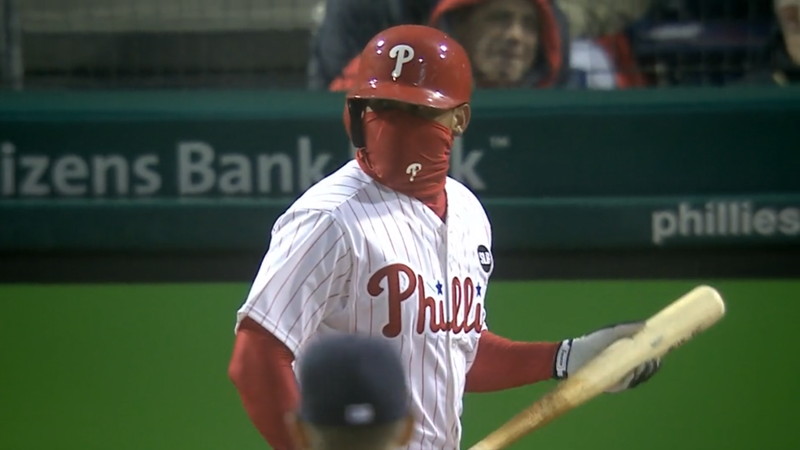 Pablo Sandoval was similarly garbed. Who knew MLB-branded balaclavas were a thing? Sandoval notched his first hit in a Red Sox uniform with two outs in the fourth inning. Not only did he get his first hit but he also broke up Aaron Harang's perfect game.
Sandoval committed his first error of the season in the bottom of the seventh. He threw errantly to Mike Napoli after fielding Ben Revere's grounder. Revere advanced all the way to third and tagged up on Chase Utley's sacrifice fly to right field. The Phillies padded their lead to 4-0.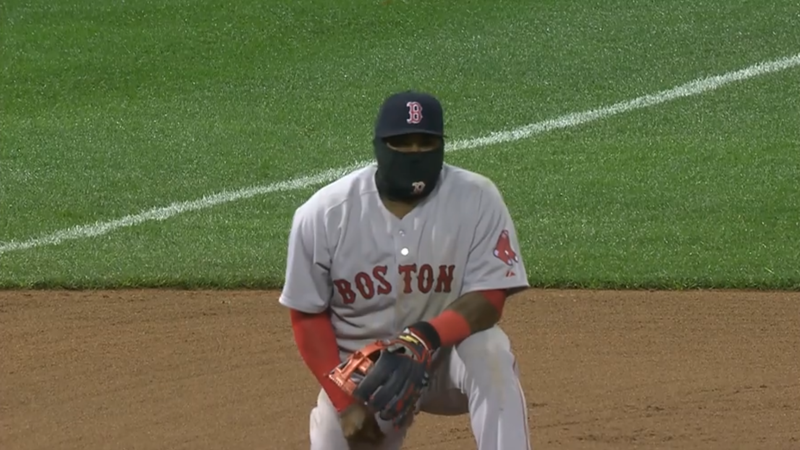 Sandoval was part of a rally in the eighth. Daniel Nava was plated by Xander Bogaerts's single. Ken Giles secured the next two outs but then walked Dustin Pedroia and Sandoval in succession to cut the home team's lead to two runs.
With the bases loaded Hanley Ramirez was poised to give his team the lead with another grand slam. It could have been Jonathan Papelbon's stuff or it could have been the heavy early spring air but Ramirez's fly ball was just short of the left field fences.
If Papelbon loved his former team so much he would have grooved one to Ramirez. "The Red Sox are a part of who I am, man," he said to Julian Benbow. "Boston's where I was born and raised. It's kind of like that, you know. It's the city you were born and raised in."
Rick Porcello lived up to his reputation and had 11 groundouts compared to two flyouts. When he surrendered a big fly in the sixth inning it happened with two men on base, and even more surprisingly it came off Jeff Francouer's bat. A sample size of one is much too small to pass judgment on Porcello's four-year $82.5 million extension, but Jay Jaffe argues that Porcello could be worth the money. Just don't expect a lot of strikeouts and hope that the infielders are on their toes.
Game 2: April 8, 2015

Boston Red Sox
1-1
2
L: Rick Porcello (0-1)
No extra base hits

Philadelphia Phillies
1-1
4
W: Aaron Harang (1-0)
H: Jeanmar Gomez (1)
S: Jonathan Papelbon (1)
HR: Jeff Francouer (1)