When will the Red Sox win again? When pandas fly.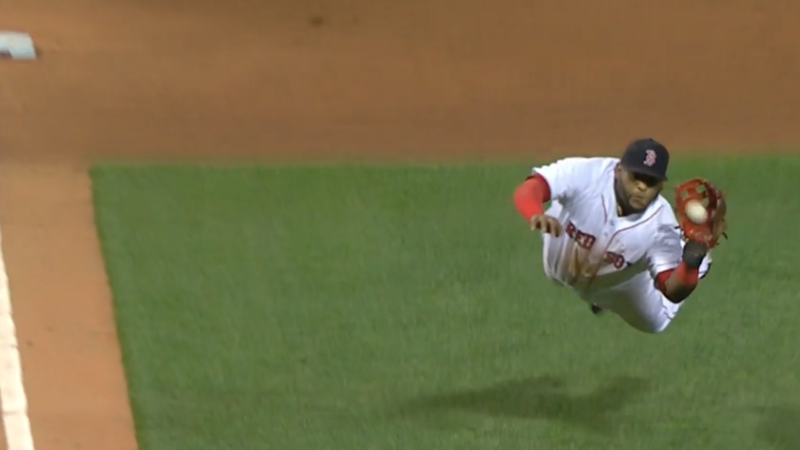 Pablo Sandoval not only made this outstanding catch in the fifth inning but clouted his first home run at Fenway Park. The line shot cleared the fences in right. If this were San Franciso it could have been caught if the outfielder shaded Sandoval correctly.
With his recent blown save Koji Uehara might have wished he pitched in a spacious ballpark like AT&T. But he was back in form in the top of the ninth, dispatching Michael Saunders, Kevin Pillar, and Dalton Pompey without fuss.
Mookie Betts stepped into the box in the bottom of the ninth with one out and men at first and second base. Miguel Castro, the pitcher who opposed Betts, uncorked a wild pitch to allow the runners to advance. Betts got the pitch he needed and sent it back up the middle to plate Xander Bogaerts.
Betts would have been Bogaerts's double play partner if Dustin Pedroia were not entrenched at the keystone sack. Instead they are a relentless batting combination. If a pitcher doesn't get Bogaerts and the nine-hole hitter out he will have to face Betts.
Game 20: April 27, 2015

Toronto Blue Jays
9-11
5
H: Aaron Loup (2)
BS: Roberto Osuna (1)
L: Miguel Castro (0-2)
2B: Russell Martin (3), Kevin Pillar (5)
HR: Devon Travis (6)
Boston Red Sox
11-9
6
W: Koji Uehara (2-1)
2B: David Ortiz (2), Mookie Betts (3)
HR: Pablo Sandoval (2)