In a rare turn of events the Red Sox-Yankees game was more bloody than a "Game of Thrones" episode. Only one high-profile character died in the premiere episode of the fifth season. In the Bronx Chase Headley, Stephen Drew, and Brian McCann all bloodied Boston pitchers with home runs.
At first I thought that Clay Buchholz and Masahiro Tanaka had swapped places, one having an excellent start the first week to fall to pieces to next and vice versa. But instead Buchholz proved maddeningly inconsistent by starting off brilliantly and falling off precipitously in his second start.
Buchholz
April 6: 7 innings pitched, 3 hits, 0 earned runs, 1 walk, 9 strikeouts
April 12: 3⅓ innings pitched, 9 hits, 9 earned runs, 2 walks, 3 strikeouts
Tanaka
April 6: 4 innings pitched, 5 hits, 5 earned runs, 2 walks, 6 strikeouts
April 12: 5 innings pitched, 4 hits, 4 earned runs, 3 walks, 4 strikeouts
Tanaka, on the other hand, was consistently mediocre.
David Ortiz led off the fourth inning and advanced two bases on wild pitches. From second base he taunted Jacoby Ellsbury. The Red Sox lost this game but won the series, so perhaps some of Ortiz's ribbing was warranted.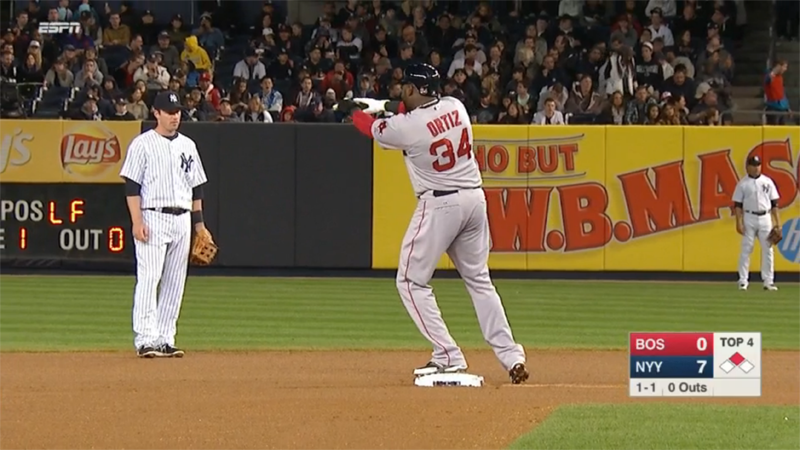 Today the Red Sox welcome a pleasant change of scenery from the Bronx to Boston with their first game at Fenway in 2015. Hanley Ramirez, who homered in Stade Fasciste last night, will see how his swing fits in his new home. Pablo Sandoval and Ramirez can practice playing the devilish corners of left field. Rick Porcello will try for his first win in a Red Sox uniform.
Game 6: April 12, 2015

Boston Red Sox
4-2
4
L: Clay Buchholz (1-1)
2B: Xander Bogaerts (1)
HR: Hanley Ramirez (3)
New York Yankees
2-4
14
W: Masahiro Tanaka (1-1)
2B: Alex Rodriguez (2)
HR: Chase Headley (2), Stephen Drew (1), Brian McCann (1)