The night is dark.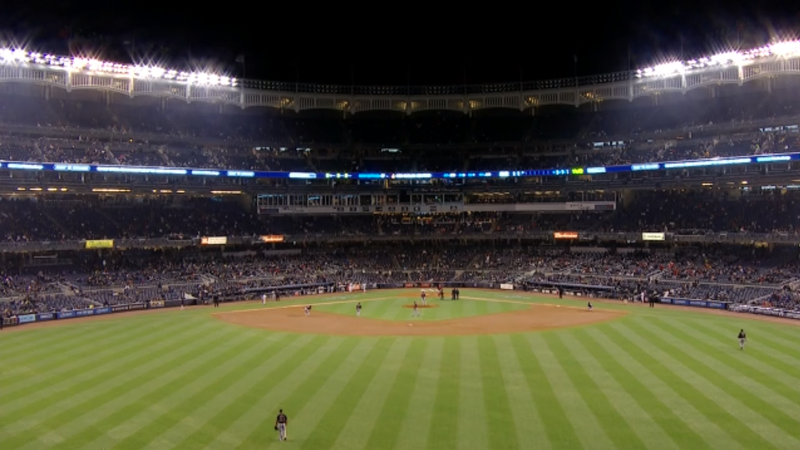 And full of errors.
It happens. pic.twitter.com/Fy9nBvuUhQ

— Julian Benbow (@julianbenbow) April 11, 2015
I'm a fan of George R.R. Martin's World of Ice and Fire, both the television series and the books. This game was a long and brutal contest and reminded me of of Brienne and Podrick's slog through the Riverlands. Just when you thought the well-meaning pair attained some measure of success they were thwarted by the ruffians of the area. Or as tourists would call it, your typical night in the Bronx.
Carice van Houten, who portrays Meliasandre in "A Game of Thrones," stayed for the entire six hours and 49 minutes of the game. Rather than Stannis's balls in her grasp she had a genuine major league souvenir. She rooted for the Red Sox when she found out fellow Dutchman Xander Bogaerts played for them, but then learned Didi Gregorius was on the Yankees. Both players have been knighted, so I should be calling them Ser Xander and Ser Didi. Of course, the Red Woman should root for the Red Sox as long as she refrains from burning the more productive players.
I got the ball ! @mlb pic.twitter.com/62KdZ6Alte

— Carice van Houten (@caricevhouten) April 11, 2015
Chris Martin, the Yankee reliever, not the Coldplay* lead singer, replaced starter Nathan Eovaldi in the sixth inning. He inherited Daniel Nava on first and had to get two outs to get out of inning. Martin struck out Bogaerts but then Sandy Leon reached on Gregorio Petit's error (linked above). Mookie Betts worked a base on balls to load the bases, but Dustin Pedroia tapped out to Mark Teixeira to end the threat.
The dragon has three heads, but so do the Yankees. Three times the Red Sox had the lead and three times the home team tied the score to live on. Finally in the 19th inning Betts sacrificed in Ser Xander to go ahead 6-5.
The New York squad was finally held scoreless by Steven Wright in the bottom of the frame despite Jacoby Ellsbury's leadoff single. Ser Xander nabbed Garrett Jones's batted ball and flipped it to Pedroia. Pedroia made an incredible twisting throw to Mike Napoli and the tourney was mercifully over.
*Coldplay drummer Will Champion had a cameo in the episode entitled "The Rains of Castamere." This episode featured the infamous Red Wedding.
Game 4: April 10, 2015

∙ 19 innings
Boston Red Sox
3-1
6
H: Robbie Ross Jr. (1), Alexi Ogando (1), Junichi Tazawa (1)
BS: Edward Mujica (1)
W: Steven Wright (1-0)
2B: Mookie Betts (1)
HR: David Ortiz (1)
New York Yankees
1-3
5
L: Esmil Rogers (0-1)
2B: Brett Gardner (1), Alex Rodriguez (1), Brian McCann (1), Carlos Beltran (2)
HR: Chase Headley (1), Mark Teixeira (2)