"Tup" is a rather vulgar word in British English but I don't think I have readers across the pond. If I did, I don't think they'd be scandalized by its use. For indeed, Joe Kelly was well and truly tupped in this game.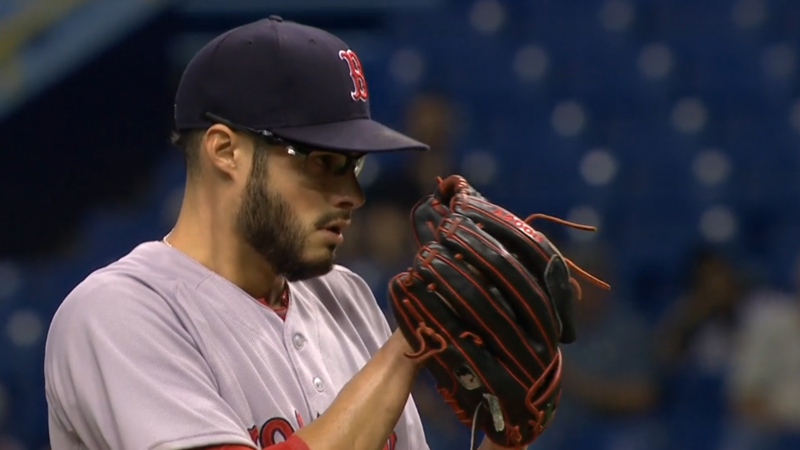 The Rays gained an early lead in the bottom of the first but Kelly contained them until the sixth inning. Kelly surrendered four straight singles and then walked Logan Forsythe with the bases loaded. Craig Breslow tried to stop the bleeding but rather ripped off the bandages (or plasters). Brandon Guyer lined a game-tying single to center, erasing the Red Sox's four-run advantage.
One bright spot was David Ortiz's fifth-inning blast. The Red Sox icon has amassed 469 home runs and 1,538 RBIs. He surpassed Chipper Jones for 32nd place in home runs and pulled ahead of Joe DiMaggio for 46th in runs batted in. But I'm sure Dustin Pedroia reminded Ortiz that so far this season he has four circuit clouts while the designated hitter only has three.
It is funny how the game can turn so quickly. I got onto a plane with the score 5-1. Thinking the lead safe and not wanting to pay for WiFi I entertained the thought of Boston not having dropped a series thus far in 2015 with a victory in this contest. When I switched my phone out of airplane mode the scores updated and mood deflated.
Game 15: April 22, 2015

Boston Red Sox
9-6
5
BS: Craig Breslow (1)
L: Edward Mujica (1-1)
2B: Mike Napoli (1), Ryan Hanigan (1)
HR: Dustin Pedroia (4), David Ortiz (3)
Tampa Bay Rays
7-8
7
W: Brad Boxberger (1-1)
H: Kevin Jepsen (4)
S: Steve Geltz (1)
2B: Steven Souza Jr. (3)
HR: Souza (4), Jake Elmore (1)