Ten years ago come this May I was at the Hall of Fame to celebrate my birthday. The Boston squad was enjoying its reign as the world champions so it wasn't painful to see case after case of Yankee greatness in Cooperstown. If you thought it was all a dream you only had look over at a case full of Red Sox memorabilia from 2004.
I had planned my visit around the Hall of Fame Game between the Tigers and the Red Sox. The Red Sox lost 6-4 but we got to see Hanley Ramirez and Anibal Sanchez play. These two highly touted prospects were going to power the player development machine that Theo Epstein envisioned. The 2004 Red Sox were not going to be one-and-done if the organization stuck to Epstein's vision.
The 2005 Red Sox tied the Yankees' regular season record of 95-67 but placed second because of their head-to-head record. They were swept by the Chicago White Sox in the American League Divisional Series. The South Siders went on to break their 88-year championship drought.
Rather than patiently grow their drafted talent the Red Sox traded Ramirez, Sanchez, Jesus Delgado, and Harvey Garcia for Josh Beckett, Guillermo Mota, and Mike Lowell in the 2005 offseason. This reaped almost immediate rewards with another World Series triumph in 2007, but it must be noted that key members of that team were rookies Dustin Pedroia and Jacoby Ellsbury.
What could have Hanley done at shortstop in those years? Or Sanchez on the mound? To the former question we can have a belated answer to a different question: will he uphold the legacy of excellence in left field established by Ted Williams, Carl Yastrzemski, Jim Rice, and Manny Ramirez?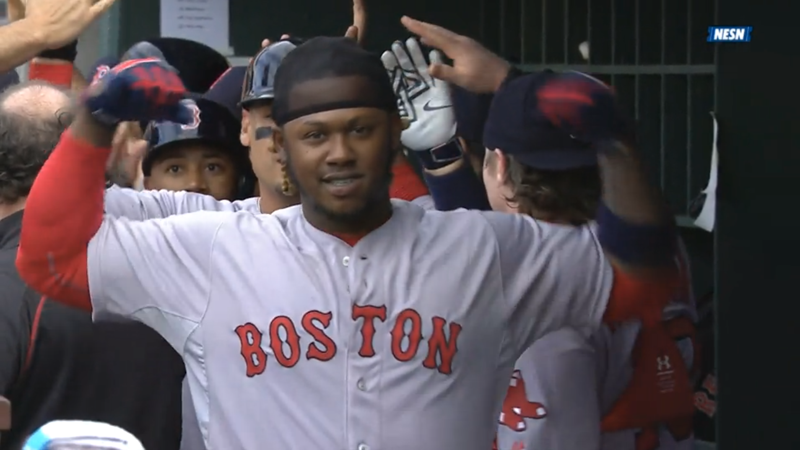 Based on his two home runs, including a ninth-inning grand slam, the preliminary answer is a resounding yes.
Ramirez showed Justin Masterson how his bat broke on the grand slam. Is the Red Sox pitching staff glad Ramirez is on its team? Another thundering affirmative.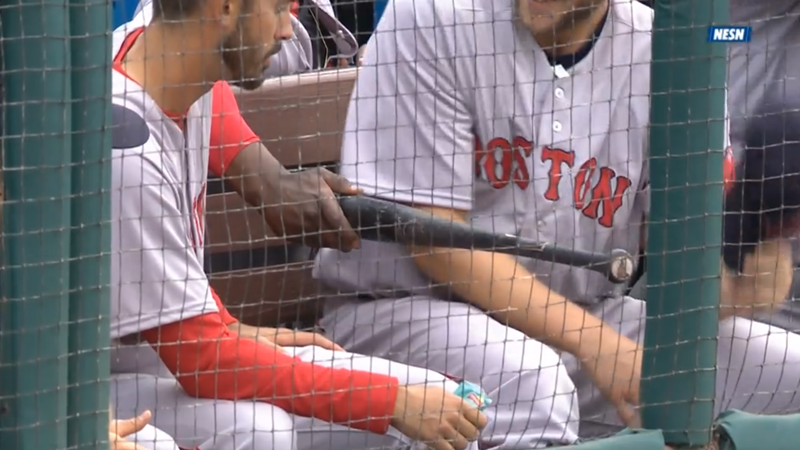 Two rookies from the 2007 class seemed to return to form. Dustin Pedroia launched two homers off Cole Hamels. Clay Buchholz pitched for seven innings and held the Phillies scoreless while striking out nine, permitting three hits, and allowing a single base on balls.
Perhaps it was the hard liquor talking, but Philly fans found it in their hearts to give Shane Victorino a standing ovation in his first on-field first appearance at Citizens Bank Park since his departure from the team. He went 0-for-3 but walked twice. In the fifth he made a clutch catch of pinch hitter Cesar Hernandez's fly ball that had him careening against the right field scoreboard. Victorino held on to end the inning and the Phillies fans were surprisingly placid. Perhaps the enhanced alcohol offerings are having a pacifying effect in the City of Brotherly Love.
Game 1: April 6, 2015

Boston Red Sox
1-0
8

W: Clay Buchholz (1-0)
HR: Dustin Pedroia – 2 (2), Mookie Betts (1), Hanley Ramirez – (2)

Philadelphia Phillies
0-1
0

L: Cole Hamels (0-1)
2B: Ryan Howard (1)