After Eduardo Rodriguez's dazzling major league debut Clay Buchholz huddled up close to the rookie sensation. Perhaps some of Rodriguez's run support will rub off onto the other starters. Rodriguez pitched seven and two-thirds innings with three hits and two walks allowed. He struck out seven, including the hot-hitting Prince Fielder.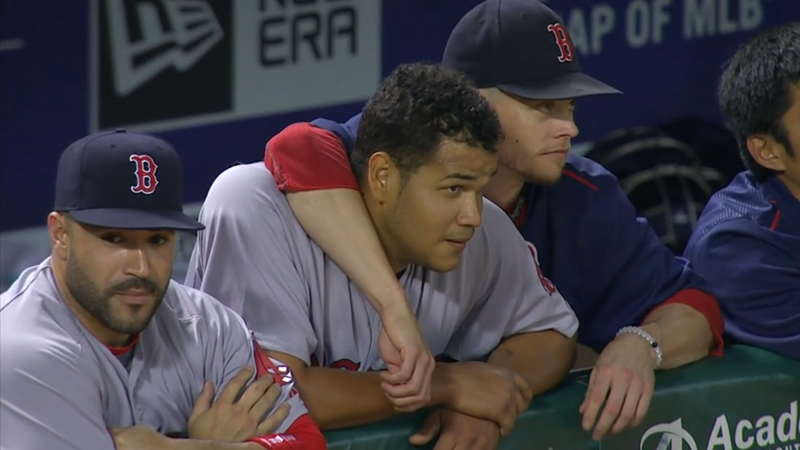 David Ortiz took a break last night and the rest of the lineup came through in his absence. Hanley Ramirez clubbed a solo shot in the sixth to increase the lead to 2-0. He received a well-deserved hug from Dustin Pedroia in the dugout. Pedroia went 3-for-5 in the leadoff spot.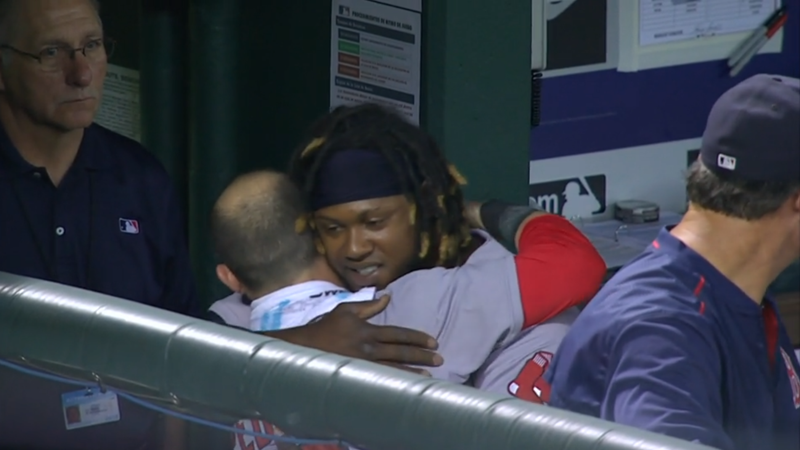 A surprising offensive force was Blake Swihart in the eight-hole. He supported his rookie starter with a two-run single in the eighth. Every additional late-inning run helped with Tommy Layne toeing the rubber. Layne gave up an RBI single to Josh Hamilton, but that turned out to be a meaningless feel-good moment for the returning Ranger outfielder.
One must enjoy a certain form of torture to want to be a catcher. Robinson Chirinos arranged the warm-up equipment in an almost ritualistic manner before his at bat. Perhaps it brings him luck, but more likely it's a cypher saying "help me out of this catching equipment" in baseball hobo symbology.
Game 48: May 28, 2015

Boston Red Sox
22-26
5
W: Eduardo Rodriguez (1-0)
2B: Hanley Ramirez (4)
3B: Mookie Betts (2)
HR: Ramirez (11)
Texas Rangers
23-25
1
L: Nick Martinez (4-1)
2B: Josh Hamilton (1), Adrian Beltre (9)