Rick Porcello was pitching fairly well up until Albert Pujols took him long in the fourth inning. After the circuit clout Porcello loaded the bases by surrendering two singles and walking seven-hole hitter Chris Iannetta. The Red Sox starter got out of the jam when Blake Swihart caught Matt Joyce off third base to end the inning.
The Red Sox took the lead in the bottom of the fourth only to have Porcello get into even more trouble in the fifth inning. Johnny Giavotella and Erick Aybar worked walks. Mike Trout's ball deflected off Brock Holt to Xander Bogaerts, plating both baserunners for the lead. Bogaerts butchered the throw and Trout advanced to second base.
The fun for the Angels didn't stop there. Trout dashed to third base with Kole Calhoun batting. His slide was an amazing display of dexterity. He avoided Holt's tag and just as his hand lost contact with the base his foot touched. John Tumpane called him out and Trout informed Mike Scioscia that they should challenge the call. The replay displayed Trout's perfect coordination.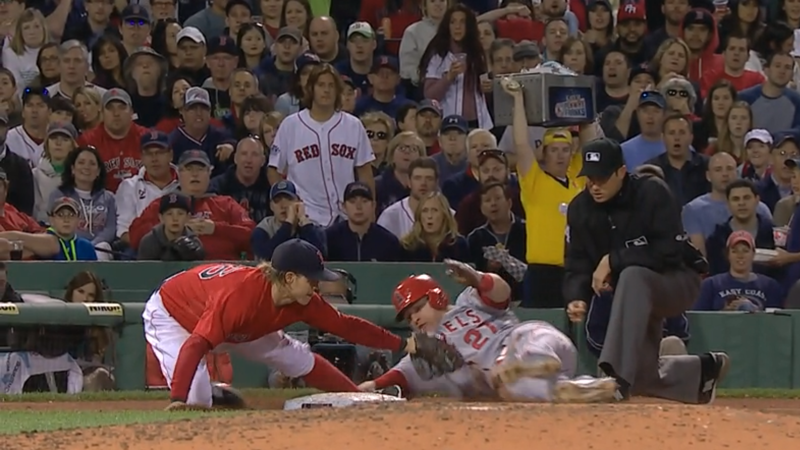 Rusney Castillo had a rough outing in his first major league game in 2015. In the fifth he failed to hold onto Marc Krauss's fly ball for what should have been the second out. He did glove Giavotella's can of corn on the next play. Castillo got coached by David Ortiz after he failed to help Mike Napoli on his slide at home in the fourth inning. The veteran demonstrated to Castillo how he has to tell his teammate how to slide to avoid the tag.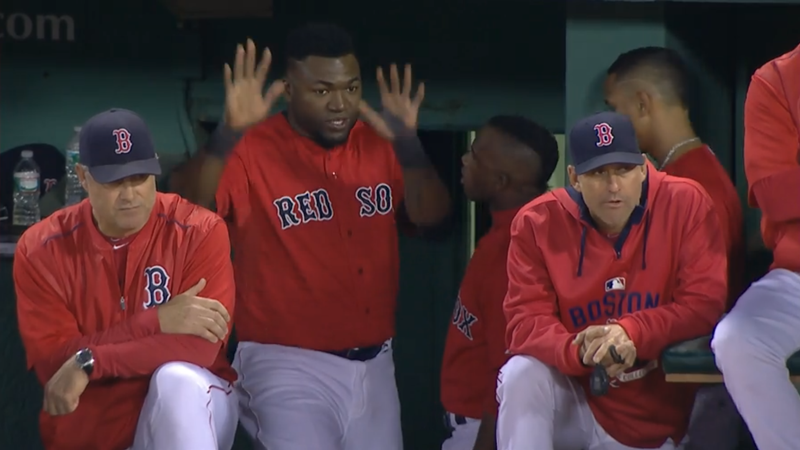 Game 42: May 22, 2015

Los Angeles Angels
22-20
12
W: Garrett Richards (4-2)
2B: Matt Joyce (7), David Freese (8), Albert Pujols (6)
HR: Pujols (8), Chris Iannetta (2), Erick Aybar (1)
Boston Red Sox
19-23
5
L: Rick Porcello (4-3)
2B: Brock Holt (6)
HR: Mike Napoli (5)