Joe Kelly's Cy Young campaign is progressing as well as Carly Fiorina's and Ted Cruz's presidential campaigns. Fiorina failed to register CarlyFiorina.org and it leads to a page that displays how many people she laid off as CEO of Hewlett Packard with sad face emoticons. Similarly TedCruz.com goes to a page that states "Support President Obama. Immigration Reform Now!"
JoeKelly.com is for sale if anyone is interested. You could post his ERA (6.35), ERA+ (65), and FIP (4.49). Despite his high-90s heat he carries a 1-3 record.
The starter seemed to be pressing. He threw away a pickoff throw in the first inning that allowed Josh Donaldson to advance to second base. Kelly walked Jose Bautista and Edwin Encarnacion to load the bases. Russell Martin lofted a fly ball to right field to plate Donaldson for the Blue Jays' first run.
Kelly walked Massachusetts native Chris Colabello to start the home half of the second frame. Ryan Goins then flied out to left field and Kelly had an out under his belt. Devon Travis tapped the ball towards Mike Napoli on what should have been a routine ground out but for Kelly getting in Travis's way. Colabello reached second on the interference and scored with Donaldson's ground ball single to left.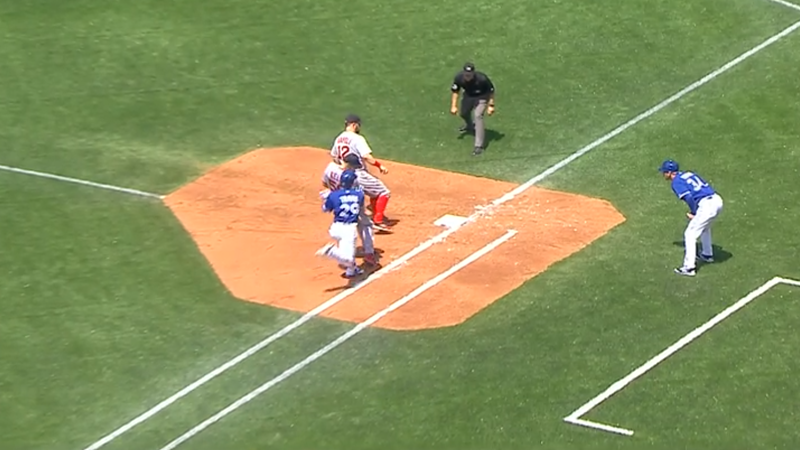 Perhaps Boston's new pitching coach Carl Willis can work with Kelly to get his game back on track. Kelly's first task: register JoeKelly.com.
Game 30: May 9, 2015

Boston Red Sox
13-17
1
L: Joe Kelly (1-2)
2B: Mike Napoli (3), Mookie Betts (8)
Toronto Blue Jays
16-15
7
W: Drew Hutchison (3-0)
2B: Ezequiel Carrera (1)
HR: Edwin Encarnacion (5)