Who's prepared to pay the price for a trip to paradise?
Grass- and blood-stained Jonny Gomes is. The green smears are from his diving grab of Alexei Ramirez's sinking line drive in the fourth inning. In the seventh Gomes was hit in the face by Tyler Flowers's fly ball but still recovered in time to get Alejandro De Aza out at home.
Love that's only slightly soiled, love for sale.
It is not coincidence that A.J. PIerzynski's departure has altered the attitude in the clubhouse. Rob Bradford's report stated that players went to management about Pierzynski's lack of engagement with his pitchers. Pierzynski's approach at the plate was in opposition to the Red Sox philosophy of seeing as many pitches as possible. His impatience at the plate, deteriorated offensive production, and lack of camaraderie are not missed.
Being a catcher requires levels of sacrifice. You submit your body to countless hours crouching, ricochets, and, prior to the rule change, collisions. You spend time with your battery mates learning their strengths and the opposition's weaknesses. Pierzynski wasn't up for that commitment any longer.
Old love, new love, every love but true love.
Pierzynski's replacement Christian Vazquez went 0-for-3 in his major league debut. He joined Shane Victorino as cheerleaders in the dugout as the Red Sox mounted their late-inning comeback.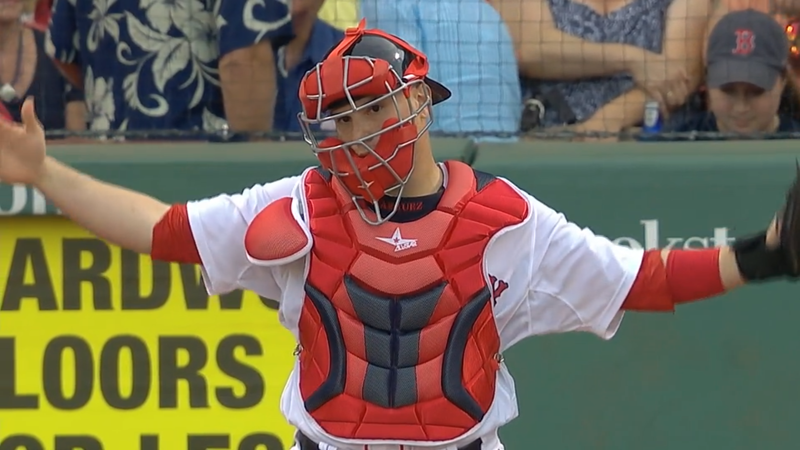 If you want the thrill of love, I've been through the mill of love.
Jackie Bradley, Jr. saw Grady Sizemore take his job after spring training but kept grinding away in Pawtucket. Despite his struggles he didn't have to travel up and down 95 too often because of Victorino's injury. Red Sox fans benefitted from this by seeing Fred Lynn reborn on the field in Bradley's stride, glove, and arm.
The official airline of the Red Sox JetBlue certainly appreciated this camera angle.
Who will buy? Who would like to sample my supply?
Let the poets pipe of love in their childish way. I know every type of love better far than they.
And that love is Brock Holt.
After he drove in the winning run Gary Striewski interviewed him on field and asked, "What can't you do?" "Obviously, hit Chris Sale," quipped Holt.
Holt mentioned Mookie Betts having a great game (2-for-3 with 2 runs scored) and Vazquez calling a great game. He ended the conversation with "I love you back, I guess. Yeah!"
Game 91: July 9, 2014

Chicago White Sox
44-48
4
BS, L: Javy Guerra (2, 0-1)
2B: Adam Dunn (14), Alejandro De Aza (12), Cole Gillaspie (21), Tyler Flowers (6), Adam Eaton (14)
3B: De Aza (4)
HR: Jose Abreu (28), Gillaspie (3)
Boston Red Sox
40-51
5
W: Koji Uehara (5-2)
2B: Mookie Betts – 2 (2), David Ortiz (16), Jonny Gomes (7), Daniel Nava (6)