It's Nelson Cruz's world, we just live in it. The slugging left fielder went 5-for-5 with two doubles and a home run. He tried for a triple in the eighth inning to complete the cycle but was hosed at third by the combination of Daniel Nava and Stephen Drew.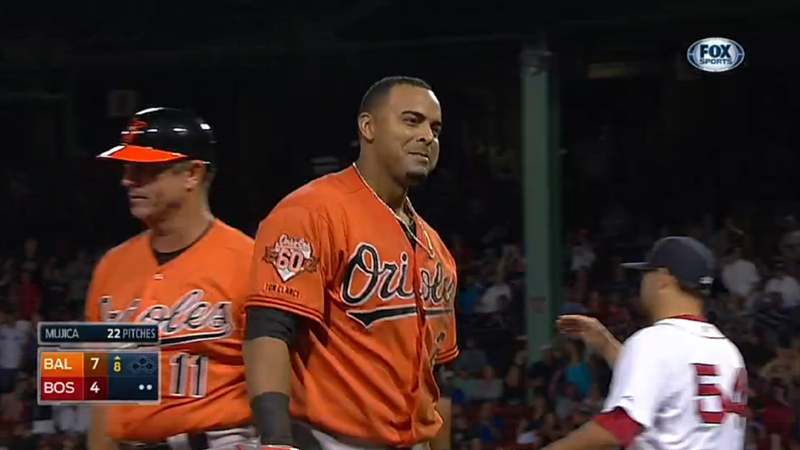 John Lackey had a subpar outing: 5⅓ innings, 10 hits, 5 earned runs, a walk, and 11 strikeouts. Clearly Lackey didn't have his best stuff, but that didn't stop him from throwing shade at Cruz. "I'm not even going to comment on him. I've got nothing to say about him," he said. "There are things I'd like to say, but I'm not going to. You guys forget pretty conveniently about stuff." Cruz's 50-game suspension resulting from his involvement in Biogenesis did not taint him in voters' eyes; the outfielder was voted to his third All-Star game.
Speaking of subpar, Harold Reynolds was practically giddy with each hit by the Orioles. And since they had 16 hits, there was a lot of giggling interspersed with what I assume was supposed to be in-game analysis. Sad to say that the Fire Harold Reynolds blog isn't as active as it should be. It is time for a revival.
Game 87: July 5, 2014

Baltimore Orioles
47-40
7
W: Brad Brach (3-0)
H: Tommy Hunter (2), Brian Matusz (11), Darren O'Day (13)
S: Zach Britton (13)
2B: Nelson Cruz – 2 (16), Nick Markakis (18), Manny Machado (8)
HR: Nick Hundley (3), Cruz (27)
Boston Red Sox
39-48
4
L: John Lackey (9-6)
BS: Burke Badenhop (2)
2B: Brock Holt (16), David Ortiz (14)
HR: Stephen Drew (2)