David Ortiz blasted the ball to right field with two down in the first inning. This fan reached over the wall and made a Brock Holt-like catch. The fine-fielding fan was just a few seats away from a kid with a "hit it here" sign. The umpire ruled fan interference and Ortiz was placed at second base.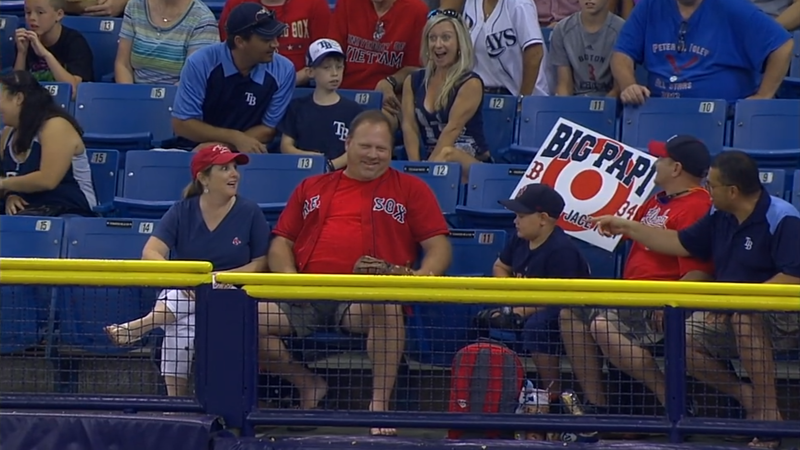 The umpires wanted to review the ruling. Multiple camera angles showed the fan reached into the field of play and the call was upheld.
John Farrell decided against challenging a close play at second base in the fourth frame. Yunel Escobar laced the ball into the right field. He reached first at the same time Daniel Nava's throw arrived in Stephen Drew's glove. Replays showed that Escobar was out. Kevin Kiermaier drove in Escobar for a run and John Lackey complained about Farrell not challenging the call. Perhaps Peavy won't be the only Red Sox starter traded this season.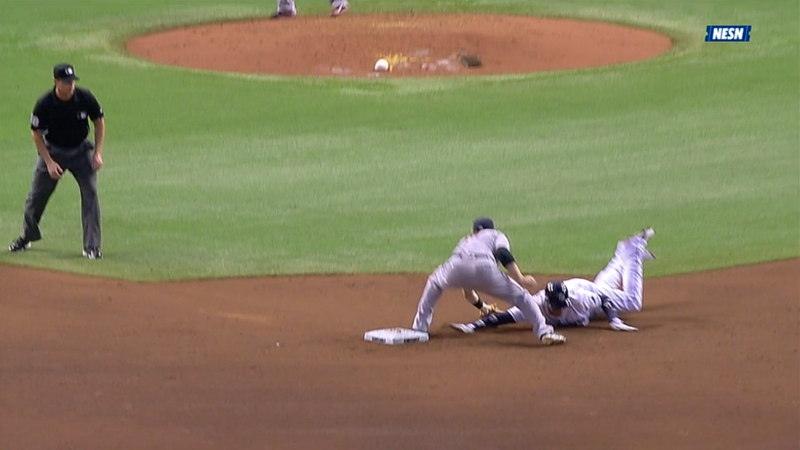 With the trade of Jake Peavy signaling the end of the Red Sox attempt to contend it seems Holt has decided that the he'll follow the rules of physics like humans do. Here he is being the tail end of a 4-3-2 double play.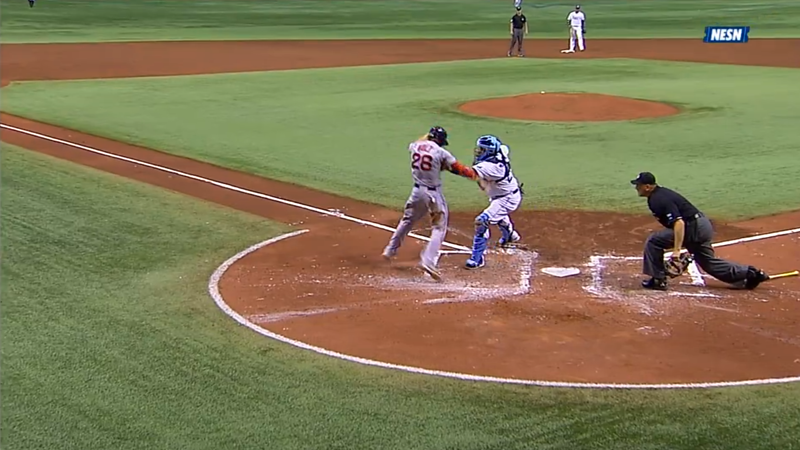 In most games being thrown out at home would be the most egregious mistake. But Evan Longoria and Escobar topped that gaffe in the sixth when they let Jonny Gomes's grounder past by them unaccosted for a single.
Later in the inning Xander Bogaerts assumed he was the last out of the frame. He just assumed that Gomes made an out because it was such an easy out.
Game 104: July 26, 2014

Boston Red Sox
47-57
0
L: John Lackey (11-7)
2B: David Ortiz (21)
Tampa Bay Rays
51-53
3
W: Grant Balfour (1-3)
H: Brad Boxburger (11)
S: Jake McGee (11)
HR: Ben Zobrist (8)