The Red Sox honored Mariano Rivera with a four gifts on Sunday, his last game at Fenway Park. David Ortiz presented a painting of Rivera at the 2005 Opening Day by Mark Waitkus.
On behalf of the team Dustin Pedroia gifted the "42" used to signify the pitcher on Fenway's scoreboard. It was signed by the 2013 Red Sox team. Rather embarrassingly Pedroia was introduced as "a future Hall of Famer." Let's see him get to his mid-30s healthy and productive before we give him such plaudits.
Koji Uehara gave him the rubber from the visitors' bullpen. No matter how many times I see one dug out of the ground I am always amazed how large it is.
Lastly the Red Sox ownership donated money to Rivera's charitable foundation. Even as the gifts were being announced Rivera circulated with the Red Sox team members, thanking them and being genuinely humble.
The Red Sox didn't outdo the Minnesota Twins' gift of a rocking chair made out of broken bats, but the organization definitely outdid the Tampa Bay Rays' sand sculpture.
Rivera gave the Red Sox two gifts in return: a message on the visiting bullpen's wall and not making a save appearance.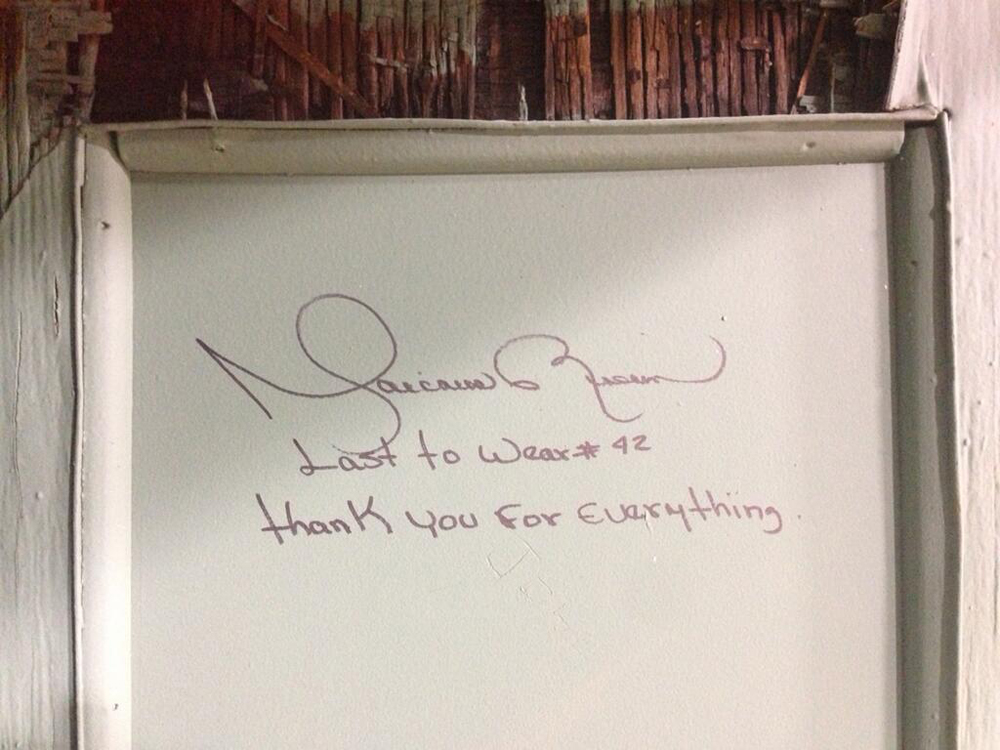 Game 151: September 15, 2013

New York Yankees
79-71
1
L: Ivan Nova (8-5)
No extra base hits
Boston Red Sox
92-59

5
W: Clay Buchholz (11-0)
2B: Daniel Nava – 2 (28), Xander Bogaerts (2), Dustin Pedroia (39)
HR: Mike Napoli (22)