Tim Timmons had a rough night behind home plate, rougher than the Baltimore pitchers had on the mound, and that is saying something as they collectively surrendered three home runs. Brooks Baseball's Strikezone map for Timmons demonstrates a few of the egregious calls he made.
David Ortiz was particularly upset in the seventh as the 3-0 count turned into a full count on questionable strike calls. Ortiz went down swinging and didn't stop swinging once he got into the dugout.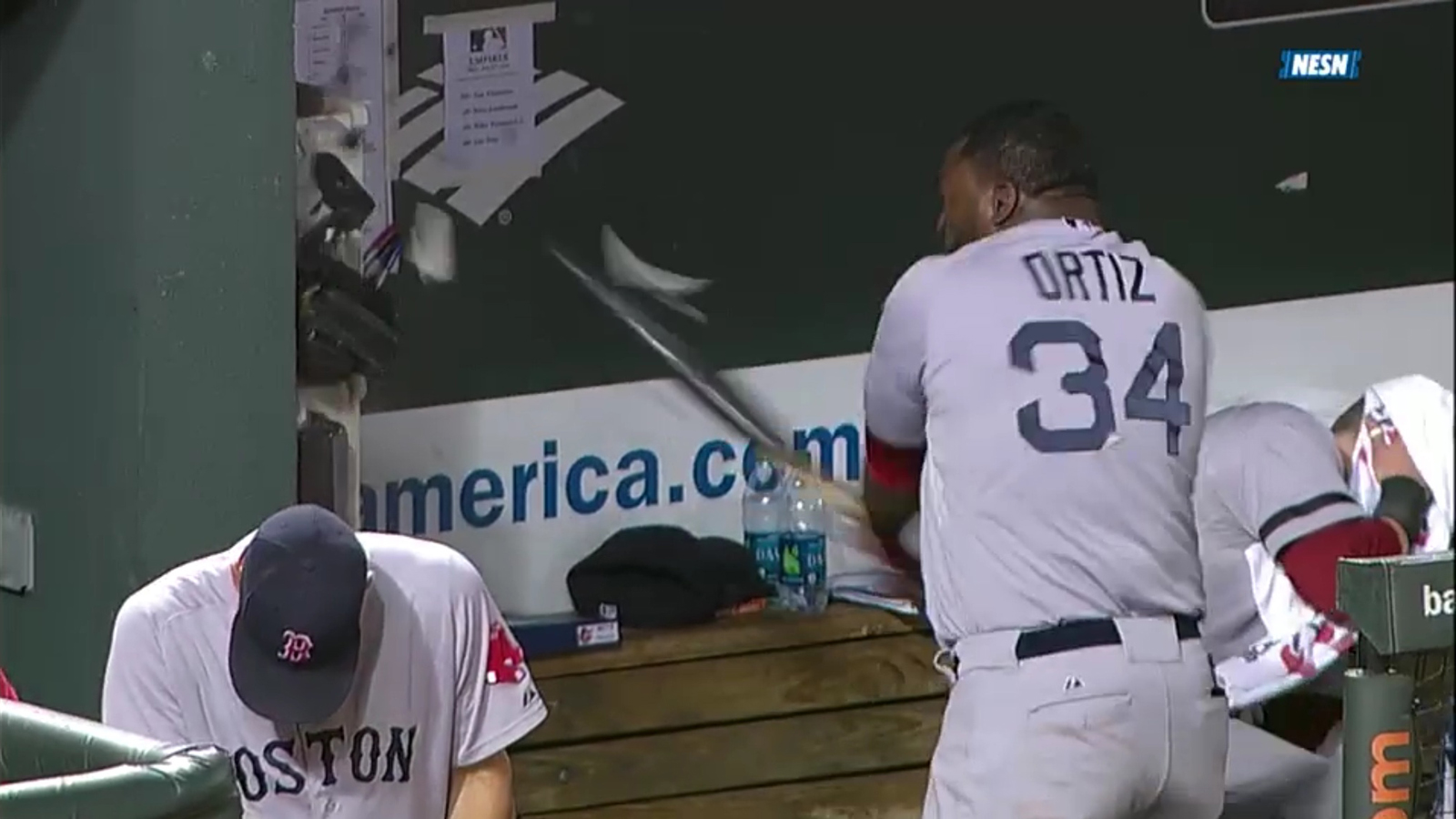 In the sixth inning John Farrell was annoyed when neither Timmons at home nor Laz Diaz at third made a call on Jarrod Saltalamacchia's ground ball. Manny Machado tossed over to second hoping for the force but the outcome of the play wasn't clear until Mike Winters called Mike Carp out at second.
The confusion carried into the next play. Stephen Drew put a charge into the ball and it seemed to bounce off the top of the right field wall. He and Saltalamacchia rounded the bases wondering what the status of the play was. Nick Markakis relayed the ball back into the infield for a potential play at the plate but it got away from Matt Wieters.
Was it a triple and an error? An inside-the-park home run? A conventional homer? The crew went to the review booth and determined it was home run.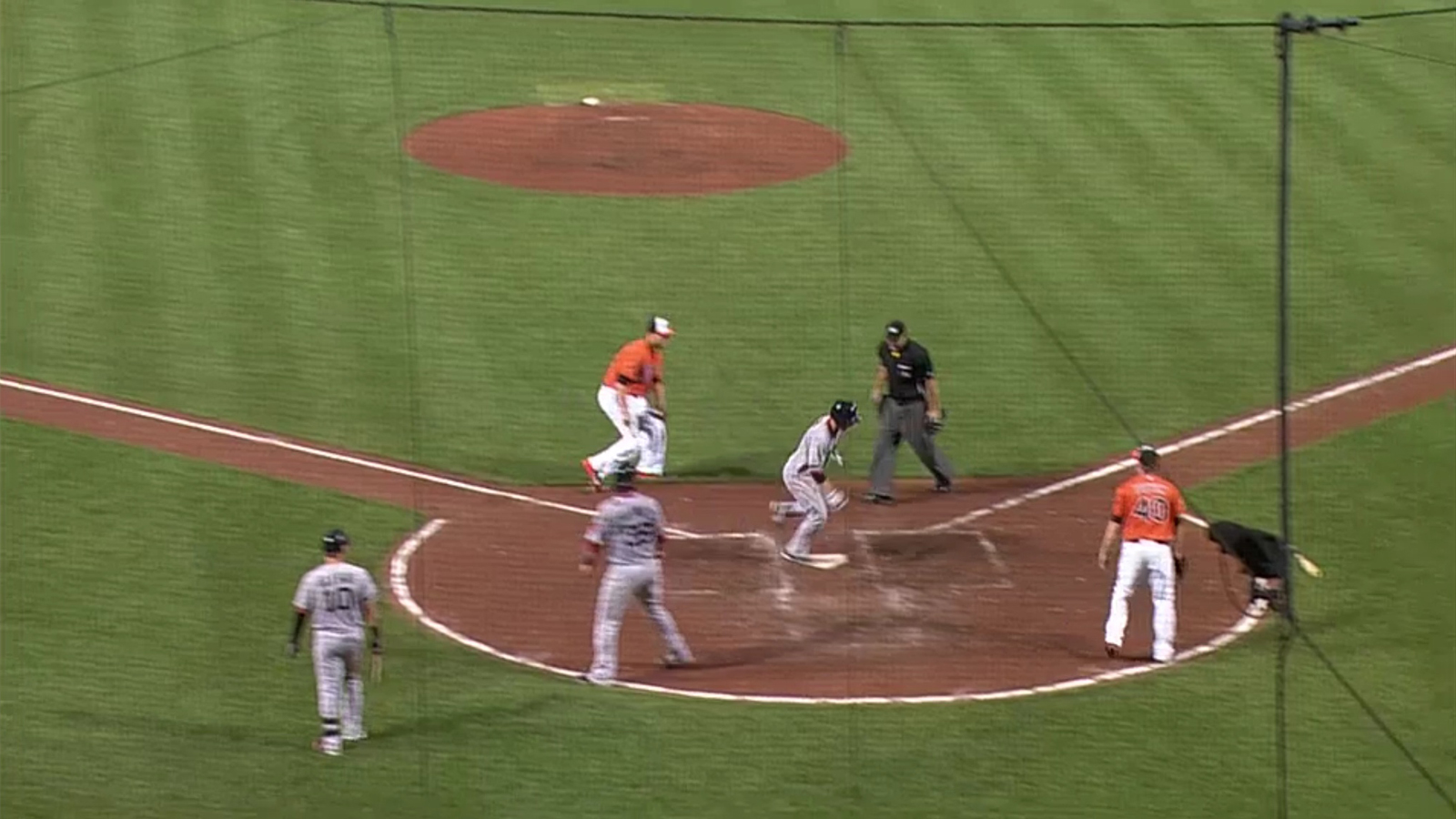 Just seven days after his return from the disabled list Drew busted out with a 3-for-4 performance. With two of his clouts completing the circuit the shortstop now leads all Red Sox middle infielders with seven homers.
There was one bright spot in the officiating. In the third inning Wieters interfered on a pitch that Jacoby Ellsbury managed to leg out a single and Drew advanced to third. Had Farrell not opted to take the play's outcome Drew would have remained at second. But in this situation the following applied:
Rule 6.08(c) Comment: If catcher's interference is called with a play in progress the umpire will allow the play to continue because the manager may elect to take the play.
Ryan Dempster pitched well: 5⅓ innings, 6 hits, 2 earned runs, 2 walks, and 4 strikeouts. He didn't want to give up the ball when Farrell went to retrieve him in the sixth, but he got over it quickly. In fact this morning he and Jonny Gomes helped repair the dugout phone.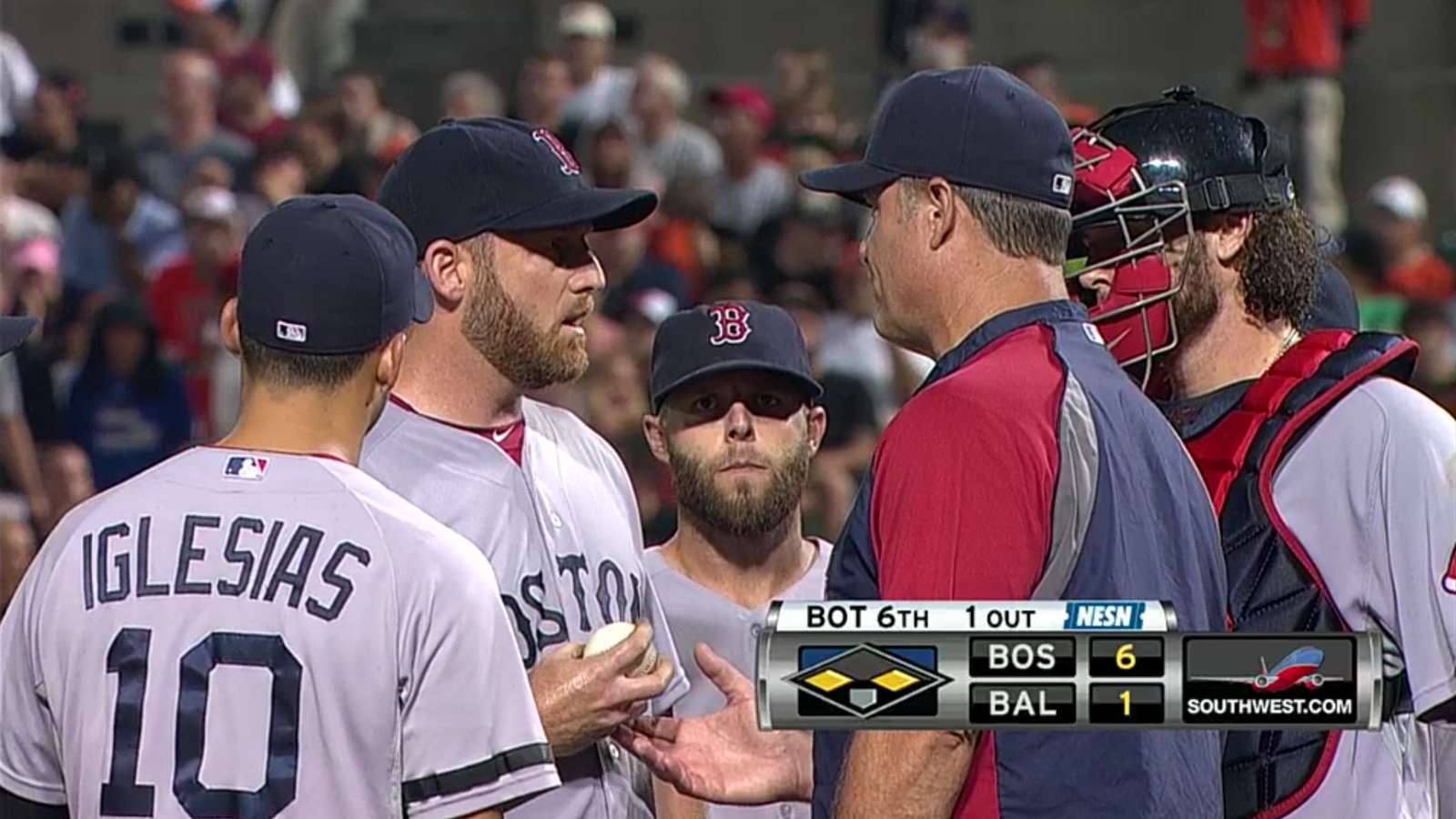 Game 105: July 27, 2013

Boston Red Sox
62-43

7
W: Ryan Dempster (6-8)

2B: Mike Carp (14)
HR: Stephen Drew – 2 (7), Shane Victorino (5)
Baltimore Orioles
58-47
3
L: Scott Feldman (9-8)
2B: Nate McLouth (22)