Tonight the first 5,000 fans at Safeco will get this nifty t-shirt designed by Eric Wahlquist. All hail the King in the Northwest!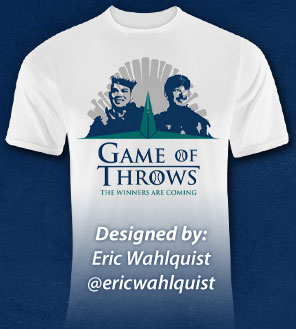 Felix Hernandez deserved the plaudits of the crowd last night. The King's Court tallied six strikeouts, but the Red Sox managed six hits as well. The visiting batters just couldn't string together the hits to get a runner across home plate.
Jon Lester seemed to be back on track after winning two of his last three starts but he allowed one of the weaker offenses get the best of him in the fourth and fifth innings.
Daniel Nava is many things but a center fielder he is not. He played the position slightly better than J.B. Shuck plays left. The Red Sox made quick moves to shore up the outfield and bullpen: Jackie Bradley, Jr. and Brandon Workman were summoned to Seattle. To make room for the pair Alex Wilson was placed on the disabled list with a sprained thumb and Jose De La Torre was optioned to Pawtucket.
The Mariners should better observe the sacred laws of hospitality. Another rout like that and they will join the late Walder Frey in the annals of infamy.
Game 91: July 8, 2013

Boston Red Sox
54-37

4
L: Jon Lester (8-5)
2B: Mike Napoli (23), Jarrod Saltalamacchia (23)

Seattle Mariners
40-49
11
W: Felix Hernandez (9-4)

2B: Kendry Morales (21), Justin Smoak – 2 (11), Michael Saunders – 2 (9), Nick Franklin (10)
HR: Raul Ibanez (22)