This should have been the lasting image of Josh Hamilton: pitiably stumbling after the ball only to fall down and then dropping it again when trying to pick it up. How fitting it was that the antithesis of "the Natural," Daniel Nava, hit that ball.
Hamilton had it all and nearly threw it away while Nava had nothing and took whatever was thrown at him.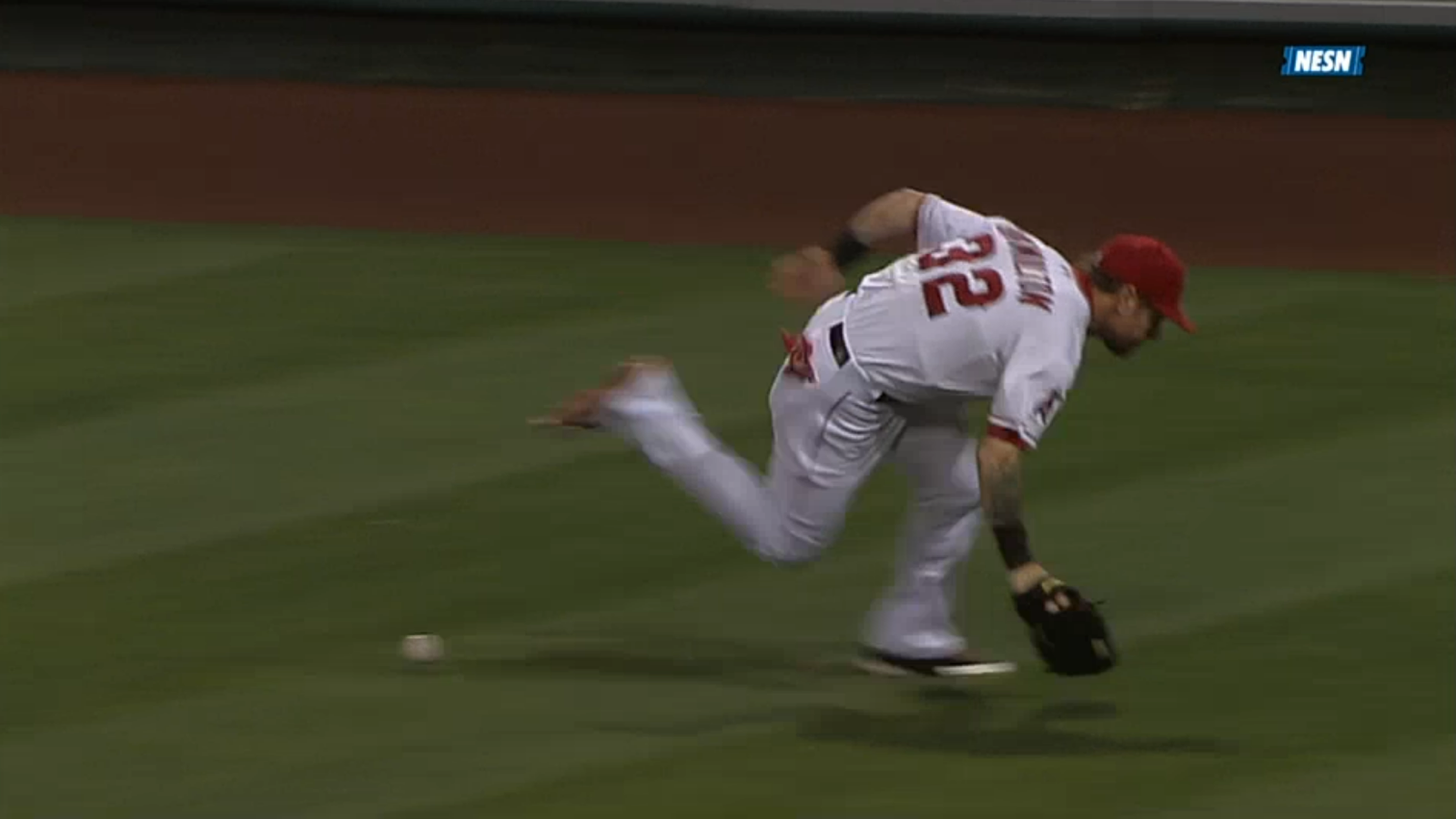 Nava went 4-for-6 with 2 runs and an RBI. Hamilton was only 2-for-6 but it was his two hits that made the difference.
With a comfortable lead of 7-3 John Farrell decided to save his best arms in the bullpen and let Alex Wilson take the mound in the ninth. After all, Andrew Bailey had just successfully stifled the Angels lineup for 1⅔ innings, Wilson should have been up to the task.
Wilson tallied two outs but allowed two singles and hit Mike Trout to load the bases. Koji Uehara took over and surrendered a bloop single to Albert Pujols single to shallow center to narrow the lead to 7-5.
Then Hamilton lined to right, plating Trout and probably lessening Uehara's voter base to make the All-Star roster along with teammates Clay Buchholz, David Ortiz, and Dustin Pedroia. Vote for him anyway by clicking here.
On Howie Kendrick's grounder Brandon Snyder inexplicably threw to second instead of first. His throw went over Pedroia's head and the Angels scored the tying run.
The local nine triumphed in the eleventh inning when Hamilton lofted a two-run shot into the right field stands. If the loss in extra innings were not insult enough, add two injuries: Shane Victorino isn't in tonight's lineup and Andrew Miller left the game in the seventh with an ailing foot.
Game 89: July 6, 2013

∙ 11 innings
Boston Red Sox
54-35

7
H: Andrew Bailey (6)
BS: Koji Uehara (3)
L: Craig Breslow (2-2)
2B: Jarrod Saltalamacchia – 2 (22), Daniel Nava – 2 (14)
3B: Shane Victorino (2)

Los Angeles Angels
42-45
9
W: Dane De La Rosa (4-1)
2B: Mike Trout (27), Chris Iannetta (9), J.B. Shuck (11)
3B: J.B. Shuck (2)
HR: Howie Kendrick (11), Trout (14), Josh Hamilton (12)