Imagine Wade Boggs as a color commentator.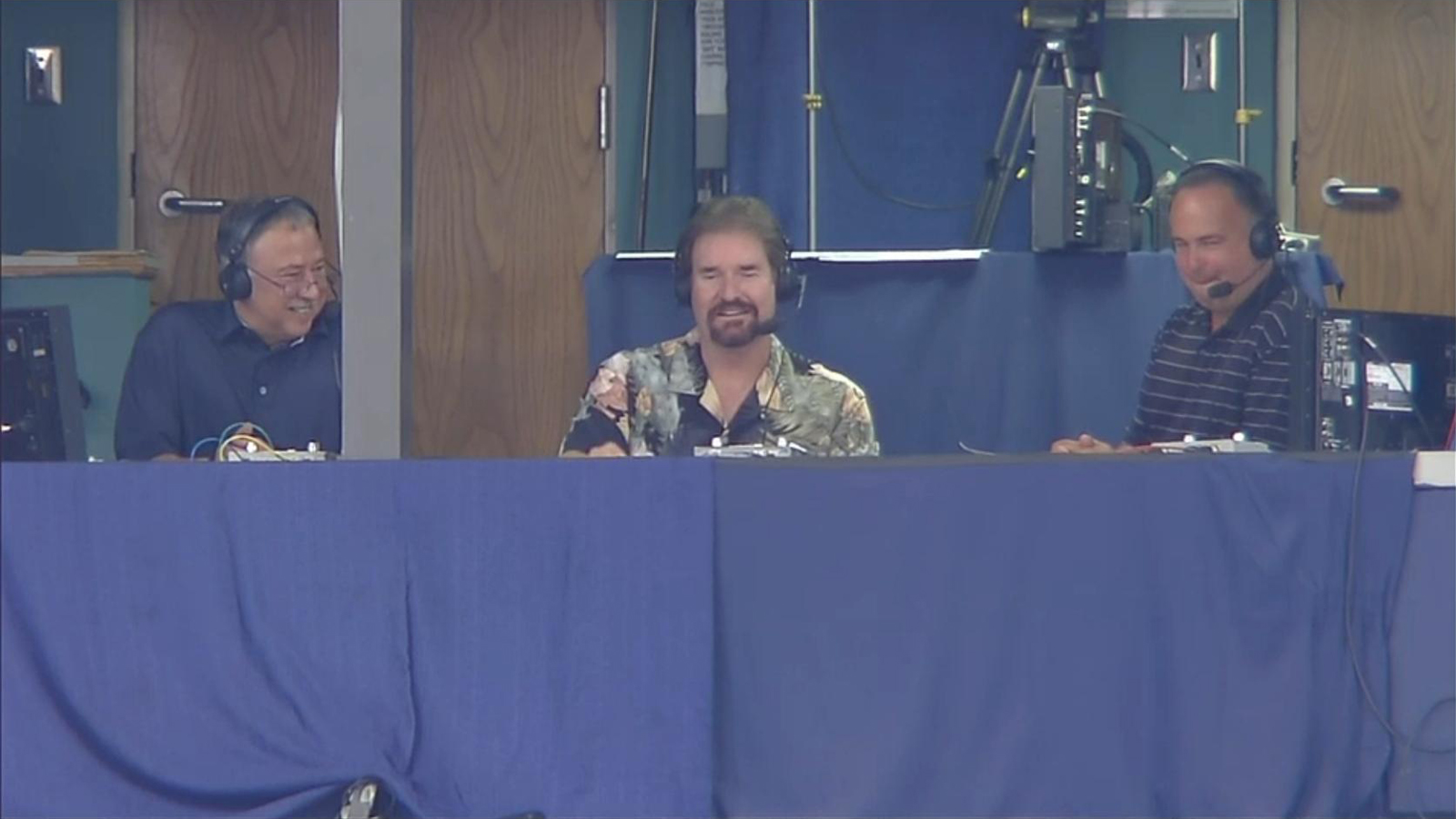 Bottom Third
Orsillo: And so the Rays take an early lead on Sean Rodriguez's sacrifice fly to center.
Boggs. Rodriguez only hit .204 in his first year in the bigs. I hit .349 as a rookie, but I came in third in Rookie of the Year voting. That was the year Ripkin came up, though, and he's in the hall, too.

Top Fourth
Orsillo: Middlebrooks in the air to deep left center field. Jennings heading back at the wall — and that ball is gone! Two-run home run for Will Middlebrooks, the Red Sox on top 2-1.
Boggs: Middlebrooks has to keep it up to prove that he deserves that spot over Youkilis. Sort of how like I was playing well and took over for Carney Lansford back in the day. As far as home runs go, I wasn't trying to swing for the fences, you know. One year, 1987, I hit 24 home runs, but most of the rest were single-digits. Except for 1994 when I was in the Yankees, when I had 11 home runs.
Orsillo: Coincidentally, that was Middlebrooks's 11th homer.
Boggs: Well, he's only batting .291. When I was 24 I hit .349 and the next year I got it up to .361 and I was the batting champion.
Top Sixth
Orsillo: Ross is sort of challenging Price at third. He walked to get on the bases, advanced to second on a passed ball, and then got to third on Middlebrooks's ground out. Price tries to pick off Ross — and he threw it away! Price threw it way over Keppinger's head and Ross scores! Red Sox lead 3-2!
Boggs: That reminds me how I was labelled "all hit, no glove." I worked hard to get rid of that perception. And in 1994 it all changed and I got my first of two Gold Gloves.

The only color he brings is his garish aloha shirts.
Game 88: July 14, 2012

Boston Red Sox
44-44

3

L: Clay Buchholz (8-3)
BS: Alfredo Aceves (4)

2B: Jacoby Ellsbury (3)
HR: Will Middlebrooks (11)

Tampa Bay Rays
46-42

5

W: David Price (12-4)
H: Joel Peralta (19)
S: Fernando Rodney (26)

2B: Jeff Keppinger – 2 (6)
HR: B.J. Upton (8)