To welcome Ichiro Suzuki to the Bronx a Yankee fan decked out her SUV with a note of welcome.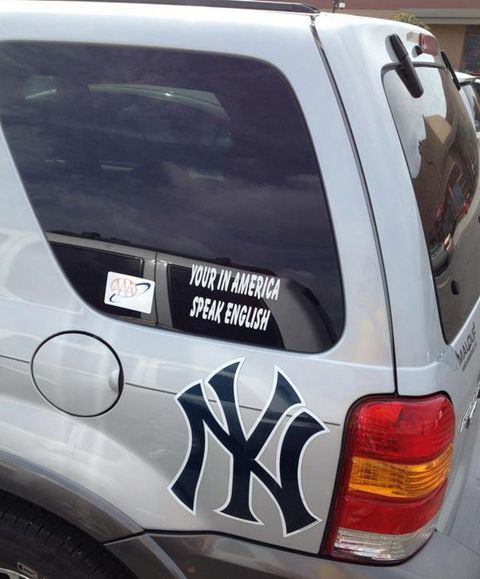 As a result of his team's woes Dustin Pedroia is trying too hard to win games by himself. In the bottom of the third with runners on first and second with no outs the Rangers executed a double steal. Elvis Andrus tapped the ball to Pedroia who doggedly dashed after the orb. Pedroia wildly wrenched himself around and lofted the ball to Adrian Gonzalez. Or to be more exact, over Gonzalez. Two runs scored on Pedroia's throwing error.
With the score 4-1 in favor of Texas in the top of the sixth Pedroia led off the frame with a line drive single to left. Gonzalez struck out and Cody Ross flied out to right and any fan could see Pedroia was stewing at first trying to will runs for his team on the board. The second baseman took it upon himself to swipe second despite the facts that his run didn't mean anything and Jarrod Saltalamacchia, who had homered in the second, was at bat. Saltalamacchia led off the seventh with a double that just missed clearing the fences.
When one of the smarter players and a team leader makes poor plays like these because he thinks that extraordinary risks must be taken for a win, any win, there is a problem.
Game 97: July 23, 2012

Boston Red Sox
48-49

1

L: Felix Doubront (10-5)

2B: Will Middlebrooks (13), Jarrod Saltalamacchia (14)
HR: Saltalamacchia (19)

Texas Rangers
57-38

9

W: Scott Feldman (4-6)

2B: Adrian Beltre (19), Josh Hamilton (16), Ian Kinsler (28), Brandon Snyder (2)
HR: Mike Napoli (15)