And you don't want that! He's got the power!
The Red Sox demurely scored a mere four runs lest they incur the wrath the Orioles, arbiters of baseball propriety. As Baltimore has deemed scoring too many runs unseemly, they abode by their own precepts and didn't tally a single run.
Not only did Jacoby Ellsbury have a chance at hitting for the cycle he also knocked the hits in natural order. The last Red Sox player to hit for the cycle in natural order was Bob Watson on September 15, 1979; he is also the last American League player to do so. Coincidentally that game was against the Orioles. Since the Red Sox were visitors Watson had another at bat in the ninth; he homered with one on and one out and the final score was 10-2.
Jim Palmer pitched the next game and the Orioles won 13-3. Palmer, the epitome of Orioles baseball, didn't hit a single batter. Apparently the timeless tenets that the current Orioles maintain didn't apply in Hall of Famer Palmer's era.
John Lackey pitched one of his best games of the season: 6⅔ innings pitched, 3 hits, 0 earned runs, 1 base on balls, 7 strikeouts, and 1 hit by pitch. Lackey plunked Derrek Lee in the leg with two down in the seventh. The retaliatory act nearly backfired on him as Mark Reynolds struck out swinging but reached first on the same wild pitch. Daniel Bard took the mound to clean up the situation and induced a pop-out off the bat of Nolan Reimold for the last out of the inning.
In the same inning Lee sent his bat careening into the stands. A young man in a cheese-patterned baseball cap recovered it and turned it over to security at their behest. Even though he had to give up the bat he wasn't concerned about the loss; instead he was seen comforting a little girl who got hit by it. Eventually the fan did get a bat as well as a bag full of Red Sox goods from Fenway workers. He gave the little girl some of knickknacks from the sack.
As rare as hitting for the cycle and a good outing by Lackey is a floral pattern on Don Orsillo's tie. Orsillo's olive green concoction was reminiscent of Japanese kimono to some and grandmother's drapes to others.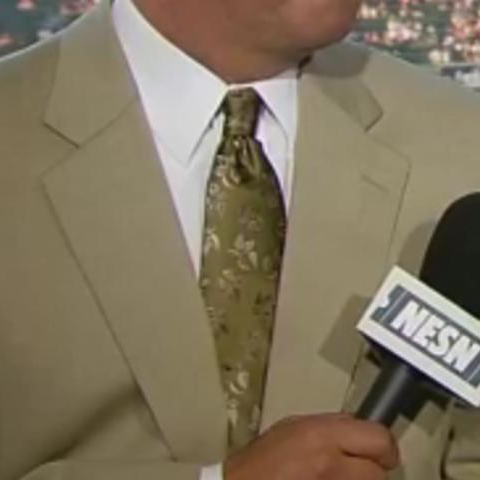 Game 89: July 9, 2011

Baltimore Orioles
36-51

0

L: Alfredo Simon (1-2)

No extra base hits

Boston Red Sox
54-35
4

W: John Lackey (6-8)
H: Daniel Bard (20)

2B: Jacoby Ellsbury (26), Kevin Youkilis – 2 (26), Josh Reddick (5), Dustin Pedroia (18)
3B: Ellsbury (3)