So much for the seventh inning magic of the Red Sox — instead they started the fireworks in the first inning. Tim Wakefield surrendered two runs early by hitting Dustin Ackley with a pitch and allowing Miguel Olivo to send the ball into the Monster seats.
The local nine responded forcefully in the bottom frame of the first, torching rookie starter Michael Pineda for five runs. The caliber of pitching that makes Pineda a prime candidate for AL Rookie of the Year wasn't on display at Fenway.
Jacoby Ellsbury led off the onslaught with a ground ball double to right that hit the stands and caused Ichiro Suzuki to slip. Ellsbury was driven in by Adrian Gonzalez who in turn crossed home on Kevin Youkilis's two-run homer.
Jarrod Saltalamacchia, who might have felt particularly motivated to help his battery mate continue his march towards 200 wins, humpbacked a single to right to plate David Ortiz and Carl Crawford, rendering the score 5-2. The backstop also took part of the five-run fifth inning with another rope to right, this time driving in Crawford and Josh Reddick to make the score 10-3. The Red Sox lead the league in games where they score into the double-digits with 14.
With such a lead Wakefield didn't need to rein in his knuckleball. He ended the sixth inning by striking out Mike Carp for the pitcher's 2,000 punchout. Carp, the greenhorn left fielder, was six years old when Wakefield donned his first major league uniform.
When the score gets out of hand Don Orsillo and Jerry Remy get distracted. A visit by John Slattery and Mike O'Malley didn't help them focus; Orsillo must have been busy cropping Remy out of photographs.
Slattery's uncle was Jack Rogers, traveling secretary of the Red Sox from 1969 to 1991, ending his career just one year before Wakefield made his major league debut with the Pirates. It might seem that bats that tend to shatter, like Ortiz's in the sixth inning, is a recent phenomenon. This article from "Baseball Digest" in 1987 with quotes by Slattery indicate that this is not a new problem. "We must have gone through $15,000 worth of bats during the '86 season; we're using a lot more bats than we used to," observed Slattery. "Buckner breaks 'em merely by looking at them."
In an effort to find Remy a proper hobby the NESN crew displayed a picture of Orsillo in the ocean. As the Brendan Ryan grand slam in the seventh inning marred the Fenway ambiance so did Orsillo's floating figure disrupt the perfect, crystalline sea.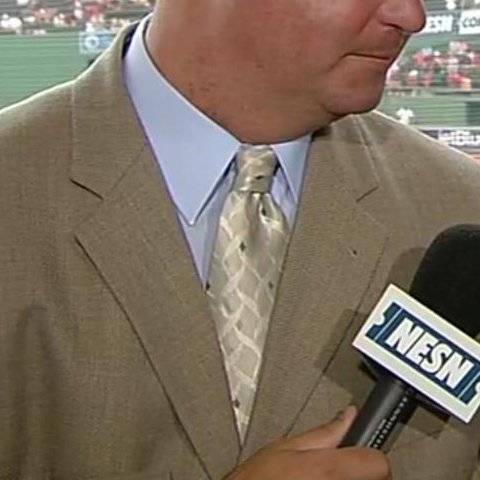 Game 99: July 24, 2011

Seattle Mariners
43-58

8

L: Michael Pineda (8-7)

2B: Justin Smoak (21), Dustin Ackley – 2 (7), Brendan Ryan (15)
HR: Miguel Olivo (14), Ryan (2)

Boston Red Sox
62-37
12

W: Tim Wakefield (6-3)

2B: Jacoby Ellsbury (27), Carl Crawford (13), Josh Reddick (7), Dustin Pedroia (24)
HR: Kevin Youkilis (1)