Vance Worley, born in 1987, was four years old when Boyz II Men's "Motownphilly" was released. The rookie was a man amongst boys with this impressive line against one of the American League's most formidable lineups: 7 innings pitched, 5 hits, 1 earned run, 2 walks, and 5 strikeouts.
John Lackey was the only Red Sox player to get to Worley. The hurler's fifth-inning double to the deepest part of center field plated Josh Reddick to tie the game 1-1. Reddick was the only Boston batter to have a multi-hit game. When a mid-season call-up and a pitcher are the engines of the offense you know your team's in a hitting slump.
Terry Francona pulled the trigger at last and played Adrian Gonzalez in right field to get David Ortiz's bat in the lineup. With all the second guessing and hand wringing about placing Gonzalez in the outfield there should be a commemorative t-shirt sold along with Fenway 100th Anniversary swag boldly emblazoned, "I played right field at Citizens Bank Park and all I got was this crummy t-shirt." The two fly balls hit towards Gonzalez resulted in a home run for Raul Ibanez and a triple for Chase Utley. Jacoby Ellsbury's range and speed allowed him to cover the area outside of Gonzalez's ambit.
Regarding the defensive shuffling Dustin Pedroia commented that he would have to cover second, first, and right. While Lackey didn't go on record about the defense behind him, I could almost hear his mental kvetching.
Don Orsillo has a number of black and white grid ties (April 2 and May 9), but tonight's accessory, unlike this two-game skid, isn't a repeat.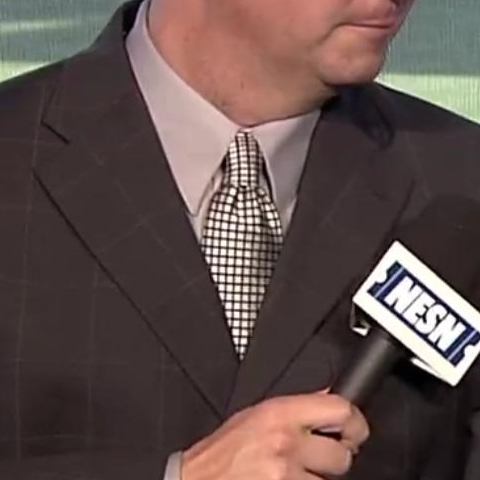 Game 79: June 29, 2011

Boston Red Sox
45-34
1

L: John Lackey (5-7)

2B: Lackey (1)

Philadelphia Phillies
51-30

2

W: Vance Worley (3-1)
H: Michael Stutes (5)
S: Antonio Bastardo (3)

2B: Shane Victorino (12), Raul Ibanez (16)
3B: Chase Utley (3)
HR: Ibanez (9)