The defending American League champions put up their 2010 pennant and received their American League championship rings. They celebrated with a 12-run drubbing of the team most baseball pundits say will supplant them. The Rangers didn't need an ace like Cliff Lee when their opposition trots out the maddeningly average John Lackey.
As impressive as the Texan boom sticks were, Josh Hamilton's theft of second base in the third inning stands out to me. Jarrod Saltamacchia's throw was in time but on the shortstop side of the bag, forcing Dustin Pedroia to swing his glove hand around to attempt to tag the reigning American League MVP. Hamilton outfoxed the former MVP by sliding around the keystone sack while keeping his right hand then his right foot in contact with the bag. Baseball players aren't considered the highest caliber athletes, but that maneuver displayed all the body control of an elite wide receiver.
Speaking of football, the fervor of the Rangers fans is remarkable. They are either frontrunners or have found their replacement players to distract them from the ongoing NFL lockout.
While Red Sox hurlers continue to disappoint the offense has met most of the lofty expectations heaped upon it. David Ortiz and Jacoby Ellsbury, two players who got more than their fair share of ribbing (pun intended) last season, were the only two players to drive in runs yesterday. Ortiz launched a two-run home run in the second inning and Ellsbury chipped in with a two-run shot in the seventh.
Adrian Gonzalez (3-for-5 with two runs) has been a revelation and I can't wait to don his player t-shirt. Carl Crawford has reached base once in two games as a Red Sox player so I'm not ready to make a purchase yet. I'm sure he'll do something in the next seven years to convince me. I'd even get a (temporary) neck tattoo.
Don Orsillo was attired in a natty black and white grid tie, perhaps inspired by the news of Tron 3 and the release of Tron: Legacy on Blu-ray.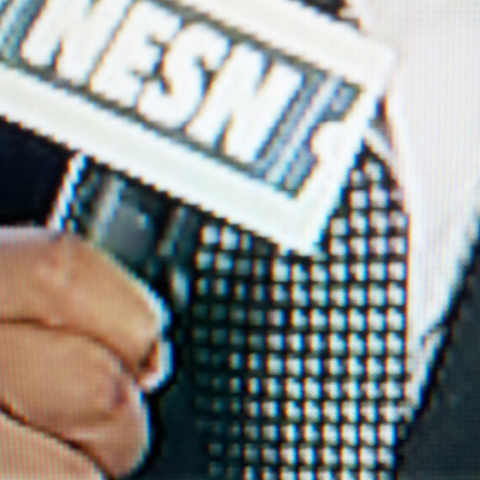 Game 2: April 2, 2011

Boston Red Sox
0-2

5

L: John Lackey (0-1)
2B: Kevin Youkilis (2), Adrian Gonzalez (1)
HR: David Ortiz (2), Jacoby Ellsbury (1)

Texas Rangers 2-0
12

W: Colby Lewis (1-0)
2B: Ian Kinsler (1), Yorvit Torrealba (1), Elvis Andrus (2)
3B: Andrus (1), Julio Borbon (1)
HR: Kinsler (2), Adrian Beltre (1), Torrealba (1), Nelson Cruz (2)