As Jonathan Papelbon blew his first save in the eighth inning the Celtics failed to break their 86-86 tie with the Heat and the game went to overtime. Paul Pierce's layup failed to drop and yet another Twins hitter, this time Jason Kubel, dropped a cheap hit into shallow center.
Denard Span scored from second on Kubel's single, where Span waited by benefit of a balk by Alfred Aceves. In the bottom of the seventh Span had Ellsburied Jacoby himself with a dashing, diving grab.
Across town the Celtics were outscored 12 to 4 in overtime. Jason Varitek reached on a throwing error by Luke Hughes with two out in the ninth. Darnell McDonald pinch ran for his captain but was picked off by Jose Mijares. Both teams failed to get the job done in regulation and had to do their best to further stretch their strained resources and garner a win.
Where Boston's basketball team failed the Red Sox succeeded. Hideki Okajima pitched a gutty two innings, surviving two hits and two walks to hold Minnesota scoreless. Two of Okajima's three strikeouts came with runners in scoring position.
As Okajima was clutch on the mound Carl Crawford was in the box. Jed Lowrie worked a one-out walk in the eleventh. Jose Iglesias (whose surname is Spanish for "church") pinch ran for Lowrie. Fortunately Marco Scutaro didn't hide the rookie's cleats like he did his glove. Crawford golfed a double off the left field wall and Iglesias was safe at home.
Just five days ago Scutaro was thrown out at home in the penultimate inning of a thirteen-inning fiasco the that Red Sox eventually lost. The Red Sox could draw from their young talent in their minor league affiliates, but this might be the end of the Big Three of the Celtics.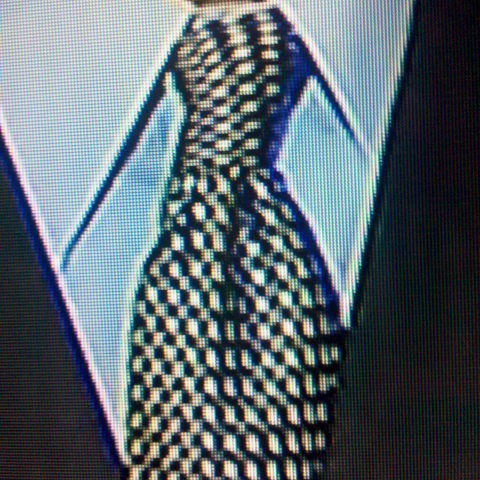 Don Orsillo may have finally repeated a tie. Tonight's checkerboard pattern looks like the tie from April 2.
Game 35: May 9, 2011

∙ 11 innings
Minnesota Twins
12-21

1

L: Jim Hoey (0-1)

No extra base hits

Boston Red Sox
17-18
2

H: Alfredo Aceves (2)
BS: Jonathan Papelbon (1)
W: Hideki Okajima (1-0)

2B: J.D. Drew (4), Jason Varitek (3), Dustin Pedroia (5), Carl Crawford (7)