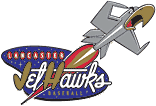 The Red Sox have signed an agreement with the Lancaster JetHawks. The California-based team will be Boston's Class A Advanced affiliate for the next two seasons. The JetHawks are in the South Division of the California League, an organization whose league factors tend to inflate offensive production. Lancaster in particular skews offensive numbers, a good thing to know if any positional players "breakout" or any pitchers "slump."
Now that the Red Sox are bi-coastal, it's time to evaluate if this switch was for the better.
Old Affiliate
Blue Rocks
New Affiliate
JetHawks
Advantage
Name
"Blue Rocks," a phrase prone to puns and doggerel, but rhymes with "Red Sox." The colors clashed, however.
"JetHawks" call to mind mechanized birds of prey, menacing creatures to be sure. The threat is somewhat lessened by the superfluous conflation of the two words.
JetHawks
Location
On the banks of the Cape Fear River. Blue Velvet and "Dawson's Creek" were both filmed here.
Fastest-growing city in the county. Largest city named "Lancaster" in the world. Site of the California Poppy Festival.
JetHawks
Mascots
Rocky Bullwinkle, a possible copyright infringer, is joined by Mr. Celery and Rubble.
KaBoom, a purple hawk.
Blue Rocks
Stadium
Frawley Stadium, named after a mayor.
Clear Channel Stadium, naming rights purchased by a media conglomerate.
Blue Rocks
League
Part of the Carolina League, founded 1945.
Founded 1941, the California League fell out of commission during WWII but started again in 1945.
JetHawks
The new affiliate comes out just slightly ahead.