Game 136: September 2, 2006
Blue Jays (70-66), 5
Red Sox (73-63), 1
W: A.J. Burnett (7-6)
L: Kevin Jarvis (0-2)

Yesterday's game was the second Royal Rooters outing of the season. Other than being happy to see each other, it was more like a support group for a debilitating addiction. One of Rooters lives in the Caribbean and reluctantly bought tickets for the Friday night's game.
"I didn't want to," she said, "but it was like a compulsion. I found a guy that had field box seats for face value."
One positive aspect of the Red Sox's descent in the standings is that ticket scalpers have been forced to sell their wares at the advertised price.
Another potentially uplifting perspective is giving September call-ups the opportunity to shine. Two players made their Red Sox debut, Kevin Jarvis and David Murphy. The debut of the latter, Theo Epstein's first draft pick, was obviously more anticipated than the former.
David Murphy started in right field and batted ninth in the order. He singled to center in his first major league at bat to break up A.J. Burnett's no-hitter with one out in the third. In subsequent apperances he struck out and grounded out.
The Red Sox traded a player to be named later to acquire Jarvis from the Diamondbacks. Jarvis replaced the roster spot left vacant by Jon Lester, who was placed on the 60-day disabled list because of his recent diagnosis of cancer. With his start for Red Sox, the twelve-year veteran has played for 11 teams.
Jarvis pitched as you would suspect someone of his caliber would: he lasted five innings with seven hits, three runs (two earned), two walks, and three strikeouts.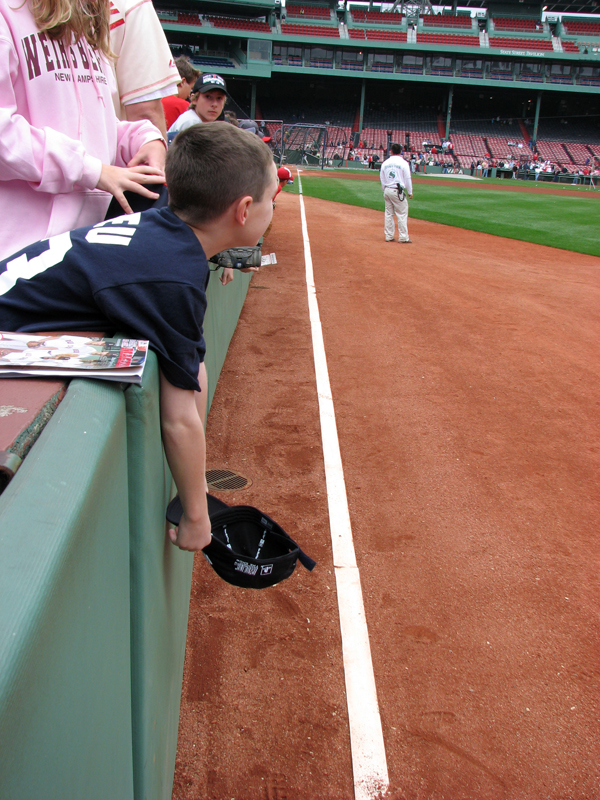 The kid in the Abreu t-shirt, desperate for a baseball, kept on yelling, "I don't like the Red Sox; give the ball to me!" He never got one. After he had given up, another child took his spot and got a ball off the bat of Adam Lind. A few seconds later, the guy to my left also caught a ball.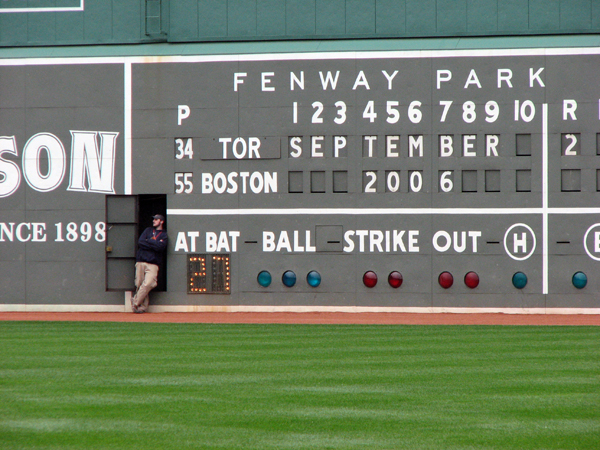 The scoreboard guys would not have a lot to do when the Red Sox were at bat.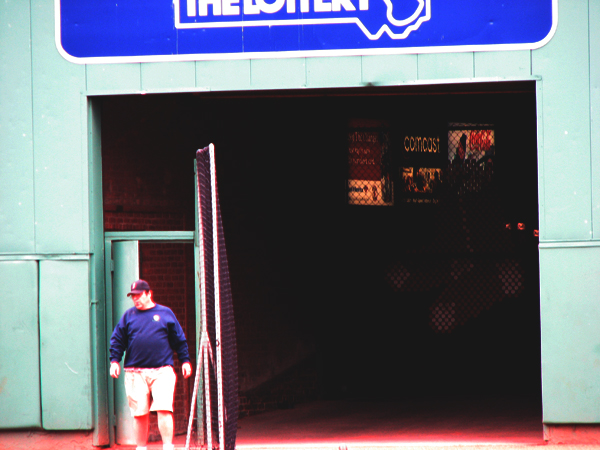 Despite the entire garage door gaping open, this grounds crew member used the door on the left.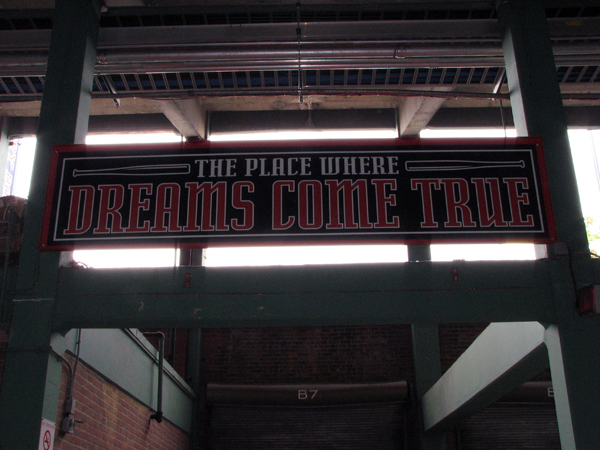 Well, if your dreams are, "Geez, I hope we don't get shut out."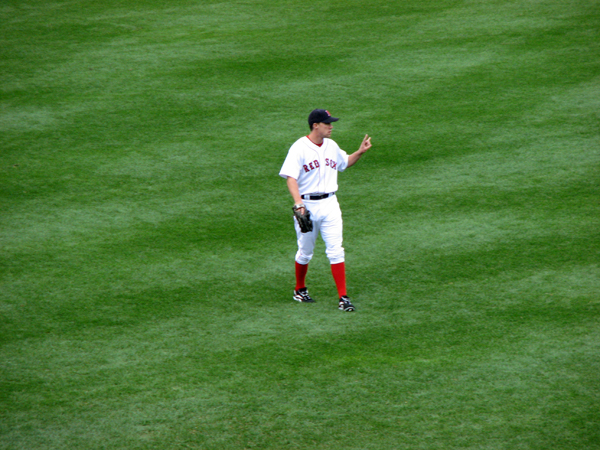 Murphy gives Coco the "rock on" sign.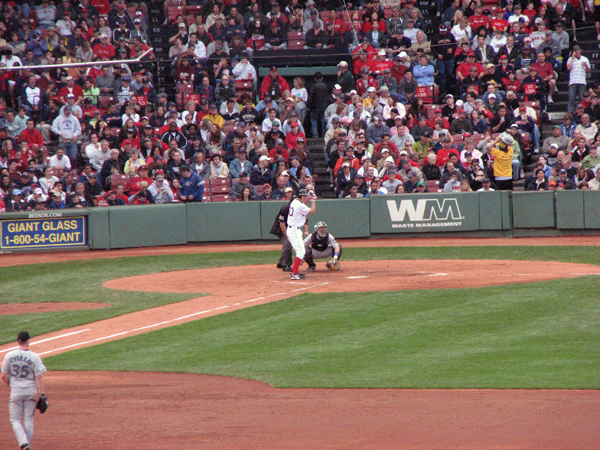 Murphy makes his major league debut too late to coincide with the Dropkick Murphys trend. Charles Steinberg must have been upset about that.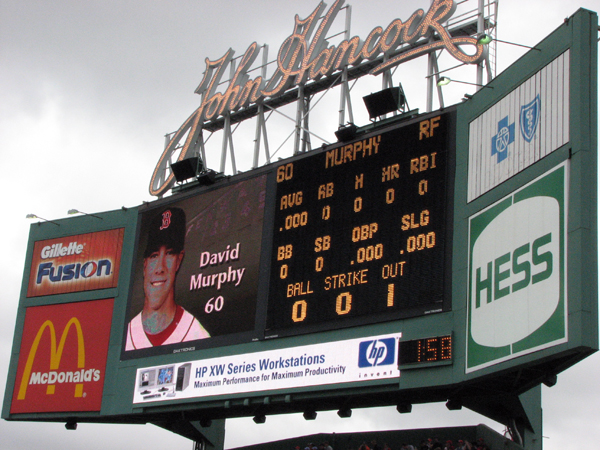 I think Murphy looks a little like Scott Brosius.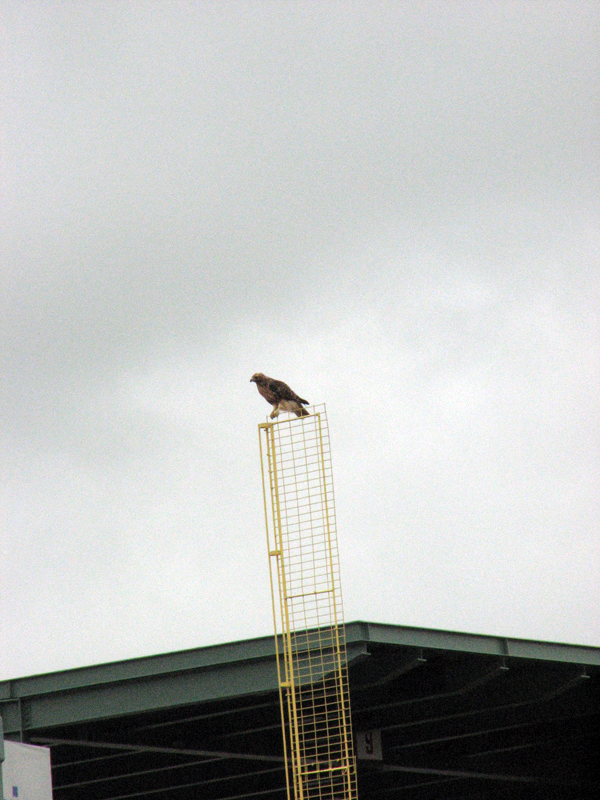 A hawk swooped down in the middle of the game from one of the light towers onto Pesky Pole. It may have been the raptor that killed Wily Crow Peña.