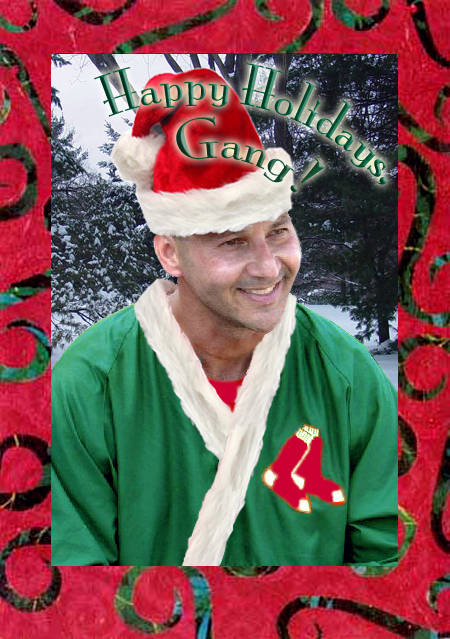 Hey, folks! Hope you all have a Merry Christmas, Happy Chanukah, Joyful Kwanzaa, and what have you. I'm not usually one to make a wish list of my own since I'm Francona Claus, but this offseason season being what it has been so far, I find a have a few requests:
A backup catcher (Ha! Pulling your leg there. I sure as heck got enough of those.)
A center fielder (Doesn't necessarily need to hit leadoff, as number 3 below could do the same.)
A shortstop
Case of Dubble Bubble (Much better than that Bazooka stuff, I tell you.)
Healthy knees
A first baseman (There's some guy whose name I forgot the entire 2005 season I suppose I could use. Perugina or something?)
Cheatsheet to understand the areas of responsibility for Ben Cherington and Jed Hoyer (Maybe some sort of flowchart?)
As Francona Claus, it's my duty to distribute lumps of coal to those who have been naughty. Unfortunately, the list is longer than the nice list, that's for sure:
Johnny Damon (Last I checked, lying gets you put on this list.)
Larry Lucchino (Loose lips sink ships.)
Steve Silva (For the usual muckraking.)
Dan Shaughnessy (Although I figured he uses the coal to fuel the media conflagrations he enjoys starting.)
Kevin Millar (His slogans just didn't have that same catchiness this season. Also, .355 OBP and .399 slugging.)
John Dennis and Gerry Callahan (WEEI's resident propagators of close-mindedness and hate.)
Theo Epstein (You gotta grow a little thicker skin. Wait, you're coming back when Lucchino bolts to the Nationals? Well, next time give us a little warning, will ya?)
I wish the nice list could be longer, but at least there is one:
David Ortiz (Papi has come very close to eclipsing the popularity of Francona Claus. Ah, jeez, who am I kidding? He's way more popular.)
Janet Marie Smith, Vice President of Planning and Development (Lucchino gets all the face time, but Ms. Smith has spearheaded the Fenway Park renovations, including this offseason's restoration of the seats behind home plate.)
Red Sox bloggers (There's no funnier, smarter, and devoted group to be found. I really learn a lot about how to second guess myself from them.)
David Mellor, Director of Grounds (Sure, Edgar Renteria complained about the infield. But Dave oversaw the replacement of the field and installation of the new grounds sprinkler and drainage systems during last year's offseason. He also led the incredible effort to replace the outfield after the Rolling Stones concert. It was enough to forgive any part you may have played in selling championship sod.)
Matt Clement (Gutty comeback after that frightening accident in Tampa Bay.)
Merry offseason to all, and to all a good night!