Game 126: August 26, 2005
Tigers (61-65), 8
Red Sox (73-53), 9
L: Jason Johnson (7-10)
W: Tim Wakefield (13-10)
H: Chad Bradford (6)
S: Mike Timlin (3)
This season at Fenway I've been to two games that I believe had the largest weather swings: the June 13th game of intense 90 degree heat and back-breaking humidity and the 49 degree, drizzly and bone-chillingly windy match-up just two days later, both against the Reds. But last night saw perfect conditions for baseball, despite what those Rolling Stones hooligans did to the field. The entire center field as well as parts of deep right and left fields needed to be replaced because of the damage caused by the concerts. I wonder if the Red Sox organization even generated any profit from the galas based on the amount of field repair required?
Detroit came out of the 1st inning with an early lead thanks to Kevin Millar's error on Placido Polanco's grounder towards first base. His miscue generated boos from the crowd, but as much as every nanosecond Millar spends on the field irks me, I won't jeer a player on the team I root for. Even Millar's 0 for 4 outing with 2 strikeouts and 3 left on base don't warrant a Bronx cheer.
The 3rd inning was the offensive key for the Red Sox. Doug Mirabelli led off with a double that just missed being a home run. I was in Section 42 and could see Magglio Ordóñez fumbling to gather the ball. I went down closer to the barrier to take a picture of the right fielder in his haplessness. A drunken fan loudly opined on Ordóñez and Jamie Walker's parentage and quality of play, prompting an usher to urge him to "take his seat and watch his mouth." The fellow bolted toward the exit tunnel, tripping on the stairs in his haste and cowed like a scolded five-year old.
Alex Cora singled with a liner into center, setting up Mirabelli to score on Johnny Damon's (who was wearing knickers, a change for him) sacrifice fly to right. Tony Graffanino also lined into center to single and David Ortiz walked to load the bases. I've been on hand for two grand slams this season (Ortiz's on April 15th and Manny Ramirez's on April 16th), and I felt fairly confident that I would get a hat trick with Ramirez at the plate. It appeared that Johnson was told not to tempt fate and threw slop to the Red Sox left fielder to walk in a run. Trot Nixon sacrificed to bring the score to 3-1, but Millar struck out to end the inning.
As for the 4th, I have no elucidation on the validity of the call on Curtis Granderson's home run to right field, but the folks in the sections that had a better view gave the umpiring crew the home run sign each time a ball went into the stands foul. As such, I feel compelled to call out Randy Marsh, the home plate umpire who overruled Jim Wolf's original ruling of foul and who ejected Terry Francona for questioning him, for making the incorrect call.
The Red Sox rallied in the 5th and 6th innings with 2 and 4 runs, respectively. The 6th was especially exciting with the leadoff double by Bill Mueller, Mirabelli walk, and most notably a Cora sacrifice bunt. Sacrifice bunts are probably more rare for the Red Sox, come to think of it. I'll check on that and post the results.
John Olerud and Edgar Renteria both received warm welcomes upon their entry into the game, particularly Renteria. The fans acknowledged the shortstop for incredible road trip during which he edged his batting average closer ever closer to .300 and attained .350 in OBP. As for Jeremi Gonzalez, it was a homecoming he'd rather forget. Too bad, too, because without Gonzalez the bullpen would be in complete tatters rather than only slightly threadbare. Overcoming my initial unease with him and his odd spelling, I've adopted him as one of my supporting heroes of the season.
Be sure to check out Sam at Blue Cats and Red Sox and her coverage of the series. I'd likely go Sybil cheering for beloved teams playing against each other, but she somehow manages.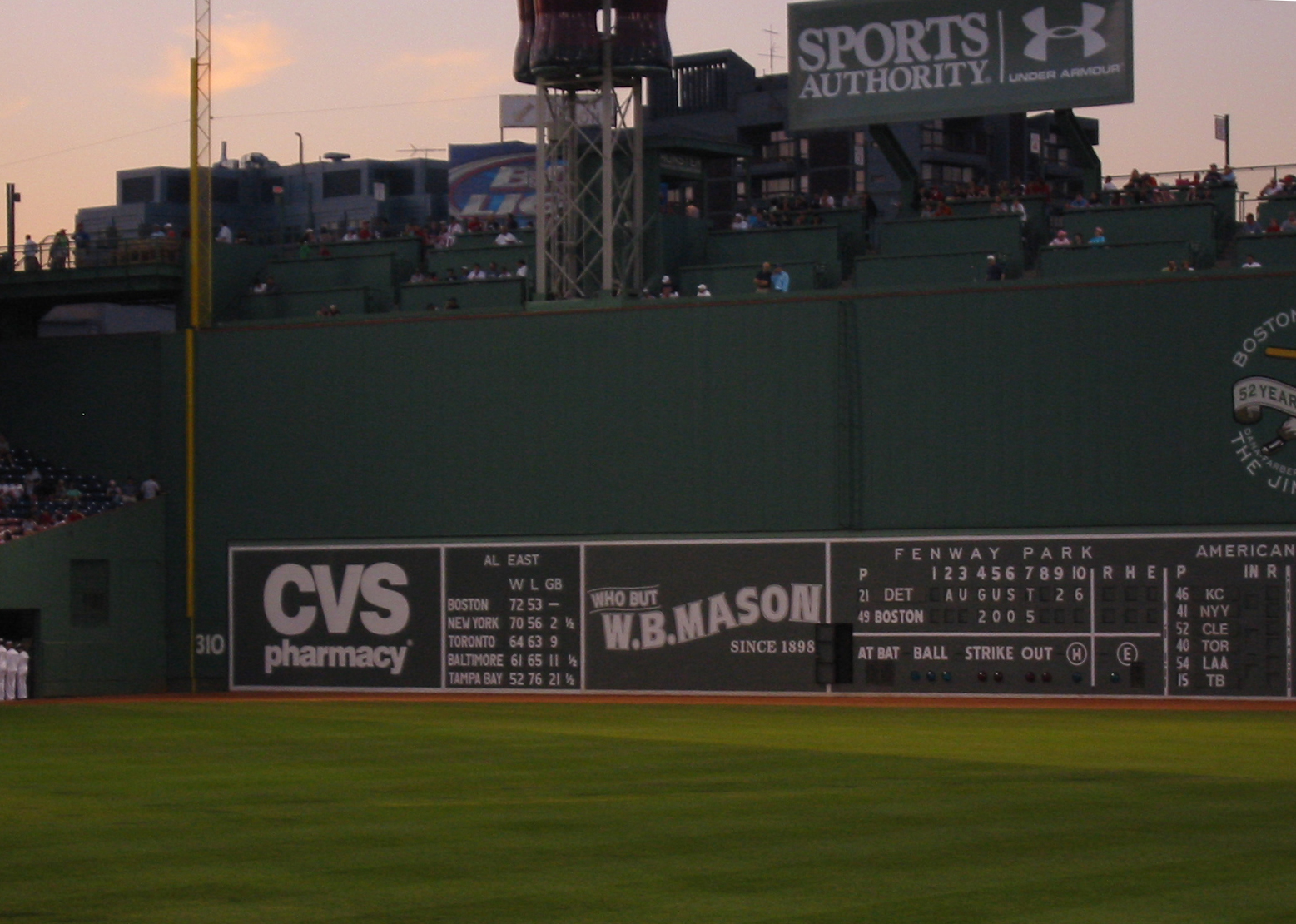 Sunset traces and fresh-grown grass.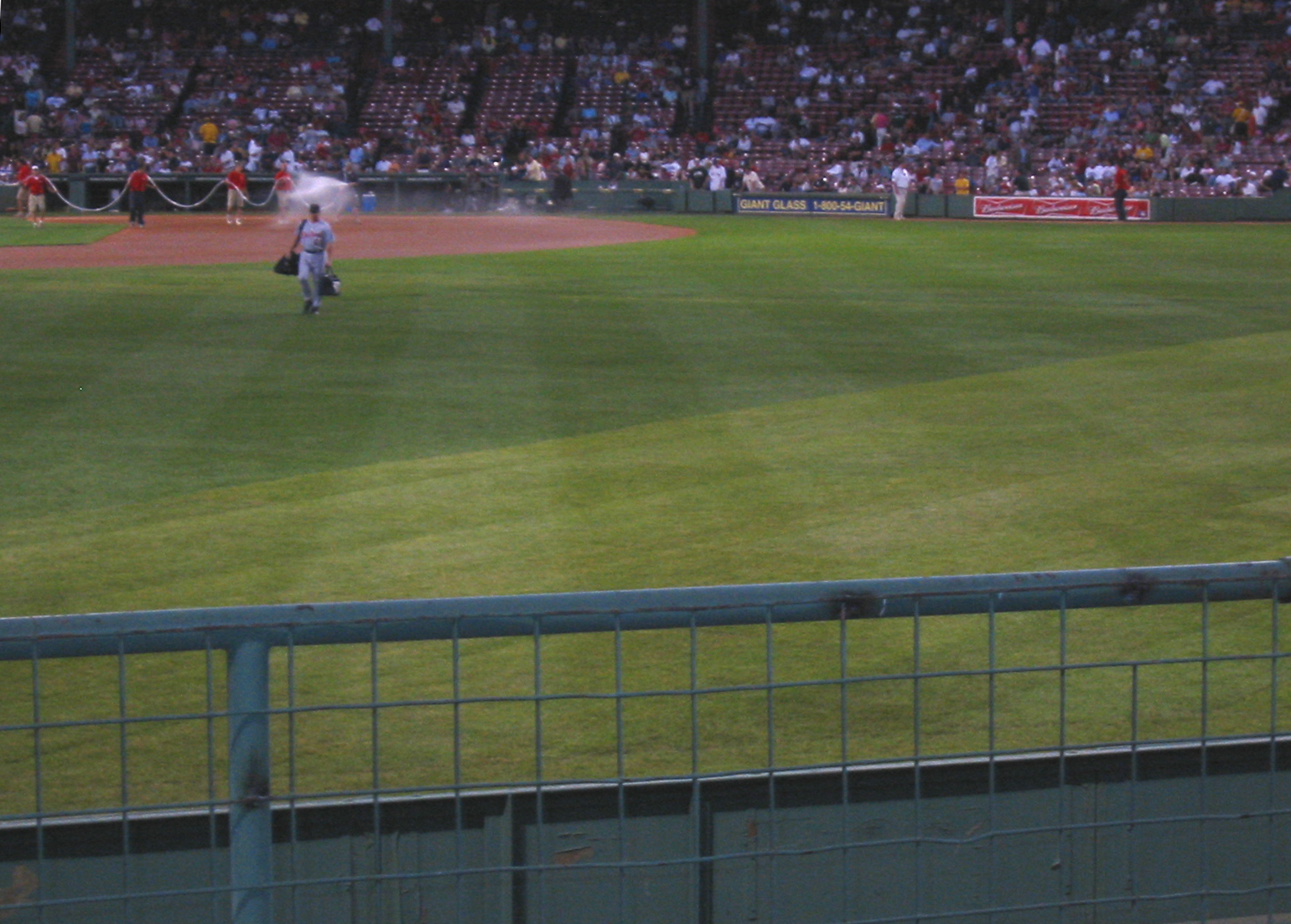 I'm sure pitchers are already developing superstitions about not stepping on the "crack" in the grass.

Mere photographs do not do the sky justice, although the sentiment on the sign adds to the panorama. How I adore Bank of America's low interest rates.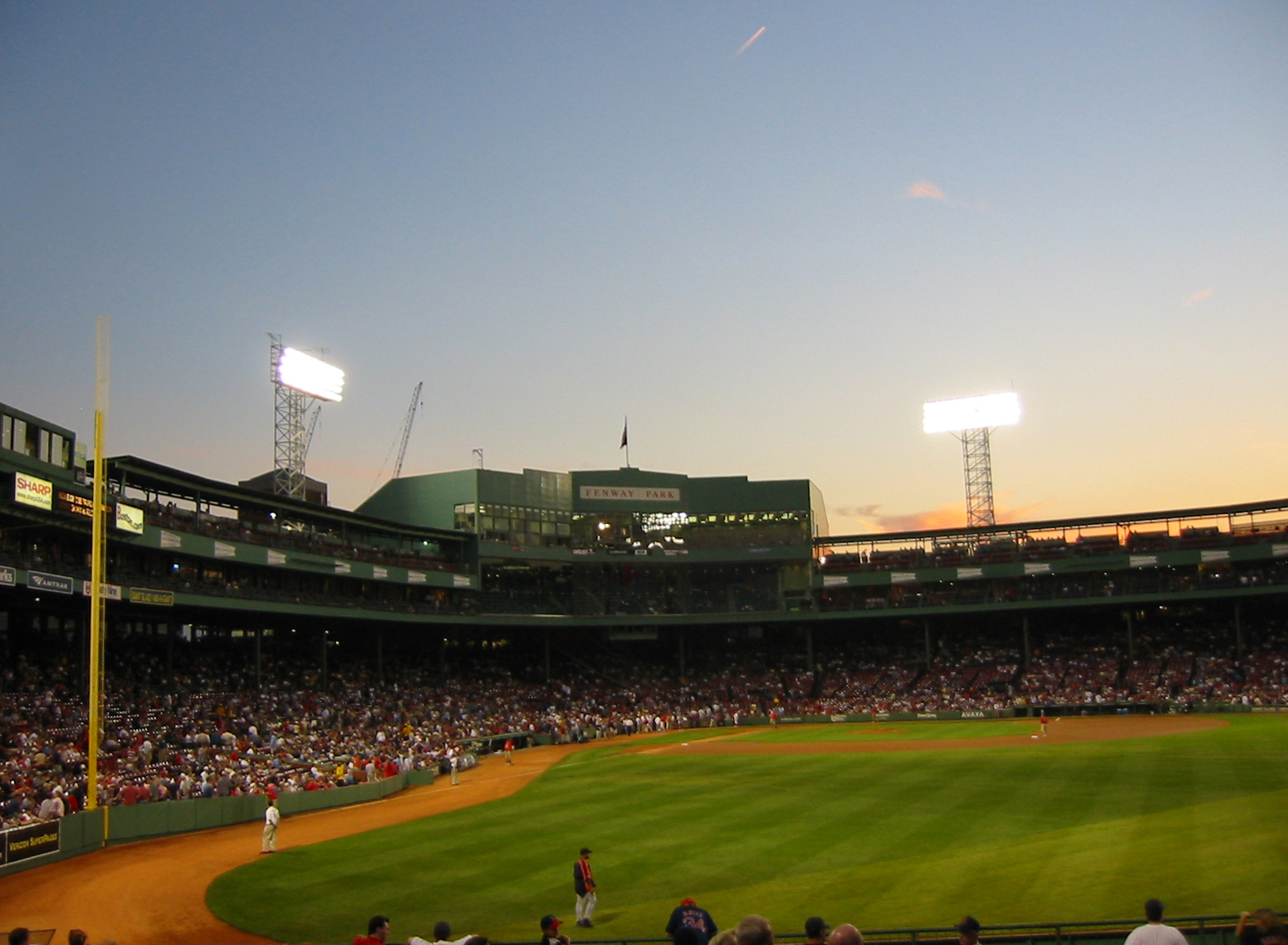 Dream of fields.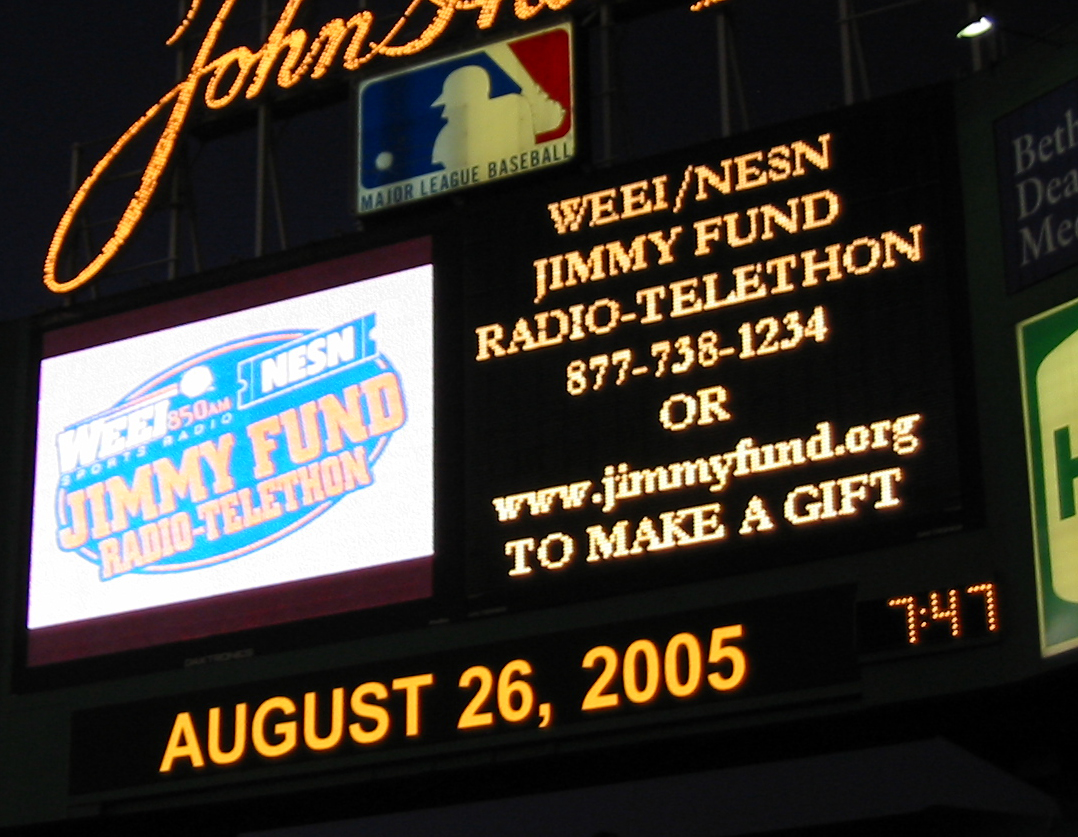 The radio-telethon's goal of $2M was exceeded. Even if you missed this event, you can donate at any time by visiting the Jimmy Fund website.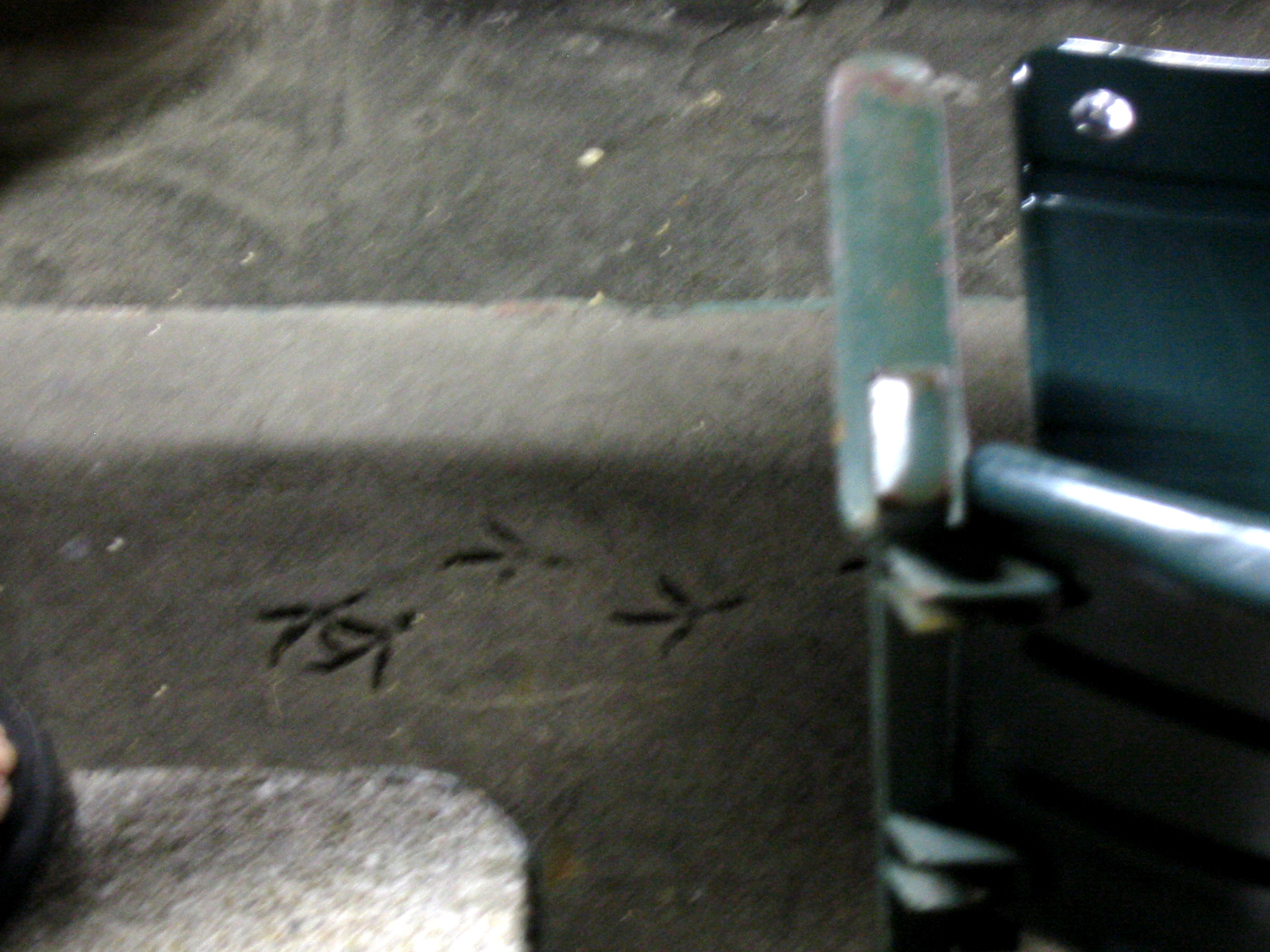 I like to think that the bird prints in the concrete near my seat were
those of the bird that died on Jere back in May.
Fear not, friends, for it is properly and forever memorialized.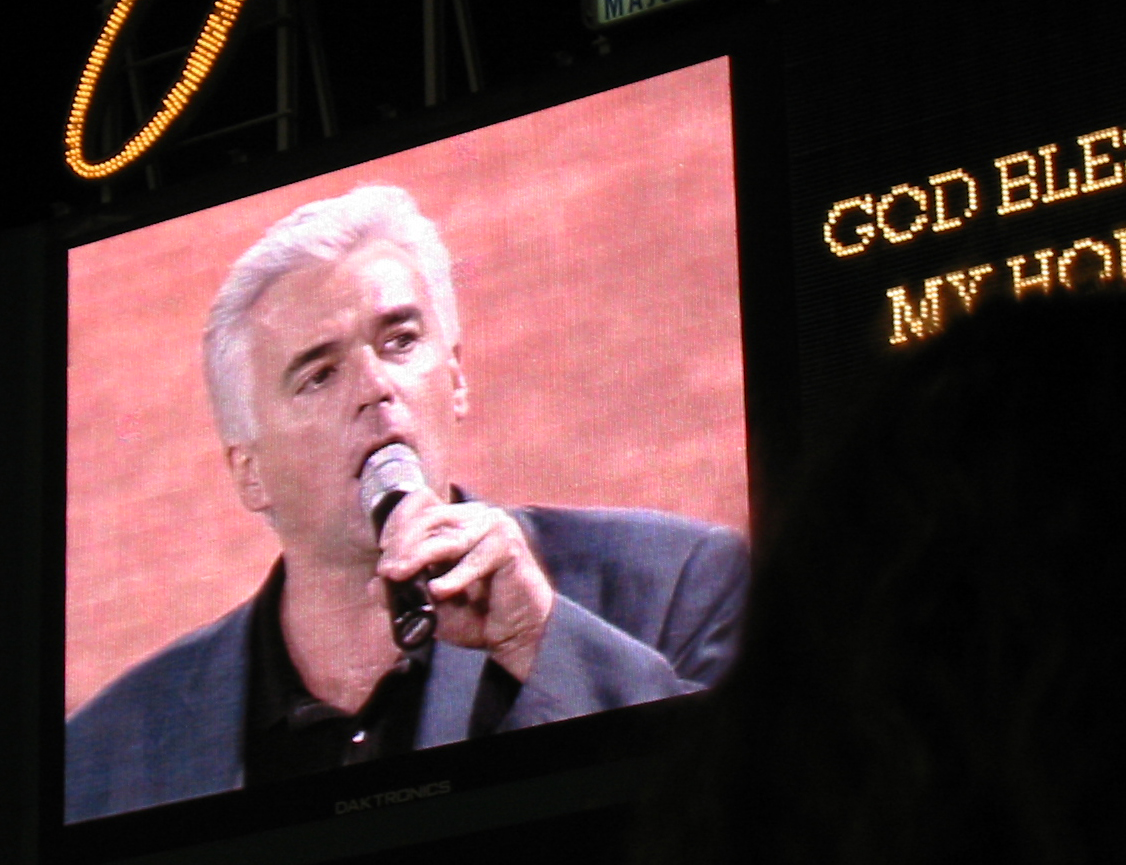 It will always be Burma to John O'Hurley. J. Peterman had some pipes.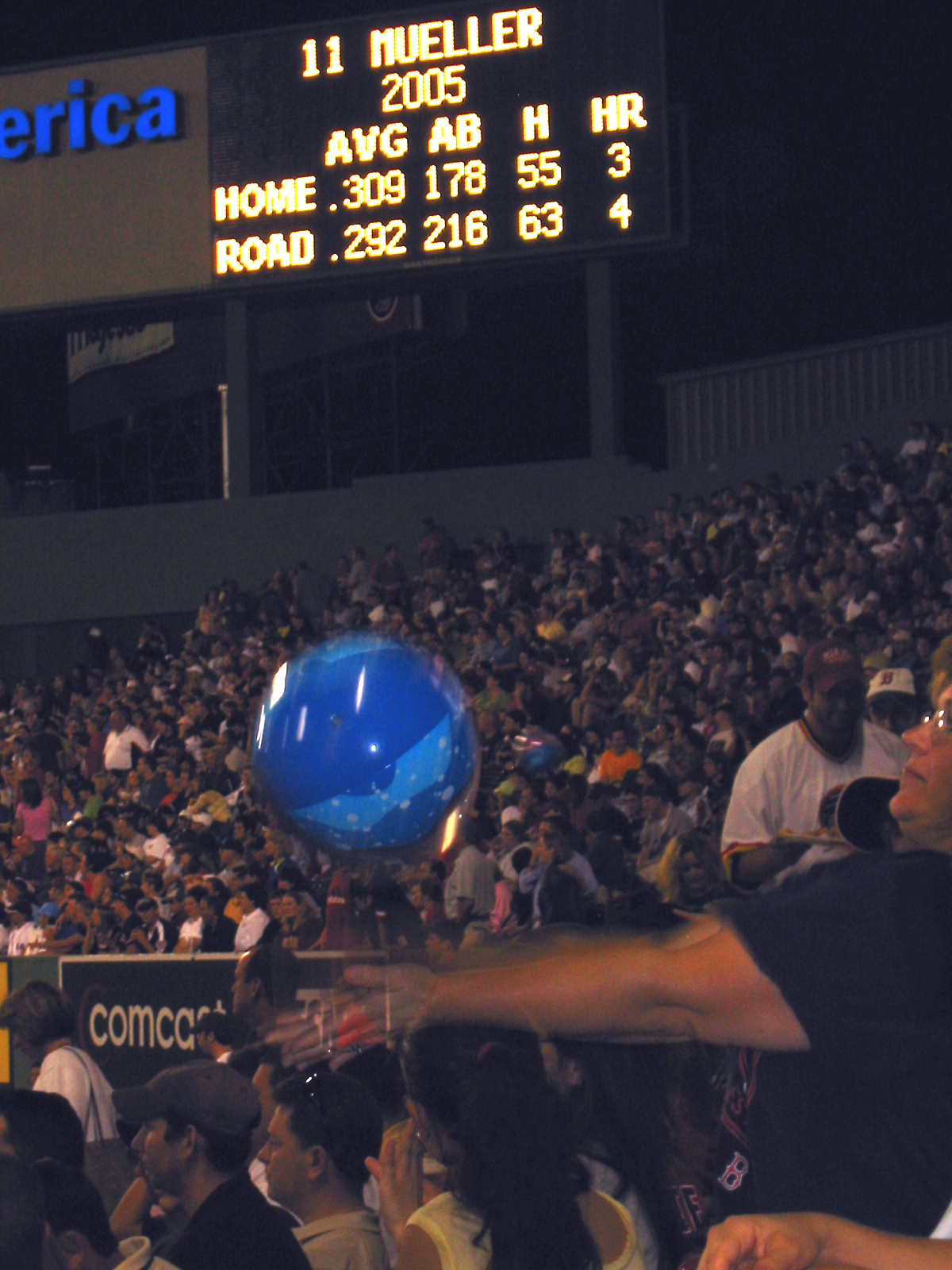 The scourge of beachballs in the 7th inning. When Mueller was at bat, no less. For shame, woman. Repent.
« Top « Home » Category Listing ∙ Monthly Archive