Even though the probability of the Red Sox making the playoffs is zero according to Baseball Prospectus's projections John Farrell managed the game as if it meant something. And that in itself means something.
For the first six innings it looked as if Garrett Richards was going to no-hit the Red Sox. In the seventh inning Dustin Pedroia finally got a hold of a fastball and sent it up the middle for a single. Pitching from the stretch drastically altered Richards's effectiveness. David Ortiz doubled in Pedroia to put the visitors within a run of the Angels.
Yoenis Cespedes roped a single to left that advanced Ortiz to third base. Mike Napoli seemed to ground into an easy out but for Erick Aybar fumbling the ball. Ortiz tied the game on the miscue.
Perhaps it was better for Richards to have lost his no-hitter on a clean hit rather than infield foibles, but he and Mike Scioscia probably weren't thrilled with losing the lead thanks to errors. Howie Kendrick bobbled Daniel Nava's grounder and the bases were loaded with none out. Xander Bogaerts skyed the ball to center and Cespedes tagged up from third to give his team the lead.
And then nothing happened on the offensive side for seven innings. Many of the Angels' attempts were scuttled by the brilliant defense of Jackie Bradley, Jr., who took over in center in the eight inning.
Here he is robbing Kendrick of extra bases in the ninth, much to Edward Mujica's delight. He dashed in from center and ended up making the play closer to where Brock Holt was.
Aybar led the fifteenth frame off with a single. With a man on and one out C.J. Cron blooped the ball to the no-man's land between short and center. It seemed to be a sure single as Bogaerts couldn't get out far enough to catch it. But Bradley charged hard from center to make the grab.
It seems that the Angels have finally ditched the Rally Monkey. What they came up with as a replacement wasn't terribly inspiring but it seemed to motivate Albert Pujols.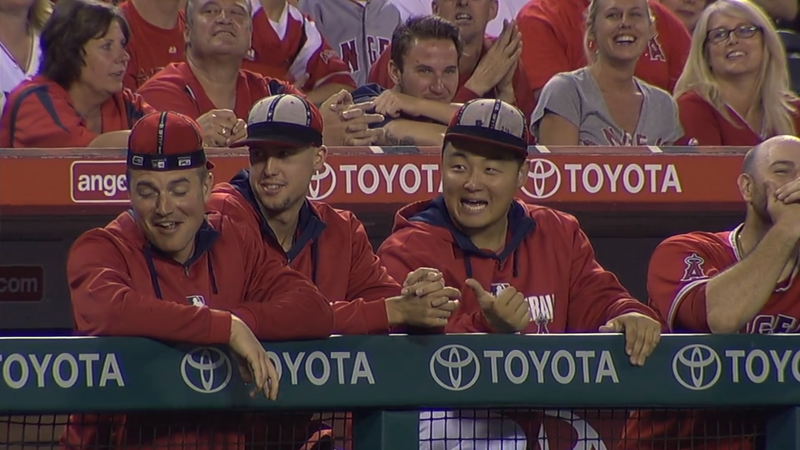 Don Orsillo and Jerry Remy had to use two scorecards for this baseball marathon. The final notation was a home run to right for Pujols in the 19th. Farrell, ever the competitor, challenged the circuit clout. The officials in MLB headquarters rubbed the sleep out of their eyes and confirmed the call.
Heath Hembree, an acquisition from the Jake Peavy trade, made an impressive Red Sox debut: 4 innings pitched, 2 hits, 2 strikeouts, 2 walks, and no runs. He was optioned back to Pawtucket so that Farrell could refresh the bullpen but Hembree became a part of Angels Stadium history. At six hours and 31 minutes it was the longest game in the facility's history, and he was a key part of why it lasted as long as it did.
Game 116: August 9, 2014

∙ 19 innings
Boston Red Sox
51-65
4
BS: Junichi Tazawa (4)
L: Brandon Workman (1-6)
2B: David Ortiz (22)
Los Angeles Angels
68-48
5
W: Matt Shoemaker (10-4)
2B: Kole Calhoun (19), Albert Pujols (30), Chris Iannetta (18), Josh Hamilton (16)
3B: Erick Aybar (4)
HR: Mike Trout (26), Pujols (22)