If Yoenis Cespedes will be playing left field longterm someone needs to sit down with him and show him where Manny Ramirez and Jonny Gomes positioned themselves. Ramirez might have played a bit too shallow; Cespedes could probably cheat closer to the wall with his superior fielding speed.
But if he sets up in right field, which would showcase his cannon arm, he'd need a workshop with Shane Victorino. Victorino would have to figure out if he would undergo season-ending back surgery, however, before rejoining the team.
Cespedes lined a single to left field in his first at bat as a Red Sox player. In the fifth inning he came up with one down, two men on base, and the score 5-3 in the Yankees' favor. A home run would have put his new team ahead but Cespedes flied out to Jacoby Ellsbury.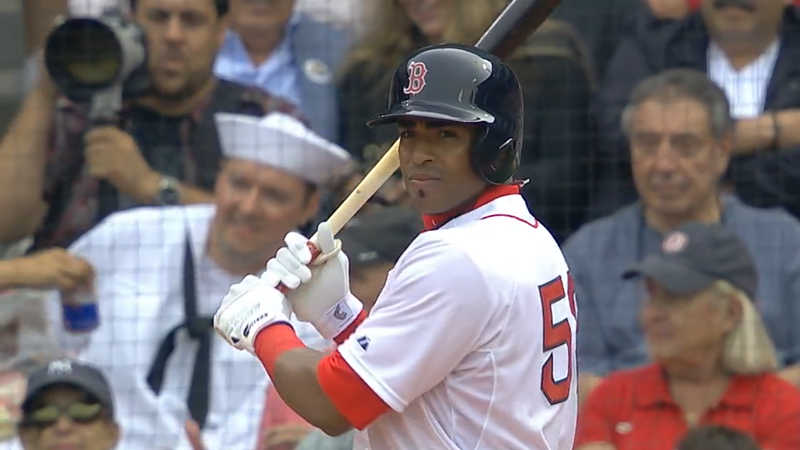 Joe Kelly found out about being sent to Boston along with Allen Craig for John Lackey via Twitter. Kelly had been chatting with A.J. Pierzynski about it; I guess the catcher isn't ignoring his teammates and looking at his phone in the clubhouse now that he's on a contending team.
Speaking of Pierzynski, this game lasted four minutes short of four hours. Now that Pierzynski isn't grounding or popping out on the first pitch Yankees-Red Sox contests have returned to the long, drawn-out affairs to which we are accustomed.
In the seventh Stephen Drew, a real shortstop and ersatz second baseman, thought Francisco Cervelli had struck out and moseyed off second base. Christian Vazquez noticed how far Drew was from the keystone sack and fired the ball to Dustin Pedroia. Pedroia missed the initial tag but got Drew when his slide took him away from the base.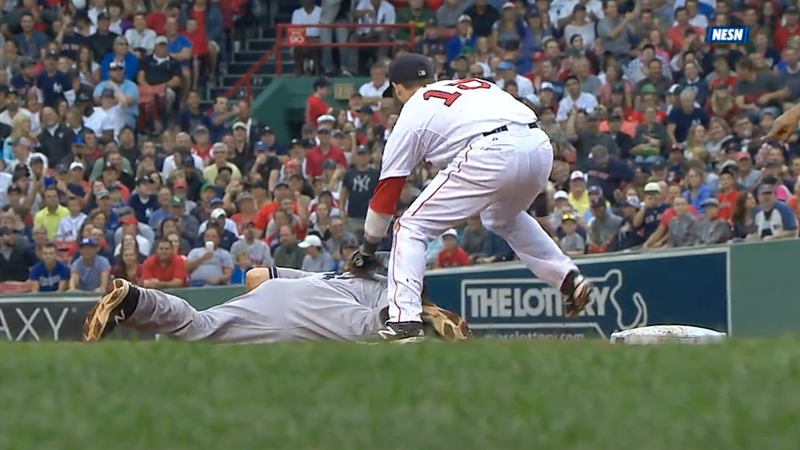 Derek Jeter, who still plays shortstop even with the acquisition of Drew, was doubled off first base in the first inning. Ellsbury lofted a fly ball to shallow center that Jeter assumed was going to drop. Jackie Bradley, Jr. snared it and relayed to Mike Napoli for a nifty twin killing. I guess Jeter is too used to seeing his bloopers turn into hits and assumes it happens for everyone.
Game 110: August 2, 2014

New York Yankees
56-53
6
W: Shawn Kelley (2-3)
H: Adam Warren (16), Dellin Betances (16)
S: David Robertson (28)
2B: Derek Jeter (12), Carlos Beltran (18), Stephen Drew (7)
HR: Mark Teixeira (19)
Boston Red Sox
49-61
4
L: Allen Webster (1-1)
HR: Mike Napoli (13)