The Red Sox indirectly helped former teammates Jon Lester and Jonny Gomes by defeating the second-place Angels 4-2 in their series opener. Jered Weaver lasted six innings but seemed like he could be chased from the game much earlier. Meanwhile Allen Webster gutted out 6⅔ innings and gave up only two runs against a solid lineup.
Yoenis Cespedes was obviously most familiar with the Angels and their stadium but had a bit of a mishap on Chris Iannetta's liner to left field in the third inning. He over-pursued the ball into the corner allowing Efren Navarro to score. Cespedes had doubled in two runs in the top half of the frame so it could be argued that he was a net positive force in the game.
Josh Hamilton also had some issues in left field but still managed to rob Xander Bogaerts of a base hit. The divot he created reminded me a little of Manny Ramirez's World Series Game 1 clod but Hamilton made the play.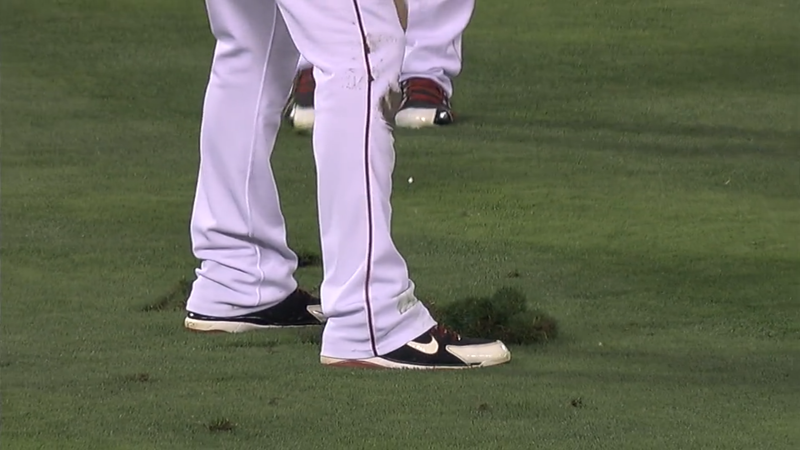 Cespedes and Hamilton need only to look over to center field to see grace and power in the outfield. Mike Trout didn't make a highlight reel-quality grab in this game but Jackie Bradley, Jr. had mouths agape in the ninth inning. Howie Kendrick thought he had at least a double but Bradley jetted after the liner, snared it, and held it even has the outfielder crashed against the center field fence.
If only there were a way to award a center fielder with a co-save. Bradley certainly earned it along with Koji Uehara.
Game 115: August 8, 2014

Boston Red Sox
51-64
4
W: Allen Webster (2-1)
H: Tommy Layne (2), Junichi Tazawa (13)
S: Koji Uehara (24)
2B: Christian Vazquez (5), Yoenis Cespedes (27)
HR: Mike Napoli (14)
Los Angeles Angels
67-48
2
L: Jered Weaver (12-7)
2B: Chris Iannetta (17), Albert Pujols (29), David Freese (15)